World News:

---- THE LATEST GLOBAL BUZZ ----
(12/2/13) See the Parks and Coasters of Russia (MORE...)
(11/12/13) China Opens New Aviation Theme Park (MORE...)
(11/4/13) Italy - Zamperla Proposed New Park Project for Venice (MORE...)
(10/29/13) Goddard Group has announced that they have been working on the new "Shanghai Bund" Studio Theme Park Resort (MORE...)

Argentina - (8/15/13) I've been informed by our friends at ACE South America that the accident in Argentina took place at a small park called Parque Independencia in the city of Rosario. They also tell us that the latest news report say that the two children who died were not on the Ferris wheel itself, but waiting in line to ride it. A video clip posted by the local news shot by someone else standing nearby, shooting a wacky worm style flat ride next to the wheel caught the moment of impact.
(8/13/13) Sad news from Argentina as two children, age 12 and 14, were killed while riding a Ferris wheel at a local unnamed amusement park. According to the report the car they were riding in broke free from the wheel near the highest point and crashed down in the wheel's queue area, possibly causing injury to those nearby. The really unfortunate thing is that it sounds like the park had a problem with the car the previous week, but cleared it to run anyway.

Australia - (8/27/13) According to AUSParks, Funfields in Victoria is currently building the world's longest ProSlide CannonBOWL waterslide, to be called Typhoon.
(8/19/13) A local developer in Australia wants to build a new version of Wonderland Sydney. No clear timeline as to when it may happen, but they do have some interesting concept artwork to show off.
(8/2/13) Anyone remember the Fox Studios attraction that was open in Australia for about two years? It featured a pair of walk-through attractions themed to the movie Titanic that were quite interesting, and never copied anywhere else. One tour would send you through the First Class section of the ship, ending with an escape from the sinking ship on a lifeboat, while the other tour took you below decks, through steerage where you were doomed to the depths inside the boiler room. Check out the great collection of pictures showing off both experiences over at ThemeParkUniversity.

Austria - (7/29/13) Check out Big Bang, a new Zierer roller coaster added to "Familienpark Pillarseetal" in Austria.... a park that I don't think I've had the pleasure to report anything about before. This appears to be a very small park out in a beautiful countryside, and the new coaster appears to be nearly as big as the entire park itself.
(6/11/13) A new Gerstlauer "Bobsled" coaster has opened in Austria at "Familypark Neusiedlersee". The coaster is named "Rattenmuhle", with cars themed as giant rats. Some POV footage has already been posted to YouTube. Based on the video, the layout seems quite intense. Check it out below!


Canada - (7/1/13) A Screamscape reader was on hand at the opening of the new Flyover Canada attraction and sent in a great report as well as pictures showing off bits of the attraction itself, which has seats that look damn near identical to those used on Disney's Soarin ride system.



We only waited max 30 mins. to get into the pre show which was quite well done. In the line the employees dressed in old-time aviator costumes and asked us if we had ever been on Soarin Over California to describe what we were about to experience. The pre-show was a mash up many project films of Canadian icons, places, nature, and hockey projected on a multi angular screen which was mirrored in a circular room so it gave the illusion of 360 view with multiple images. Everyone stood in the middle of the room facing the walls and we all got the same view with out having to turn around.
After the pre show we were all led into a room and got our seat assigned and watched a quick and humorous safety video much like they do in Soarin. Unlike Soaring the seats are on different levels so each group is either led up or down the stairs to the seats. The seats looks almost identical to Soarin but seemed deeper and the hand rails were higher. Once everyone was strapped / seatbelt checked the lights went down, the safety rail in front went down and our seats move forward not up.
The movie is pretty epic, lots of nature but had elements of Soaring like fireworks, horses, jets fly-by, river rafting, and flying over the ocean. The movement was very similar other than the side-to-side seemed more dramatic. They also added a very cool element, mist! Every time we went over rapids or waterfalls and through clouds we got mist in our faces. They also included smells but didn't notice much wind in the face.
All and all we enjoyed this ride and it felt like a little Disney in our home town!

(6/17/13) Canada Place in Vancouver, BC is opening a new attraction very soon called FlyOver Canada. According to the official website, this is indeed a ride where, "You will take off into a huge domed screen with the latest in projection and ride technology creating a true flying experience." The ridefilm will take you across Canada from the East coast to the West coast showing off the unforgettable landscape along the way.
Now I'm curious to know just how similar the ride experience is to Disney's own "Soarin" ride, so if anyone gets a chance to ride this, please do report in. The official website says you ticket will also include the "Uplift! By Moment Factory pre-show" in addition to the FlyOver Canada ride, with a total experience time of 30 minutes for both.
The opening date announcement will be made on June 19th and there is height limit of 40 inches (102cm) to ride.
(8/10/12) A reader was asked to take a survey for Clifton Hill where a number of attractions on the Canadian side of Niagara Falls are located. They pitched a few new attraction ideas under consideration which includes: A Spining Coaster (Maurer style pictured), Ghastly Ghost Ship (Haunted attraction), Go-Karts or a Soarin Eagle Zipline.
China - (11/12/13) A new themed attraction will soon open at the former World Expo 2010 site in Shanghai called The Aviator Theme Park. Calling it a "theme park" is a bit strong… it's more of an aviation collection / museum experience, but with the added attraction of three different kind of flight simulator attractions to experience, as well as an air-traffic controller tower simulator. It will open to the public this month and feature more than 500 aircraft, tanks and ships on display in the exhibit hall, some on loan from private collectors. The display even includes a massive Boeing 747 that was tore down into pieces for shipping and reassembled on site.
(10/29/13) Goddard Group has announced that they have been working on the new "Shanghai Bund" Studio Theme Park Resort project that broke ground back in September. The studio / theme park project, to be built a couple of hours from Shanghai is on track to open in 2016. According to this article, one interesting attraction being shown off is called Shanghai Triad Chase, taking guests on a wild adventure ride into Shanghai's dark underworld.
(9/25/13) ThemeparkX reports that a third Atlantis resort will join the small chain's Bahamas and Dubai locations with the pending construction of an all beach-side resort location in Sanya, China, on the southern tip of the Hainan island.
(9/23/13) Ever thought about visiting China and all their new theme parks and other attractions? Then you'll want to check out Malcom's blog detailing his own 3 week trip to China, simply called Malcom's Second Trip To China.
(9/18/13) According to this news report a ride in China at Qinling Amusement Park has been shut down after three riders were serious injured after being thrown from a high speed "windmill-like" thrill ride. According to witness reports the ride ops did not have their restraints checked or locked down by the staff, and before anyone could alert them, the ride started to move, eventually throwing them to the ground. So far the investigation has claimed this was due to a mechanical failure, as I suppose the ride should not have allowed itself to start with restraints left unlocked.
In other news, Jackie Chan has announced that he is working with a group to build a new theme park in the Beijing area that will feature a lot of his memorabilia and items he has collected over the years. According to the article the park will be named, Jackie Chan World and will also feature four antique Chinese buildings that Chan is donating to the park.
Before you get too excited however, it sounds like Jackie Chan World may be more of a museum than an action theme park. Chan's collection will feature lots of furniture, jewelry and antiques and different cultural experiences. Admission to the park itself will be free, but select attractions within will require a separate admission fee, with the money to be used to maintain the park and antique buildings.
(9/16/13) Goddard Group has posted a new picture to their Facebook page showing off the incredible looking DreamWorld castle themed resort hotel under construction in Fushun, China.
(7/14/13) According to this report Dreamworks Animation has teamed up with Chinese partners to build an indoor 'theme park' attraction somewhere in China that will feature attractions based on the various Dreamworks Animation characters. No timetable has been set, but the attraction is planned to be built in a unannounced "major city" in the Yangtze River Delta area.
(2/25/13) Actor / Director Stephen Chow (Kung Fu Hustle) has announced that he will have a 25% stake in a new 173-acre amusement park to be built in Wuzhen (just outside Shanghai) that will be themed to his "Journey to the West: Conquering the Demons" feature film. The tentative name for the park is "Journey to the West Film City" and will also borrow themes from his "A Chinese Odyssey" films. Set to begin construction in the second half of 2013 and first phases are expected to open in 2015.



(12/18/12) A new park in China has been announced for Chongqing with a $560 million budget. The new theme park hopes to open in 2016 and will feature an assortment of animated characters and themes from the Chinese produced 3D cartoon "Xiha Youji".
It wasn't long ago that the Chinese government was trying to curb the nearly endless development of new theme parks across their nation, but through various loop-holes, new parks are still popping up at a record pace. I do have to wonder how long it will be before we start to see the bottom drop out on some of these projects. Perhaps those built in areas that are unable to support them, or older parks left in the dust as guests favor the steady stream of new parks, rather than investing in the older parks to keep them fresh.
(12/14/12) Chongquing Safari Park in China is said to be adding their first coaster to the park in 2013. It will be an Intamin 10 inversion megalooper.
(12/12/12) VHCoasters has a new update showing off concept art for a new park in China called Romon World. The project which will feature an indoor / outdoor amusement park mixed with an indoor shopping mall appears to have been inspired by South Korea's Lotte World. Already on the books are an indoor Intamin coaster and an outdoor launched coaster from Maurer Sohne, said to be similar to Freischutz at Germany's Bayern Park.
(10/25/12) Wuhan, China is planning to build a 200 meter tall Giant Wheel in five years. It will be called the Hanjiang Eye, and stand over 65 meters taller than the London Eye in England.
(9/9/11) In an interesting news story, Shanghai OCT (owned by Shenzhen Overseas Chinese Town) is in talks with Universal Studios Japan over a possible joint venture which would give USJ a 49% stake in the partnership and allow for them to help better the performance of the Shanghai theme park.
(5/17/11) In Park Magazine has posted an interview with Phil Hettema of The Hettema Group, where they chat all about the new Hello Kitty theme park being designed by his company to open in China in 2014.
(5/10/11) According to this article, China now has plans to build a theme park based on Hello Kitty in the city of Anji, in east China's Zhejiang province. The project will cost an estimated $215 million, with construction to start later this year and open in 2014. The 150 site will contain the theme park and a hotel.

France - (3/27/13) According to AMEWorld, Vulcania (a small attraction in France) will build a new dark ride featuring a trackless ride system from ETF and themed by Jora Vision. A preview video is below, followed by a longer "Making Of" video about the attraction themed all about Volcanos. They've got some very cool fotoage showing off the trackless cars making test runs around the ride with the lights on.




(3/11/13) Heading to France and want to hit up some theme parks, but not sure which ones? A quick read of the France Roadtrip blog may be in order, covering most of the parks in France other than Disney, along with a few lesser-known parks you may have never heard of.

Grand Bahama - (1/21/13) According to this article a "mega" waterpark project is planned for Freeport (Grand Bahama Island) that will create 100 new jobs and begin construction in the first quarter of 2013.
Hungary - (10/7/13) The citizen of Hungary have now lost their primary amusement park, Vidampark. After 175 years Vidampark was forced into closure due to economic problems on September 30th. The only good news from this is that Hullamvasut, the park's classic Scenic Railway wooden coaster, complete with a brakeman position, will continue to operate under the supervision of the nearby Budapest Zoo which I believe is right next door to the Vidampark site.
Our friends at CoasterRadio were lucky enough to experience and shoot a video of Hullamvasut two years ago which you can see below. You'll quickly notice the rapid fire loading procedure as guests jump onto the train while it slowly crawls through the station.

India - (7/5/13) According to this news article a park called Balvatika (or Bal Vatika) in Kankaria, India will open what seems to be a new new Vekoma Giant Inverted Boomerang coaster by this December. While the article fails to say that this is a Giant Inverted Boomerang, it describes the layout as having vertical lifts where riders legs are dangling, and hits a top speed of 105.6 kph (65.6mph) which also matches up with the stats of a GIB.
While the first three GIBs came out in 2001 and a 4th in 2002, the design seemed to have fallen out of favor due to the troubles Six Flags had with the first three. As of late however, more have started to appear following the opening of a new one in China in 2011, the relocation of one from SFMM to SFNE in 2012 and Sochi Park expected to open one as early as late 2013 as well near the site of the next Winter Olympic games in Russia.
(4/10/13) The latest update on the Zoomerang coaster heading to India is that it will actually be going to a park called "Wonder La". According to RCDB, there are currently two Wonder La parks in India, one in Ernakulum and one in Bangalore. No one seems sure which of the two parks will get the new coaster.
(4/9/13) One of our readers came across a truck hauling a section of old yellow Arrow / Vekoma style track across Georgia (USA) this past week. One of the dark colored support pieces below it had some interesting words spray painted on it as well... "Mumbai" (as in India) and what looks like "Wonderland".
The identity of the track was a mystery to me for most of the day. At first I could only think of two old retired Arrow coasters that had yellow track and dark supports: Double Loop at Geauga Lake and Python at Busch Gardens Tampa, both of which were torn to pieces and sold for scrap.
With a little help the identity of the coaster was discovered as being the Zoomerang, a Vekoma Boomerang, at the former Alabama Adventures park, since renamed Splash Adventure when they closed the amusement side of the park after the 2011 season. This coaster has some serious miles on it… and may be the most well traveled coaster in the world. It started out at World Expo Park in Australia back in 1988 where it was known as Titan, then it moved to Wonderland Sydney as Demon from 1992 to 2004. From there it make the journey to America to become Zoomerang from 2005 to 2011.
As for the new destination of the coaster... while there is a Wonderland park in India, it is located far inland about 850 miles to the North-East from Mumbai. Mumbai however is just the port city and Nhava Sheva is the largest container port in all of India. In the meantime… if you are traveling the highways of Georgia, keep your eyes peeled for more track. Another piece on a different truck was spotted again just a few hours ago.
Iran - (6/6/13) New reports at ThemeparX show pictures from the site proving that construction has indeed started on the new theme park in Tehran. There was also an Anonymous posting from someone saying that the previous list of ride manufactures is incorrect, as negotiations are still ongoing with the various parties.
(6/3/13) Consider me skeptical about this one, but according to a report at ThemeparX, the first theme park in Iran is said to have begun construction. They call it the Shahre Ghese (Story City) and it is going into Tehran with the hopes of opening by 2015. Concept artwork and design have been posted from Forrec and rides in the park will be delivered by Intamin, Mack and Zamperla.
The park's layout shows off six themed areas inside the park. Upon entering the park through the "Creation Plaza" and into a central hub like area called History Plaza. From there guests can pass to Storybook Gardens, a Science Fiction themed area, or areas referred to as The Silk Road, Adventure or The Modern.
Italy - (11/4/13) Zam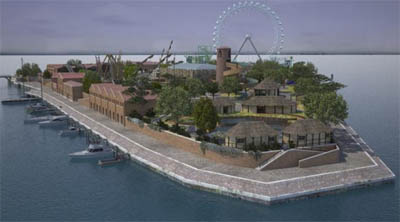 perla may have been bitten by the theme park bug after building and running the new Luna Park at Coney Island, New York. The company has now pitched a concept to transform the small abandoned San Biagio island in Venice that was once home to an incinerator facility into a new family attraction for $110 million for the city. While it wont be simply an amusement park, the project would feature a 55 meter Ferris wheel, roller coaster and many other rides along with numerous cultural installations that would detail the long history of the city as well as "illustrating the Venetian lagoon's fragile ecology."
The project, which includes a promise to clean up the toxic site, will create 500 new jobs, could be open in 2 years if all goes smoothly. But this is Venice and things like this rarely go unopposed, so we'll have to wait and see where the wind blow on the "L'isola San Biagio" project.
(10/23/13) Somewhere in Italy, deep in a forest, a man named Bruno built his own little restaurant and a whole line of self-made amusement style rides all by hand. You can find a few great pictures, and a documentary style video of Bruno here. And before you ask… yes… Bruno has even built his own roller coaster style creations. Check it out!
Japan - (9/5/13) According to Wired a plan is in place to build the world's tallest giant wheel in Japan in the near future. According to this article the true height of the "Nippon Moon" giant wheel is currently undisclosed, but it has been hinted that it could end up being twice as tall as the London Eye which is 135 meters (443 ft) so the Nippon Moon could be upwards of 270 meters (886 ft) tall!
The wheels 32 capsules will be unique as well, some with two levels, and glass with augmented reality views of the city landscape surrounding it. Each capsules is also expected to have a different theme inside as well, allowing for a slightly different experience depending on which capsule you get to ride inside during your 40 minute round trip. The exact city in Japan that the Nippon Moon will call home is also a carefully guarded secret at this point as well.
(8/21/13) SEGA and the BBC have teamed up to open the first "Orbi" attraction in Yokohama, Japan. Essentially it's a mixture of the BBC Earth's nature coverage mixed with SEGA style technology to make it interactive. Click here to read all about it over at InParkMagazine.
(8/15/13) Osaka, Japan now has plans to build a 130 meter tall Giant Wheel, which would be the tallest in Japan when it opens in 2015. It would be built on a site near the former Expo '70 Commemorative Park along with an assortment of retail and dining opportunities.
(7/29/13) The new walk-through horror attraction at Tokyo Joypolis "Sadako 3D 2: Sadako no Ko" (Sadako 3D 2: Child of Sadako) just opened. A ticket to experience the attraction where you journey through with a camera to take pictures as a reporter will cost you about $6. As part of the themed experience they also have some themed food items, such as Sadako's Hair Dog. Check out some pictures and a video here. Given the timing, did this replace the previously Phoenix Wright: Ace Attorney attraction, or is this the same thing?
(7/6/13) Tokyo Joypolis just announced a few days ago that they would team with Capcom to create a live action mystery attraction called Phoenix Wright: Ace Attorney – Dual Destinies, based on the Nintendo 3DS video game series. Players must solve mysteries to complete missions and find out the truth behind crimes to catch the true criminal. The live action attraction is expected to take about an hour to complete. It will only last for a limited time, between July 27th and September 1st.
(5/16/13) Opening on July 11th a new indoor attraction known as J-World Tokyo will open on the third floor of Sunshine City's World Import Mart Building in Ikebukuro. The indoor attraction will feature three large themed areas to three very popular Japanese Anime shows from Shonen Jump: One Piece, Naruto and Dragon Ball. In addition to games and themed food items there will be five attractions: The One Piece Soldier Dock Adventure Ride (dark ride), The One Piece Carousel Ride, a Naruto challenge maze, and two Dragon Ball interactive attractions.
North Korea - (10/21/13) Kim Jong-un appears to be back on his theme park kick, as North Korea is said to have opened a new amusement park this past week, featuring a few rides, waterslides, games and a 3D simulator ride. They call it Pyongyang Pleasure Park. You can find a few pictures from the opening events posted here.
(5/6/13) While Kim Jong Un has been hitting the headlines more lately for North Korea's nuclear efforts, previous it was known that he also shared an interest in theme parks and wanted to see more in his native country. Now it seems that he is moving ahead for a new park project that will feature miniature replicas of famous world landmarks like the Eiffel Tower and Big Ben.
Poland - (5/14/13) ThemeparX has had some interesting updates posted on their site that seem to indicate that the Adventure World Warsaw park project is still moving forward, and new building permits are still coming out.
(2/6/13) Concern over the Adventure World Warsaw park project and other matters has sent the stock price of Royal Imtech, down to almost half of what it was previously. (Correction: Imtech is not the parent company behind Adventure World, but rather a multi-national construction company with a subsidiary who is a contractor on the project.) Read more over at InParkMagazine.
(10/16/12) I'm not quite sure what is happening, but a group of people in suits were assembled in front of cameras to sign documents in front a huge doorway for Adventure World Warsaw, that said, "Opening 2015" at the top. Could they be ready to begin construction? Check out the pictures over at The Theme Park Guy.
On a related note, BlooLoop reports that supplier contracts wit Mack Rides and Vekoma Rides were signed at a press conference with a new opening date of May 2015.
(8/3/12) A nice photo update all about Adventure World Warsaw (Poland), including pictures taken on site at the future park, has been posted to TheThemeParkGuy this week.
(12/30/11) InPark Magazine has posted an exclusive update regarding the Adventure World Warsaw theme park in Poland.
(7/29/11) According to BlooLoop, Poland will open it's own theme park in 2014 called Adventure World Warsaw. Details and concept artwork for the proposed theme park can be found here.
Russia - (12/2/13) Ever wanted to know about the roller coasters of Russia? A new coaster blog has launched called Flying Pirouettes, which starts off with an introduction to Russia followed by update after update about the parks and attractions of the country, with a focus on the coasters. For example… check out the unique Pax made Cobra shuttle loop at Attractionmania, or an visit to the infamous Divo Ostrov park that has one of the oddest S&S Screamin' Squirrels plus the insane Funtime Rocket ride. Seriously… scroll through all the pages… the little parks, the bigger ones and the ones that try to share a little culture… maybe try a Crapdog along the way for a laugh. Good stuff… and a good primer if anyone else has thought about visiting the parks and attractions of Russia.
(10/16/13) Dreamworks is moving ahead with talks to open three indoor parks in Russia themed to their animation characters in St. Petersberg, Moscow and Yekaterinburg, which are set to become the largest indoor parks in all of Europe. A new signed agreement will "support in creating favorable conditions for the project implementation, development and issue of permits in accordance with the Urban Development Code of the Russian Federation, as well as optimization of the procedure of getting approvals for technical documentation developed by the investor." Construction on the first site could be completed by late December 2016.
(8/15/13) According to ThemeParx, the final fate of the Dreamworks park project in Russia is to be decided as the developer waits to see if they get final approval on the requested zoning change from St. Petersburg.
(3/12/13) Time and again The Theme Park Guy has proven that he will travel to the ends of the Earth to get a story. Fresh from a visit to the site of the Sochi Winter Olympic Games, which will be home to it's own new theme park, he ventured forth into Moscow to check on the site where the future Universal park in Moscow will be built in 2018 as part of Galaxy Park, which itself is planning to start construction in 2014. While there may not be a lot to see right now, he does give us a great look at the beautiful Moscow of the 21st century.
(2/20/13) The head of DreamWorks Animation, Jeffrey Katzenberg has announced to the media in Russia that they will open THREE DreamWorks Animation themed "parks" in 2015 (near Moscow, St. Petersburg and Yekaterinburg), pointing out that these will open about 3 years ahead of Universal's project in Moscow's Galactica Park which is aiming for a 2018 opening date.
These will be year-round parks (indoor) that will be built along with a 400-room hotel, concert hall, 4-D Theater, a retail mall and more in each location. The cost of building all three projects is estimated at $1.5 billion. Each park will have 5 of 6 different themed zones representing different popular DreamWorks Animation characters and featuring various rides, shows, attractions and character interactions.
South Korea - (10/22/13) Fun artwork showing off the possible look of the new Robot Land park coming to South Korea has been posted to ThemeparX this week. One item of interest in what looks to be an S&S FreeFly coaster, with the riders seating in little rocket ships being carried by a giant flying robot with outstretched arms.
(10/2/13) According to a report on ThemeparX, the Robotland park project for South Korea may have broken ground last week.
Thailand - (10/3/13) Fairly recent construction pictures of the new Ramayana Water Park in Thailand have been posted to the official website this week. So far it is all in the concrete work phase for the pools and such, and no sign of slide pieces anywhere yet. It's going to be awhile until this park is ready to go from the look of things.
(9/25/13) According to ThemeparX, the opening timeline for the new Cartoon Network Amazone themed waterpark project in Thailand is now set for early 2014. New pictures show off the slides set in place for the Ben 10 themed Omniverse section of the park which appears to have a number of new unique slide creations from Polin.
(5/13/13) ThemeparX has posted a new update showing off a layout of the new Ramayana waterpark now under construction in Thailand that will offer all the latest products fro WhiteWater West. According to the park's official preview website, it is located about a 90 minute drive from the heart of Bangkok. They hope to open the park in early 2014.
(5/3/13) Polin reported on Facebook that they have almost finished installing the slides at the Cartoon Network Amazone Waterpark (Thailand), along with a nice picture of a unique looking slide complex. You can see even most over at the waterpark's official Facebook page.
(11/27/12) BlooLoop reports that Polin will build the slides for a major new waterpark opening in Thailand in 2013 called Santorini Water Fantasy. The new waterpark will open next to the Santorini Amusement Park located near the Cha-AmPremium Outlet Mall and will feature a virtual catalog of Polin products. Check out the details here.
(5/29/12) Cartoon Network Amazone, a new Cartoon Network themed waterpark experience will open in 2013 in Bang Saray near Pattaya, on the East Coast of Thailand. According to the press release, the park is already well under construction at this point, but this is because the park was first announced as Amazon Falls and was to have opened a couple of years ago, but has been suffering from delays. With a new identity in check, and I'm assuming new funding in the accounts to complete the project at last, the park will finally open better than ever.
UAE News - (10/22/13) Rumor has it that a proposed Warner Bros. Theme Park project for Abu Dhabi may be getting a second chance. Anyone know more?
(6/28/13) Consider me entirely and completely un-surprised by this announcement. According to a report posted at ThemeparX, the proposed Real Madrid Resort Island planned for the UAE has now been "put on hold indefinitely due to a lack of funding". Yep… who didn't see that one coming?
(5/7/12) Empire Industries has announced that their Dynamic Attractions unit has signed a contract to design, engineer and manufacture a "media based attraction for a theme park in the United Arab Emirates." The contract is valued "in excess of $3.8 million" and "will be executed over the next twelve months."
Just two months ago, the group also announced another deal worth $30 million to build another 'media based attraction" over the next 2 years, which is assumed to be the new Harry Potter ride system going into Universal Hollywood. That said… I've got to wonder just who in the UAE is working on their own media based attraction to open next year? Any thoughts?