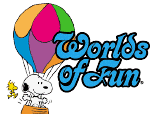 WORLDS OF FUN
& Oceans of Fun
Kansas City, MO
Cedar Fair L.P.
Park News - (3/8/18) According to the latest update, the revised Timber Wolf will not be ready when Worlds of Fun opens on April 21st, but will be ready to open to guests soimetime in 'late spring'.
(1/5/18) Remember how a big section of Timber Wolf just vanished from view right around the end of the season? Turns out the park's isn't just retracking Timber Wolf, but will built an all new awesome finale as a replacement for 2018, featuring a high-speed 70º over-banked turn. You can see some concept art the park has posted to Twitter below along with a note that Gold Season Passholders will get a chance to be the first to ride it.



(12/4/17) A couple of interesting developments were discovered at Worlds of Fun over the weekend. For starters, the big double-helix on Timberwolf is now missing, with a photo of the now empty site shown on the "Worlds of Fun dot org" Facebook page. (See below)
We know TimberWolf has been getting some re-tracking and sections rebuilt over the past couple years in the off-season, so this is apparently the latest section of the ride to get rebuilt, which always reminds me of all the work GCI had crews doing on Hurler and Thunder Road every winter at sister park, Carowinds. Confirming that this is the case, a link to a work permit was also sent my way, listed simply as being for "Timberwolf Improvements". With the park now open for WinterFest through the end of the year, this is sure to be something local fans will be keeping an eye on over the next few weeks.

2018 - Nordic Chaser - (8/17/17) Worlds of Fun will open a new family flat ride in 2018 called Nordic Chaser. I'm not 100% certain what it is, but according to the description "guests of all ages will board mini ships that rotate speedily around a circuit. The ride captures the imagination as guests experience the sensation of rising and falling along ocean waves. The ride will be placed in the park's Scandinavia themed area." While this could very well be the same kind of ride that is being added to Canada's Wonderland as Flying Canoes, the description is vague enough that this could be a Mack SeaStorm ride as well.