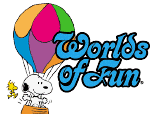 WORLDS OF FUN
& Oceans of Fun
Kansas City, MO
Cedar Fair L.P.
Park News - (9/28/15) The local news reports that Worlds of Fun is being hit with a water pollution violation notice, as certain pollutants (oil, floating solids, higher than allowed chlorine) have been detected in Shoal Creek, which flows into the Missouri River. The park was previously fines for similar problems back in 2010. Reasons listed so far for the cause include "leaky valves, snow melt, over application of algaecide and overfilling of water rides resulting in run off."
(5/19/15) A Screamscape source has confirmed that GCI has been working on Timber Wolf, re-tracking approximately the first third of the ride, from the first drop through to the high speed curve. If they can stay on schedule they hope to reopen the coaster as early as May 30th. The plan is to try and re-track the rest of the ride over the next two years, to be completed by Summer 2017 if all goes well.
2015 - Splash Island - Confirmed - (11/24/14) Oceans of Fun will add new interactive play areas for kids in 2015, as well as an assortment of other minor improvements throughout the park. Meanwhile in the main park, I'm told that we can expect to see new additions and figures added to the Dinosaurs Alive display.
(8/27/14) World's of Fun has confirmed that they will add Splash Island to the Oceans of Fun waterpark for the 2015 season. Splash Island is a 4,200 square-foot sprayground / water play area aimed primarily at young kids.
2016 - 5 New Planet Snoopy Rides - (8/25/15) Worlds of Fun has announced a package of 5 new family rides coming to the park's Planet Snoopy area for 2016.
Woodstock Gliders - (Larson Flying Scooters)
Flying Ace - "Get your aviator glasses ready for a high-flying adventure with Snoopy." (May be a Red Baron themed airplane spinner, but not sure.)
Snoopy Space Buggies - Defy gravity and bounce to the moon and back. (Some kind of bouncing kiddie spinner I'm guessing.)
Linus Launcher - Experience the sensation of weightlessness through flight with feet dangling. (While it sounds like a Frog Hopper, I'm hearing it could be a small Kite Flyer style ride)
Snoopy Juntion - Mini Railroad Ride