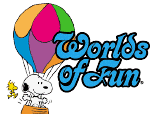 WORLDS OF FUN
& Oceans of Fun
Kansas City, MO
Cedar Fair L.P.
Park News - (4/24/19) While according to a few eye-witness reports sent to Screamscape, the media reports are overplaying this a bit, but it seems a fight broke out at Worlds of Fun on Saturday night between a larger number of teens in the park. They say up to 300 teens were involved in what turns out to be about 10 to 15 different fights breaking out in the park at about the same time. No one was seriously hurt and the situation was shut down quickly, but still… it just amazes me that this kind of thing can happen in the middle of a crowded theme park. The news keeps saying no one knows why it happened… but these days little surprises me when it comes to people… we find a way to ruin just about everything eventually.


(3/27/19) Cedar Fair is experimenting with a new form of nighttime entertainment that will be visiting four of their parks for a limited run over Summer 2019. They are calling it "Grand Carnivale" and it plays out as an interesting evening parade with nine floats, tons of costumed performers and a street party atmosphere, mixed with special foods, drinks and musical entertainment. Look for Grand Carnivale to drop in to:
Kings Dominion - June 15 through July 7
Kings Island - June 15 through July 7
Worlds of Fun - July 13 through August 4
Dorney Park - July 20 through August 11

(1/17/19) In support of their local Kansas City Chiefs NFL team, Worlds of Fun says they are temporarily renaming the park's "The Patriot" coaster as "The Patrick", named after the Chiefs' quarterback Patrick Mahomes. Of course the new name also helps avoid any conflict of feelings as the Chiefs will face-off against the New England Patriots in their next game.




(12/3/18) MidWestInfoGuide dropped into Worlds of Fun this week to check out this year's WinterFest holiday event at the park. Check it out!

(10/13/18) Worlds of Fun confirms some new additions for WinterFest 2018. The park will add horse-drawn carriage rides, Jack Frost's Igloo Village (think of it as a winter version of a cabana), the 50's era Tinsel Town themed area, and a bunch of new themed characters to meet including the Ghost of Christmas Past, Present and Future, Captain Macaron, the Tannenbaums and more. WinterFest will also remain open through to New Year's Eve where they will put on a special celebration for the big night with "Snoopy's Countdown Rockin' NYE Party"

(5/10/18) Good news for Worlds of Fun, as the park reports that the revised Timber Wolf coaster will be ready to reopen on May 19th.

(4/14/18) According to the Worlds of Fun blog the park is also working to restore and add new scenic enhancements in the park such as the return of the World of Fun Floral Clock that was there from when the park opened in 1973 until it was removed in 1996. The new one will return this season, similar to the original. A new themed fountain will also be added to the Americana section of the park, replacing the old fountain with a new one featuring a large star-shaped centerpiece. Also the park will bring back the Liberty Bell and adding free park-wide WiFi.
(1/5/18) Remember how a big section of Timber Wolf just vanished from view right around the end of the season? Turns out the park isn't just retracking Timber Wolf, but will built an all new awesome finale as a replacement for 2018, featuring a high-speed 70º over-banked turn. You can see some concept art the park has posted to Twitter below along with a note that Gold Season Passholders will get a chance to be the first to ride it.



2018 - Nordic Chaser - (5/10/18) The new Nordic Chaser ride at Worlds of Fun is now open. You can see some pictures of the new ride posted to MidWestInfoGuide.

(3/30/18) We finally get a peek at exactly what the new Nordic Chaser ride is, thanks to a Tweet from the park showing off the current progress of the installation. As I sort of suspected it might be, this is a Mack SeaStorm flat ride, a wonderful little creation that I'm happy Cedar Fair already has at my local park, Carowinds, where it is known as Peanuts Pirates. Don't let the size fool you, this is a fun ride for everyone... not just kids, as long as you can still handle a bit of spinning with your thrills.

(8/17/17) Worlds of Fun will open a new family flat ride in 2018 called Nordic Chaser. I'm not 100% certain what it is, but according to the description "guests of all ages will board mini ships that rotate speedily around a circuit. The ride captures the imagination as guests experience the sensation of rising and falling along ocean waves. The ride will be placed in the park's Scandinavia themed area." While this could very well be the same kind of ride that is being added to Canada's Wonderland as Flying Canoes, the description is vague enough that this could be a Mack SeaStorm ride as well.
2019 - Pigpen's Barnyard Friends / Boathouse Grill - (1/16/19) I'm not sure why but apparently Worlds of Fun has decided to change the name of their new Boathouse Grill restaurant project. According to our sources the new name of the restaurnat will be "Cotton Blossom BBQ". Construction is proceeding at a rapid pace from what I'mt old as the wood framework is said to be around about 75% or more in place.

(12/23/18) We get a look at the construction on the new Boathouse Grill restaurant at Worlds of Fun this weekend, thanks to an update posted to MidWestInfoGuide. Lots of ground infrastructure work going on, along with other prep work before the foundation gets poured. Make the jump and check it out.

(12/10/18) I had not heard this myself, but guests visiting Worlds of Fun during WinterFest discovered a banner over the entrance to the former Peanuts Playhouse structure announcing that the park will open "Pigpen's Barnyard Friends" in 2019 on that site. As it sounds, this will be a new animal exhibit of some kind, said to feature 40 different animals. You can see a picture of the site over at MidWestInfoGuide.



(8/17/18) Following suit with Kings Island, Worlds of Fun decided to use National Roller Coaster Day as their platform to announce something new for 2019... the Boathouse Grill restaurant. Yep... not a ride, but a needed new restaurant will be coming to the park next season that will include Kansas City BBQ, rotisserie chicken , desserts and more. Look for it to be added to the Americana section of the park where it will also replace the Pizza Pier location with a new outdoor seating patio, creating "the largest dining location" in the park.
Based on the look and size of the building, I'm thinking this could be Worlds of Fun's version of the giant Harmony Hall restaurant that was added to Carowinds a few years back, which has essentially become one of that park's top restaurant locations.