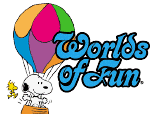 WORLDS OF FUN
& Oceans of Fun
Kansas City, MO
Cedar Fair L.P.
Park News - (1/30/21) Worlds of Fun has now set May 22 as the park's opening date for the 2021 season. They will also finally open the new Riptide Raceway waterslide this year after the opening was delayed from 2020.

(8/25/20) I've got a quick update about the Boomerang coaster at Worlds of Fun today. Several readers were quick to chime in today, all reporting that the park's Boomerang coaster has actually been closed for all of 2020. In that time, the train has also been entirely missing from the ride's station as well, so hopefully it has been getting an extensive rehab during the downtime.

(8/24/20) I'm not sure what the current status has been before now, but a guest to Worlds of Fun reported back at the park's Boomerang coaster was not only closed, but the train appeared to be missing from the ride entirely. Anyone know if it was running prior to this weekend or not? Otherwise, with the park set to close for the season on Sept. 7th, it doesn't look good for it to return this season.

(8/5/20) Worlds of Fun has announced that the park's last day of 2020 will be Monday, Sept. 7th (Labor Day). After that the park will close for the rest of the year and not reopen for any of the previously planned special events like Halloween Haunt or WinterFest.

(7/12/20) Due to lower than expected attendance, Worlds of Fun has announced that they will be changing their operational schedule starting July 13. The new schedule will keep the park closed entirely on Mondays, Tuesdays and Wednesday and open to guests only from Thursday through Sundays through to the end of August. As always, schedules and park hours are subject to change, so if the demand is there, this could change again going forward.
Also note that no reservations are required to visit.




(7/1/20) Behind the Thrills has posted a brief review of their visit to Worlds of Fun, the first full scale Cedar Fair theme park to reopen. They were happy to report that the park had invested in therma scanners which made entering the park a breeze as you simply walk past the heat sensitive cameras. Crowds were reported to be low which also kept the wait time for the rides to a minimum. They also report that masks are required and staff were making sure everyone was wearing one and following the social distancing rules.

(6/11/20) Worlds of Fun has confirmed that the park will open again for Season Passholders on June 22, 2020. No date for regular day guests has been set yet, but they say to expect it sometime in early July. Reservations are required, face masks required for all guests as well as passing a temperature screening before entry.


(3/22/20) On Friday afternoon all Cedar Fair owned theme parks announced on their social media streams the same basic message, stating that the plan for them was now to hopefully "reopen all properties mid-May or as soon thereafter as possible." For some parks this will be a reopening, for others their seasons will be delayed by several weeks, but for a few this is just a delay of a week or two. Check your local park's website as the date get closer to see each park's actual opening date once things have begun to settle down.

(9/16/19) A great collection of coverage of Halloween Haunt at Worlds of Fun can be found over at MidWestInfoGuide this week, with links to more in depth coverage of event specifics found at the bottom of the page.

(8/8/19) Worlds of Fun announced that their Diamond Head waterslides will close forever at the end of the 2019 season, but confirmed that they would be "welcoming a new tide in 2020." So sounds like some kind of expansion for the Oceans of Fun waterpark is the plan for next season.

2020 - Riptide Raceway - (11/15/19) Worlds of Fun has announced that they have made a change to the previously announced Riptide Raceway slide that will see the length of each slide increased by 10 feet, which will give it the record for being the longest Mat Racer slide in the world.




(8/20/19) I missed this one the other day but Worlds of Fun will add Riptide Raceway is 2020 to the waterpark, marketing it as the largest mat racer slide in the Midwest.


(8/10/19) Screamscape sources tell us that the new slide coming to Oceans of Fun in 2020 to replace the soon-to-be-leaving Diamonhead slides will be some kind of new four-lane Matt Racer slide.
In other news, I'm told that Dinosaurs Alive was also confirmed to be closing for good before the end of the season.