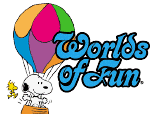 WORLDS OF FUN
& Oceans of Fun
Kansas City, MO
Cedar Fair L.P.
Park News - (7/16/19) A Screamscape source has confirmed that the location of the new clearing on the opposite side of Mamba from Planet Snoopy was correct. They also tell is that this site will become home to a new storage building for the park, with the intention of being used as a winter home for Cedar Fair's new Grand Carnivale floats and decorations.




(7/14/19) According to a reader who visited Worlds of Fun this weekend, while riding Mamba they noticed what looked like a large clearing / construction site being formed behind Planet Snoopy, nearest to Mamba. If I'm interpreting this location correctly, this sounds more like it might be in the green space behind the Oceans of Fun parking lot between Mamba and the Worlds of Fun Village
If so, I'm not sure they would expand the park itself over there, but perhaps it could be something for the campground? Anyone else notice this, or know what might be happening?

(4/24/19) While according to a few eye-witness reports sent to Screamscape, the media reports are overplaying this a bit, but it seems a fight broke out at Worlds of Fun on Saturday night between a larger number of teens in the park. They say up to 300 teens were involved in what turns out to be about 10 to 15 different fights breaking out in the park at about the same time. No one was seriously hurt and the situation was shut down quickly, but still… it just amazes me that this kind of thing can happen in the middle of a crowded theme park. The news keeps saying no one knows why it happened… but these days little surprises me when it comes to people… we find a way to ruin just about everything eventually.


(3/27/19) Cedar Fair is experimenting with a new form of nighttime entertainment that will be visiting four of their parks for a limited run over Summer 2019. They are calling it "Grand Carnivale" and it plays out as an interesting evening parade with nine floats, tons of costumed performers and a street party atmosphere, mixed with special foods, drinks and musical entertainment. Look for Grand Carnivale to drop in to:
Kings Dominion - June 15 through July 7
Kings Island - June 15 through July 7
Worlds of Fun - July 13 through August 4
Dorney Park - July 20 through August 11

2019 - Pigpen's Barnyard Friends / Boathouse Grill - (1/16/19) I'm not sure why but apparently Worlds of Fun has decided to change the name of their new Boathouse Grill restaurant project. According to our sources the new name of the restaurnat will be "Cotton Blossom BBQ". Construction is proceeding at a rapid pace from what I'mt old as the wood framework is said to be around about 75% or more in place.

(12/23/18) We get a look at the construction on the new Boathouse Grill restaurant at Worlds of Fun this weekend, thanks to an update posted to MidWestInfoGuide. Lots of ground infrastructure work going on, along with other prep work before the foundation gets poured. Make the jump and check it out.

(12/10/18) I had not heard this myself, but guests visiting Worlds of Fun during WinterFest discovered a banner over the entrance to the former Peanuts Playhouse structure announcing that the park will open "Pigpen's Barnyard Friends" in 2019 on that site. As it sounds, this will be a new animal exhibit of some kind, said to feature 40 different animals. You can see a picture of the site over at MidWestInfoGuide.



(8/17/18) Following suit with Kings Island, Worlds of Fun decided to use National Roller Coaster Day as their platform to announce something new for 2019... the Boathouse Grill restaurant. Yep... not a ride, but a needed new restaurant will be coming to the park next season that will include Kansas City BBQ, rotisserie chicken , desserts and more. Look for it to be added to the Americana section of the park where it will also replace the Pizza Pier location with a new outdoor seating patio, creating "the largest dining location" in the park.
Based on the look and size of the building, I'm thinking this could be Worlds of Fun's version of the giant Harmony Hall restaurant that was added to Carowinds a few years back, which has essentially become one of that park's top restaurant locations.