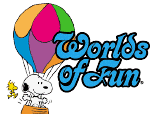 WORLDS OF FUN
& Oceans of Fun
Kansas City, MO
Cedar Fair L.P.

Park News - (9/16/19) A great collection of coverage of Halloween Haunt at Worlds of Fun can be found over at MidWestInfoGuide this week, with links to more in depth coverage of event specifics found at the bottom of the page.

(8/8/19) Worlds of Fun announced that their Diamond Head waterslides will close forever at the end of the 2019 season, but confirmed that they would be "welcoming a new tide in 2020." So sounds like some kind of expansion for the Oceans of Fun waterpark is the plan for next season.

2020 - Riptide Raceway - (11/15/19) Worlds of Fun has announced that they have made a change to the previously announced Riptide Raceway slide that will see the length of each slide increased by 10 feet, which will give it the record for being the longest Mat Racer slide in the world.




(8/20/19) I missed this one the other day but Worlds of Fun will add Riptide Raceway is 2020 to the waterpark, marketing it as the largest mat racer slide in the Midwest.


(8/10/19) Screamscape sources tell us that the new slide coming to Oceans of Fun in 2020 to replace the soon-to-be-leaving Diamonhead slides will be some kind of new four-lane Matt Racer slide.
In other news, I'm told that Dinosaurs Alive was also confirmed to be closing for good before the end of the season.