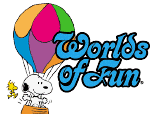 WORLDS OF FUN
& Oceans of Fun
Kansas City, MO
Cedar Fair L.P.

Park News - (7/18/15) Looks like the Boomerang at Worlds of Fun had a little lift-hill "oopsie", as workers were spotted working on the problem the other day in this reader submitted photo.


(6/22/15) Great news for Worlds of Fun fans, as I've been told that the TimberWolf coaster has reopened at last this weekend.
(6/16/15) For anyone wondering, Timber Wolf is still closed at Worlds of Fun, though the sign out front confirms they plan on reopening it later this season. No word on when it will actually reopen at this point, though during a ride on Mamba, our reader noticed that it looked like the re-tracking was quite extensive, though it may be nearing the end.
(5/19/15) A Screamscape source has confirmed that GCI has been working on Timber Wolf, re-tracking approximately the first third of the ride, from the first drop through to the high speed curve. If they can stay on schedule they hope to reopen the coaster as early as May 30th. The plan is to try and re-track the rest of the ride over the next two years, to be completed by Summer 2017 if all goes well.
Meanwhile details of a new haunt have been leaked to us, to be called Blood on the Bayou. It is said that the new haunt will offer up some brand new special effects never seen before at Worlds of Fun.

2015 - Splash Island - Confirmed - (11/24/14) Oceans of Fun will add new interactive play areas for kids in 2015, as well as an assortment of other minor improvements throughout the park. Meanwhile in the main park, I'm told that we can expect to see new additions and figures added to the Dinosaurs Alive display.
(8/27/14) World's of Fun has confirmed that they will add Splash Island to the Oceans of Fun waterpark for the 2015 season. Splash Island is a 4,200 square-foot sprayground / water play area aimed primarily at young kids.
2016 - 5 New Planet Snoopy Rides - (8/25/15) Worlds of Fun has announced a package of 5 new family rides coming to the park's Planet Snoopy area for 2016.
Woodstock Gliders - (Larson Flying Scooters)
Flying Ace - "Get your aviator glasses ready for a high-flying adventure with Snoopy." (May be a Red Baron themed airplane spinner, but not sure.)
Snoopy Space Buggies - Defy gravity and bounce to the moon and back. (Some kind of bouncing kiddie spinner I'm guessing.)
Linus Launcher - Experience the sensation of weightlessness through flight with feet dangling. (While it sounds like a Frog Hopper, I'm hearing it could be a small Kite Flyer style ride)
Snoopy Juntion - Mini Railroad Ride