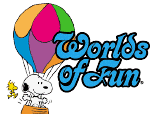 WORLDS OF FUN
& Oceans of Fun
Kansas City, MO
Cedar Fair L.P.
Park News - (7/7/14) I'm told that SteelHawk at Worlds of Fun is now open. There was also some kind of incident over the long holiday weekend at the park involving guests getting into a nasty fight it seems. According to our source, there were up to five arrests made over the incident which may have started when two women decided to get into a fist-fight with each other according to this article.
2015 - Splash Island - Confirmed - (11/24/14) Oceans of Fun will add new interactive play areas for kids in 2015, as well as an assortment of other minor improvements throughout the park. Meanwhile in the main park, I'm told that we can expect to see new additions and figures added to the Dinosaurs Alive display.
(8/27/14) World's of Fun has confirmed that they will add Splash Island to the Oceans of Fun waterpark for the 2015 season. Splash Island is a 4,200 square-foot sprayground / water play area aimed primarily at young kids.
2016 / 2017 - New Additions - Planning - (11/24/14) Screamscape sources tell us that Worlds of Fun is planning on adding unknown new attractions to the theme park in both 2016 and 2017, one of which is rumored to possibly be a new Triotech style dark ride. There are also rumblings about some kind of possible upgrade for Timberwolf being planned, with bid and design requests sent out to both GCI and RMC. Hmmm… interesting times…