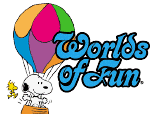 WORLDS OF FUN
& Oceans of Fun
Kansas City, MO
Cedar Fair L.P.
Park News - (10/13/18) Worlds of Fun confirms some new additions for WinterFest 2018. The park will add horse-drawn carriage rides, Jack Frost's Igloo Village (think of it as a winter version of a cabana), the 50's era Tinsel Town themed area, and a bunch of new themed characters to meet including the Ghost of Christmas Past, Present and Future, Captain Macaron, the Tannenbaums and more. WinterFest will also remain open through to New Year's Eve where they will put on a special celebration for the big night with "Snoopy's Countdown Rockin' NYE Party"

(8/14/18) Just a quick update, but I'm told Prowler at Worlds of Fun is reopen once again.
(8/8/18) According to a couple of readers who have visited Worlds of Fun since the weekend, they have confirmed that Prowler is indeed down, and according to rumored reports, a train had an issue with a wheel and tore up some of the tracks until it ground to a halt. The tracks in this area of the ride are now in need of repair, so depending on how bad it is, Prowler may be down for awhile until they can finish the repairs.
(8/6/18) An interesting message was sent my way on Twitter about an incident taking place on Prowler at Worlds of Fun over the weekend. Can anyone confirm this, and has Prowler reopened with single train operation or has it remained closed?




(7/27/18) Worlds of Fun got into an odd Twitter exchanged with Carowinds on Tuesday that started off as being about Fanny Packs being back (shudder…) and ended with a picture of Dinosaur's Alive at Worlds of Fun with the text, "Time of extinction, 1:24 PM, July 24, 2018".
This certainly does make it sound like Worlds of Fun has opted to shut down their version of Dinosaurs Alive early, however the official park website still has it listed as being open at 11am every day the park is open through to October. Screamscape reached out to the park on Twitter for clarification, but so far they have not replied.


(5/10/18) Good news for Worlds of Fun, as the park reports that the revised Timber Wolf coaster will be ready to reopen on May 19th.

(4/14/18) According to the Worlds of Fun blog the park is also working to restore and add new scenic enhancements in the park such as the return of the World of Fun Floral Clock that was there from when the park opened in 1973 until it was removed in 1996. The new one will return this season, similar to the original. A new themed fountain will also be added to the Americana section of the park, replacing the old fountain with a new one featuring a large star-shaped centerpiece. Also the park will bring back the Liberty Bell and adding free park-wide WiFi.
(3/8/18) According to the latest update, the revised Timber Wolf will not be ready when Worlds of Fun opens on April 21st, but will be ready to open to guests sometime in 'late spring'.
(1/5/18) Remember how a big section of Timber Wolf just vanished from view right around the end of the season? Turns out the park isn't just retracking Timber Wolf, but will built an all new awesome finale as a replacement for 2018, featuring a high-speed 70º over-banked turn. You can see some concept art the park has posted to Twitter below along with a note that Gold Season Passholders will get a chance to be the first to ride it.

(12/4/17) A couple of interesting developments were discovered at Worlds of Fun over the weekend. For starters, the big double-helix on Timberwolf is now missing, with a photo of the now empty site shown on the "Worlds of Fun dot org" Facebook page. (See below)
We know TimberWolf has been getting some re-tracking and sections rebuilt over the past couple years in the off-season, so this is apparently the latest section of the ride to get rebuilt, which always reminds me of all the work GCI had crews doing on Hurler and Thunder Road every winter at sister park, Carowinds. Confirming that this is the case, a link to a work permit was also sent my way, listed simply as being for "Timberwolf Improvements". With the park now open for WinterFest through the end of the year, this is sure to be something local fans will be keeping an eye on over the next few weeks.

2018 - Nordic Chaser - (5/10/18) The new Nordic Chaser ride at Worlds of Fun is now open. You can see some pictures of the new ride posted to MidWestInfoGuide.

(3/30/18) We finally get a peek at exactly what the new Nordic Chaser ride is, thanks to a Tweet from the park showing off the current progress of the installation. As I sort of suspected it might be, this is a Mack SeaStorm flat ride, a wonderful little creation that I'm happy Cedar Fair already has at my local park, Carowinds, where it is known as Peanuts Pirates. Don't let the size fool you, this is a fun ride for everyone... not just kids, as long as you can still handle a bit of spinning with your thrills.

(8/17/17) Worlds of Fun will open a new family flat ride in 2018 called Nordic Chaser. I'm not 100% certain what it is, but according to the description "guests of all ages will board mini ships that rotate speedily around a circuit. The ride captures the imagination as guests experience the sensation of rising and falling along ocean waves. The ride will be placed in the park's Scandinavia themed area." While this could very well be the same kind of ride that is being added to Canada's Wonderland as Flying Canoes, the description is vague enough that this could be a Mack SeaStorm ride as well.
2019 - Boathouse Grill - (8/17/18) Following suit with Kings Island, Worlds of Fun decided to use National Roller Coaster Day as their platform to announce something new for 2019... the Boathouse Grill restaurant. Yep... not a ride, but a needed new restaurant will be coming to the park next season that will include Kansas City BBQ, rotisserie chicken , desserts and more. Look for it to be added to the Americana section of the park where it will also replace the Pizza Pier location with a new outdoor seating patio, creating "the largest dining location" in the park.
Based on the look and size of the building, I'm thinking this could be Worlds of Fun's version of the giant Harmony Hall restaurant that was added to Carowinds a few years back, which has essentially become one of that park's top restaurant locations.