DISNEY CALIFORNIA ADVENTURE
Anaheim, California (Abbreviation: DCA)
Walt Disney Theme Parks
---- THE LATEST BUZZ ----
(8/24/20) Avengers Campus Update (MORE...)
(7/26/20) To The Surprise of No One... Disney Officially Cancels Oogie Boogie Halloween Event (MORE....)
(7/14/20) Avengers Campus Is Looking Like A 2021 Attraction (MORE...)
(6/24/20) BREAKING - Planed July 17th Opening For Disneyland Just Got Canceled (MORE...)
Ride Rehabs - The following information is not guaranteed to be 100% accurate.
Red Car Trolley - NOW CLOSED through TBD
General Park News - (7/26/20) This comes as no surprise to anyone, at this point, especially as theme parks in California are still closed by state mandate. Following the confirmation from Universal Studios that the popular Halloween Horror Nights events in CA and FL are cancelled this year, Disneyland also confirmed that their Oogie Boogie Bash event at California Adventure is also cancelled.
Again, this was expected anyway, not just because the parks are still closed in CA, and not because Universal cancelled their event, but Disney had already announced the cancellation of the similar Halloween event in Florida long ago. Despite the fact that the Walt Disney World theme parks are currently open again, Disney made the call to cancel the "Mickey's Not So Scary Halloween Party" extra-ticket event held at The Magic Kingdom way back in mid-June along with the H2O Glow Nights events held at the Typhoon Lagoon waterpark over the summer months.

(6/24/20) According to the LA TIMES, the planned opening of Disneyland on July 17 has been delayed. While I have yet to see a statement from Disney about this yet, the official Disneyland website has just been updated and no longer lists the parks opening on July 17. Instead it now says that the theme parks "will remain closed and will reopen at a later date, pending state and local government approvals." The Downtown Disney area however will still reopen on July 9.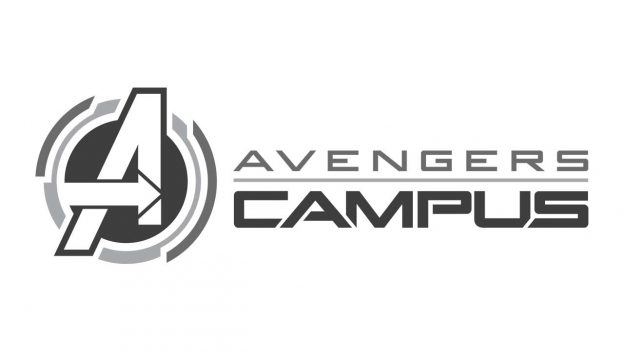 2021 - Avengers Campus - (8/24/20) BlooLoop has posted an update about the Avengers Campus attraction under construction at Disney California Adventure. With construction moving ahead once again Disney released an updated look at the land, including the new Quinjet that has been installed. The arrival of the Quinjet is an important feature that will play heavily into the theme of the major attraction set to be installed in the second phase of the land.

(7/14/20) For anyone wondering how things are going at the Avengers Campus at Disney California Adventure, a new aerial photo posted to Twitter (see below) confirms that all activity on the site stopped months ago, and that it is no where near being finished.
In fact it doesn't even really look like they've restarted work on it at all yet. This doesn't mean they may not be working inside on the new Spider-Man attraction, but with all the dirt still all around outside, this looks to be a long ways off.
At this point, even if the park was to open this month, I think it is safe to say that Avengers Campus and the new Spider-Man themed ride are officially pushed back to 2021.




(4/28/20) A set of aerial photos of the Disneyland Resort posted to MiceChat has discovered one very interesting thing. In the middle of the Avengers Campus construction site, you can now see that a massive Quinjet has arrived on site. This sets up the theme of the Phase 2 attraction to arrive later, as seen in early concept art featuring a Quinjet vehicle parked at an Avengers base building.
Look around elsewhere in the update and you can also see the massive clearing behind Toontown for the new Mickey & Minnie's Runaway Railway attraction.

(4/10/20) It has been mentioned that the Avenger Campus will likely be delayed, missing the previously announced July 18th opening date. It has been noticed that the website now only says "Coming Soon" rather than giving a more specific date, or even something generic like "Summer". This seems to indicate that we could see the opening pushed back to sometime in the fall.

(4/7/20) According to CinemaBlend, Disney is going to side step the problem is trying to fit their new Avengers Campus land into a specific timeline within the Marvel Cinematic Universe. After all the land will feature attractions with character appearances by many Marvel characters from the MCU, as well as walk-around and interactive characters, some of which whom had their lives forever changed by Thanos and the Infinity War / Endgame movies.
According to Disney Live Entertainment director, Dan Fields, the Avengers Campus exists within a world where Thanos and his "snap" never happened. While there will still be themes of conflict between heroes and villains, the world of the Avengers Campus isn't one that had to endure the more apocalyptic aspects of the story told in the MCU films.
And you know what? That should be just fine, especially after the endless fan-fallout after the creation of Star Wars: Galaxy's Edge built a world in the timeline of the final trilogy, where most of that's series most popular characters of the past had passed on. So I guess it may be best to think of Avengers Campus as more of a "Star Tours" blended kind of world where the characters and places from all the various Marvel films can all exist at the same time if need be, freeing the Disney theme parks to build their own self-contained Marvel universe stories that won't conflict with the future MCU films.

(3/31/20) Marvel is putting out a new 5-issue Spider-Man comic series in June that will show off the W.E.B. building under construction as part of the Avengers Campus. According to this story the new comic series will feature a storyline linked to the story to be told in the new interactive Spider-Man dark ride that was set to open on July 18th.

(3/13/20) Assuming all is well with the world by then, Disney California Adventure has announced that they plan to open the new Avengers Campus on July 18, 2020. They've also announced the name of the new Spider-Man themed ride which will be called "WEB SLINGERS: A Spider-Man Adventure". The great news is that Tom Holland will reprise his role as Peter Parker for the attraction.
Follow the link to learn more about the other buildings on Campus, such as the WEB Suppliers where you can build and customize your own Spider-Bot, the Campus Supply Pod where you can buy Avengers themed gear, eat in the previously mentioned PYM Test Kitchen, sample adult beverages at the Pym Tasting Lab, or get ready to try a "Shawarma" yourself at the new Shawarma Palace food cart. A new food cart with some intergalactic treats will also be offered at Terran Treats near the Guardians of the Galaxy - MIssion: BREAKOUT! attraction.
Best of all the Marvel heroes will be present! You may come across any number of characters during your visit including: Iron Man, Captain Marvel, Black Widow, Doctor Strange, Black Panther, Ant-Man and The Wasp, Thor (or even Loki), as well as any of the Guardians of the Galaxy. Doctor Strange may teach you some mystic arts at a nearby sanctum that will glow even brighter after dark and keep an eye on the sky and you might witness Spider-Man swinging by!
In addition to possible appearances by Loki, the big bad villain of the land when it opens will be Taskmaster who will become more familiar to everyone after you see the new Black Widow film coming out later this year.

(2/28/20) A great look at the Avengers Campus construction can be found in the latest photo update posted to Westcoaster this week.

(1/31/20) Screamscape readers may recall reading about an odd new invention by Walt Disney Imagineering called the "Stuntronic", a new style animatronic figure able to perform programmed aerial stunts. Well, now we know exactly what Disney had in mind for this odd acrobatic machine, as they have just released a video of one of these Stuntronics dressed up as Spider-Man who will periodically perform amazing aerial stunts and fly through the skies over the Avengers Campus, with mid-flight poses just like the legendary wall-crawler himself!
Check out the teaser video below, because it looks amazing as all get-out! Oh… and when trying to get a peek of the Avengers Campus as they prepare to open this Summer...keep an eye on the skies!


(1/24/20) Westcoaster has posted some great sneak-peek construction photos of the new Avengers Campus rising up at Disney California Adventure. Bonus… you can scroll down some more to see some photos shot in Galaxy's Edge as well, including a spotting of R2D2 in the land.

(12/29/19) Disney has confirmed that the new Avengers Campus area will be ready to open to guests at Disney California Adventure starting in Summer 2020. The experience will include the yet-to-be-named Spider-Man themed dark ride adventure as well as the Pym Test Kitchen restaurant and several encounter locations with various Marvel characters to include: Black Widow, Ant-Man and The Wasp, Doctor Strange, Guardians of the Galaxys, Iron Man and other characters from Wakanda and Asgard.
Soon to follow will be the creation of the Avengers Headquarters building, where 'you should be on the lookout for Avengers in action.". In other words… look for the previously teased Avengers attraction to be built in Phase 2.

(11/18/19) A nice aerial photo on Twitter shows off the current construction status for the Avengers Campus at Disney California Adventure. More aerial photos and some boots on the ground photos can also be found over at BlogMickey this week.



(8/27/19) Disney announced a few more details about the Avengers Campus and attractions at the D23 event over the weekend. Guests will enter the Worldwide Engineering Brigade building (aka: W.E.B.) where they work to elevate normal humans into potential new superheroes. Part of the program has developed a new test vehicle that allows the riders to sling-webs just like Spider-Man, and when one of the lab's other inventions starts to glitch and get out of control (a self-replicating Spider-Bot) you're off on a mission to stop them.
New concept art reveals a ride vehicle that seats guests four-across in rows that matches up with the vehicle and plans leaked earlier this year for the proposed ride system that made this attraction look somewhat similar to Toy Story Midway Mayhem, with rides simply sliding around in front of a series of projection screens. The artwork also shows off another part of the rumor, that guest appear to be slinging webs via hand/arm gesture technology, rather than using a gun / pointer style aiming mechanism. This has led to some quick expectations that the new Spider-Man ride, opening in 2020, may work in a very similar fashion to the LEGO Ninjago dark rides built at several Legoland theme parks around the world.
Disney also confirmed that there will be a Phase 2 to the Avengers Campus, which will indeed be that promised new Avengers themed ride. The latest details on this attraction coming later is that guests will board a Quinjet and fly off to help the Avengers battle a new threat in Wakanda. This will all take place inside a brand new structure that will be the actual Avengers Headquarters. Disney wont say exactly what kind of ride this will be, only that they are working on developing an "all-new innovative ride system" to bring the experience to life.
Otherwise, Avengers Campus will feature some kind of Dr. Strange live show, live encounters with various Marvel characters plus you can eat at the PYM Test Kitchen where they've been playing with the idea of adding the PYM particles to various food items to adjust their size.



(8/23/19) A little bit of art and new details were released at D23 showing off the new Marvel themed area coming to Disney California Adventure that has begun construction. The land will be called "Avengers Campus" which will connect the Spider-Man themed attraction to the existing Guardians tower attraction and add in shops and food locations. The Marvel themed land coming to the Walt Disney Studios Paris theme park will also use the same name. So far there is no sign of the previously mentioned Avengers attraction yet, so that looks to be held back for a future expansion phase.

(7/26/19) DisneyandMore has posted a look at a new piece of concept artwork that appeared leaked out showing off the loading station for the new Spider-Man themed attraction now under construction at Disney California Adventure and at Walt Disney Studios Paris. The previous plans leaked showed off a track layout that looked similar in style to Toy Story: Midway Mania where vehicles holding riders facing forwards and backwards would slide sideways along the tracks and stop in front of various projection screens.
Now we get a look at the vehicles that seem much larger (4 across per row instead of 2 across) and also appear to be enclosed, using a single long lapbar across the row to hold everyone in.

(7/18/19) A huge photo update on the status of various projects at the Disneyland Resort was posted to Westcoaster this week. It starts off with an extremely lengthy section all about the new Pixar Pals parking structure and how it all blends into the location of the old one, and lots of pictures of the new tram loading area as well. But if you scroll down a bit, past all that and the Downtown Disney bit you can see some cool construction pictures of the new Marvel area being formed at Disney California Adventure. This includes a look at a high-beam installed for the Spider-Man attraction building that was signed and even had a little Spider-man logo drawn on it.

(6/15/19) While we already knew Disney was working on their planned Marvel themed land at Disney California Adventure, the official reports now confirm that the city of Anaheim has approved the building permits for Disney to move ahead with this project. In addition to attractions and other improvements to existing structures, the list new items also includes a gift shop, a microbrewery and a character meet-and-greet area. More details on this expansion are expected to be released during the D23 convention in Anaheim taking place August 23-25.

(5/6/19) A website called Outsidears has posted a graphic that they are claiming is a blueprint of the new Spider-Man themed attraction Disney is planning on building at Walt Disney Studios Paris and at Disney California Adventure. Looking it over, it looks very similar to the same kind of ride system Disney used for Toy Story Midway Mania, just with larger cars, that will apparently still move in pairs, up and down a series of rows that appear to only contain large video game style screens for some interactive game system, rather than a more traditional themed dark ride concept.
According to one rumor, the cars won't be mounted with guns like Toy Story can, but rather they may try to use some kind of motion based gesture system, similar to what the Legoland parks did with their Ninjago dark rides, to allow riders to shoot their own webs at Spider-man villains. A couple of extra renderings showing off what the outside of the attraction building may look like can also be seen here.

(12/23/18) DisneyGeek has posted a quick photo update showing off the early construction taking place in DCA for the upcoming Marvel themed land as they remove the former Bugs themed land and attractions to make room.

(12/12/18) In addition to new artwork released last month showing off the look of a red and blue building for the new Marvel land that appears to have some kind of updated Spider-Man icon on the side, Disney released details about a greater storyline that will link the creation of the Marvel lands in Hong Kong, Paris and California.

"There was an idea. To bring together a group of remarkable people, to see if they could become something more. It was called the Avengers Initiative.
That original idea has now evolved into a brand-new global Avengers Initiative. One that brings us—the next generation of remarkable people—together. To find our power and become something more. To see if we can work alongside the Avengers so we may all become stronger together.
The Stark Expo in Hong Kong was to be a first step: A world exposition whose theme of 'A Better Tomorrow Today,' was meant to inspire and motivate through technological innovation. However, shortly after it opened, the Expo was attacked by the forces of Hydra. When even more powerful forces threatened the entire planet, the Avengers realized that the Earth needs more heroes.
So today, to better defend the planet, the Avengers are setting up new Headquarters and technology sharing exchanges around the globe to empower and inspire all potential recruits willing to step up and become heroes.
In California and Paris, Tony Stark is retrofitting two of his father's Stark Industries sites into new hubs for training and innovation. Through partnerships with S.H.I.E.L.D., Pym Technologies, Masters of the Mystic Arts and the new Worldwide Engineering Brigade, The Avengers and their allies will forge new global campuses to champion the next generation of heroes. Who's ready to answer the call?"

(10/24/18) WDWNT has posted a new article that claims to go over the details of what we can expect from the Marvel themed land coming to Disney California Adventure starting in 2020, with expansions already planned to add even more a year or two after it opens. The previously rumored Spider-Man themed dark ride experience is said to be the first attraction that will open, taking over the space occupied by the former It's Tough To Be a Bug 4D theater attraction, along with some kind of interactive Dr. Strange themed show like experience along with the rest of the basics… gift shops, food, bathrooms, etc.
The highly anticipated Avengers attraction however looks like it's the one slated for a Phase 2 opening. According to the article this could be a highly themed roller coaster style experience, with a similar attraction also planned to go into Hong Kong Disneyland next to Hong Kong's existing Iron Man Experience attraction. Follow the link to read up on the rest of the rumored details.

(9/9/18) With the final closure of A Bug's Land complete, guests to Disney California Adventure were greeted by construction walls blocking the former land off. The walls were decorated with an interesting addition however... the Stark Industries logo was large and in charge, reminding everyone of who the next tenant coming to take up residence will be as work begins on building the first Marvel themed land at a Disney park in America. And where Tony Stark goes... so follows the paparazzi.
(4/10/18) While we always figured Disney had the rights to do whatever they want with the Marvel characters in California, it seems there still is one little restriction in place by the Universal deal that will affect the California parks. According to the LA Times, while Disney can use the characters there, even the ones they can't use in Florida, the one thing they can't use in the work "Marvel" in the title of the land or attractions. So while Disney has already confirmed that a Marvel themed land is on the way for DCA... just don't expect them to use "Marvel" in the title of it.
(3/21/18) Disney Parks have now confirmed officially that a new Marvel themed land will be coming to Disney California Adventure by 2020, making this the third confirmed Marvel themed land for Disney parks world-wide. The first is already underway in Hong Kong Disneyland and a second was announced for Walt Disney Studios Paris as part of that park's big expansion.
Obviously the introduction of Guardians of the Galaxy - Mission: BREAKOUT! was the first step towards this plan and according to Disney's statement the area next door occupied by "A Bug's Land" will close to make way for this new Marvel theme land and attractions sometime in late Summer 2018, and the 3D attraction, It's Tough to be a Bug, already officially closed for good on March 19th. You can expect that they will be moving quickly on this new project because according to Disneyland, "the new Super Hero-themed land will begin recruiting guests in 2020, with even more new experience to follow."
While they don't spell out what attractions are on the way, they do say that the Guardians will be joined by Spider-Man and the Avengers. Scanning through the new poster art for the Disneyland Resort addition, you can also spot Blank Panther poised for action in the background, standing right in front of Dr. Strange's Sanctum Sanctorum, along with Dr. Strange himself in the crowd of people along with the Guardians. Sorry... no sign of Iron Man, Captain America, Thor or the other Avengers, but there is an Avengers tower building in the background, along with a hovering Quinjet, and on the top right of the poster is a water tower with the Stark Industries logo.
New poster art has been created for the Marvel lands coming to Paris and Hong Kong as well, with Iron Man, Hulk, Thor, Black Widow and Scarlet Witch being featured in the Paris poster, and with Ant Man, Wasp, Captain America, Hawkeye and the Iron Wing vehicle from the Iron Man Experience attraction being featured on the Hong Kong poster. (Follow the link to see all three posters)