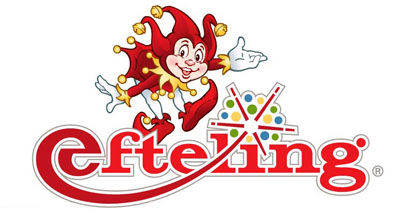 EFTELING
The Netherlands
2015 - Baron 1898 / Dive Coaster - Under Construction - (7/3/15) Baron 1898 is now open, and you can see a video showing off the complete experience, including pre-show rooms, animatronics, special effects and more in the video below, plus a nice assortment of pictures posted to Freizeitpark-Welt.de. The park has also posted a video telling the story behind the theme of the ride and ghostly spirits which is in Dutch, but does have English subtitles.




(2/21/15) Another great video journal about the construction and design progress behind Baron 1898 has been posted by the back. Check it out below, complete with English subtitles.

(2/20/15) An awesome new piece of concept art posted to Twitter now shows off the finished layout for Baron 1898 at Efteling
(2/9/15) A few more pictures of the themed lift hill structure going up for Baron 1898 at Efteling have been posted to Facebook.
(2/5/15) An awesome picture of Baron 1898's themed lift hill support structure going up was posted to Twitter a few hours ago, and trust me, this looks like no coaster you've ever seen before. In a way, Baron 1898 may serve as a bit of a game changer, as it would be nice to see more and more ride's try to incorporate some kind of themed look to their structure, instead of leaving all the theming in the station and on the trains.
Now to be fair, Baron 1898 isn't the first B&M coaster to have themed lift hill supports however, as Alpengeist at Busch Gardens Williamsburg also did it as well way back in the late 90's with an attempt to make the supports look like Ski Lift style support towers. This is just something I'd love to see more of, going forward. For example, image a coaster like Dueling Dragons where the supports could have perhaps been themed to look like trees, with fake branches and all. Just a thought...
(1/26/15) A great series of pictures posted to Pretparken Parkplanet Facebook page show off the construction progress being made to the Baron 1898 ride attraction building at Efteling.
(1/4/15) A Screamscape source went by the B&M track fabication plant on Jan. 2 and discovered some very light blue/greyish track for a new D6 Dive Machine coaster... which matches up with most likely being the first track pieces for Baron 1898. Check them out!
(12/19/14) Efteling has released another video in their series about the making of Baron 1898. It's not in English, but there are English subtitles at least. Check it out below!

(11/22/14) The second part of the making of video for Efteling's new dive coaster project, Baron 1898, was posted to YouTube last week, which shows off quite a bit more about the themeing for this amazing new coaster ride as well as the construction of the mine shaft, 40 m long, 10 m deep. Oh… and the first pieces of B&M track are already on site. Check it out below.

(10/17/14) Efteling has confirmed the plans, name and an incredible theme for their new B&M Dive Machine opening in 2015. The coaster will be called Baron 1898 and it's got a fantastic looking almost SteamPunk theme to it. This may be the best themed B&M coaster I've ever seen… really… never seen anything quite like it if the final 18 million Euro product looks anything at all like the concept art shows.
Baron 1898 is themed back to the era of Dutch mining in the late 19th Century and will feature a 37.5 meter (123 ft) vertical dive down underground into a mine shaft. This will feature the newer narrow six seat wide trains, the same used for Krake. Guests play the part of miners working for the greedy mine owner, Gustave Hooghmoed. He has been warned however by the Witte Wieven (white spirits, female ghosts from Dutch legends) not to take the gold from the mine, and these spirts keep scaring away his workers, which is why he has recruited you to ride the mine train, cursed by the spirits.
Nothing is known about the rest of the layout, which isn't going to be made public until early 2015.

(10/4/14) It seems construction has indeed started on Efteling's new Dive Coaster last month, which is now very busy in the ground prep phase for the project and pouring concrete for a tunnel. I'm told that the layout is expected to dive into the tunnel and enter into a large Immelman inversion, then a helix spin before coming to an end. You can find construction site pictures posted to Themepark.nl and Vijfzintuigen.nl.
(10/3/14) Efteling's website confirms that the Dive Coaster plans are still in the works, and even shows off a layout and a location in the park where it will go. However... as I have yet to even hear a peep about any sighting of construction in the park for this project, I do have to wonder if it might get delayed until 2016.
(4/22/14) According to this article Efteling is planning on adding a "Dive Coaster" to the park with a 37.5 meter (123 foot) plunge. Based on the size, I wouldn't be surprised if this is another mini (6 across) Dive Machine from B&M, much like Krake at Heide Park. The article also mentions that the park's Bosrijk bungalow hotel will be expanded to add an additional 400 beds.
2016 - Pinokkio - Planning - (7/6/15) Efteling has apparently announced that they will open a "new fairytale" in fairytale forest for "Pinokkio" at a cost of about €2 million.

???? - Hartenhof - Delayed / Status Unknown- (5/7/13) It has been awhile since we've heard much of anything about the delayed Hartenhof attraction for Efteling. While I'm not really sure of the cause of the delay, I have been told a bit more about the ride system that the park intended to use back when they wanted it open by 2012.
The artwork previously uncovered as belonging to Vekoma does seem to be the real deal. Efteling wanted to create their own dark ride experience that would have offered a similar experience to that of Universal Orlando's Harry Potter and the Forbidden Journey ride. As seen, this was intended to be a much more beefy platform, able to hold and toss around 24 seats all at once instead of just four, which meant fewer cars on the track at once. It is possible this issue alone may have been the cause of the delay as they were wanting a ride system as swift and nimble as the Harry Potter KUKA arm system, but with six times the capacity per vehicle. I don't know if they've been forced to go back to the drawing board on this system or if they have elected to simply go an entirely new route. Hopefully we'll know a bit more later this year.
(1/10/13) This may be a bit old, but artwork from a pattent from Vekoma showing off what is said to be the prototype ride system for Hartenhof at Efteling was posted to Themepark.NL a few months ago. All said and done, it looks like a bigger and very high capacity version (24 riders) of the Kuka robotic arm ride system used on the Harry Potter ride at Universal Orlando.
If that wasn't good enough, eagle-eyed spies watching an episode of Megastructures detailing Vekoma's construction of a Giant Inverted Boomerang coaster spotted a prototype version (one chair) of this new Efteling ride car in the background behind a bunch of cobra themed coaster cars and posted it here.
Speaking of Hartenhof, I'm told that it will be at least 2015 at the earliest until we see this attraction open. However a preview reel for a new television series staring the park's characters that we will see in the attraction when it opens can be seen below. The ride will use a number of the same locations, as well as the big domed observatory / library that you see at the start of the video.



(7/22/11) According to News Parcs, the Hartenhof attraction plans for 2013 have now been delayed until 2015 because they have become a little more ambitious. However the restaurant project for 2012 is still said to be on the way.

(1/15/11) A great collection of model shots of Efteling's new Hartenhof attraction building can be found here.
(12/17/10) Construction for Hartenhof has begun it seems, as the site has now been walled off. From what I'm told the outer themed portion of the area around it will open first, but the ride may not be ready until 2013. You can find current construction pictures here.
(7/22/10) I'm told that the ride system for the new Efteling dark ride will actually be from Vekoma and should be something very unique that is inspired by the Pandora's Box ride concept hardware Vekoma designed a few years ago, but never actually built anywhere. It's not a true Pandora's Box… just based on a similar concept.
Pandora's Box was kind of an odd idea of having a ride car able to move along a track around the outside perimeter of a structure divided into different show scenes. However the riders could not only move sideways around the edge... but up and down as well, moving from floor to floor. For this new version... ign
ore the robot arm looking seats. I'm told to think of this more like a large moving cabin of seats. More on this when we find out.
(5/28/10) Efteling has announced a major new dark ride project that will open at the end of May 2012 and be themed to the park's mascot, Pardoes, the Magician. The ride will be located near the front of the park at the end of Pardoes Promenade and be themed as Hartenhof, the castle home of the the father of Pardoes' girlfriend Pardijn. The estimated cost of the ride is 42 million Euros. According to the story at Eftelist, the ride may feature a Mack ride system and possibly used Augmented Reality technology.