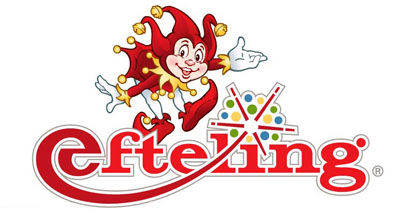 EFTELING
The Netherlands
Park News - (4/26/19) According to a report at ThemeParks-EU, Efteling reopened the park's classic car ride, De Oude Tufferbaan, following a major renovation performed over the off-season.

(2/1/19) According to a local news report Efteling has announced that they will "overhaul the appearance" of some of the park's African and Asian characters that some might deem as being examples of racist stereotyping on the park's Carnaval Festival ride. The dark ride will close for three months for an update that will include a redressing of certain figures in the ride "criticized for yellow face and black face stereotypes."
Based on the video below of the existing Carnaval Festival ride, you can see that it does offering a stylized dark ride experience that one may compare to Disney's it's a Small World attraction, featuring characters of many world-wide cultures, but most with a similar cartoonish exaggerated style to them. Upon viewing the footage, you can see this exaggerated styling goes up a notch when passing through the Africa and China scenes.

2019 - The Six Swans - (9/27/18) According to Themeparks-EU, Efteling has announced that they will open a new fairy tale attraction at the park for 2019, this one themed around the Brothers Grimm tale of The Six Swans. Look for it to be located between Snow White's cave an Cinderella's house. This new fairy tale attraction will differ from the rest at the park, as being the first one that will be combined with a small ride experience on swan shaped boats after traveling through a castle structure.
2019 - Fabula 4D - (5/15/19) Efteling has announced that their PandaDroom 4D theater attraction will reopen this season with a brand new 3D film along with a new restaurant, and be renamed as Fabula. The new Fabula animated film is part of a collaboration with award-winning Aardman Animation, the studio behind Wallace & Gromit and Shaun the Sheep. Look for Fabula to open sometime in the second half of 2019.
2020 - Max & Moritz Coaster - (10/10/18) I'm that that Efteling has confirmed that a new coaster is planned to take the place of the current Bob coaster in time for the 2020 season. This will apparently be a new dual-tracked coaster themed around Max & Moritz, a "well-known German visual poem about two naughty boys". The new coaster will reuse some of Bob's Swiss theming and re-use the current station building structure as well.
Look for Bob to remain open through to Summer 2019 however, and then construction on the new coaster is set to begin sometime in September 2019 at a cost of about €15 million. Follow the link over to Themeparks-EU to see more details about the Max & Moritz coaster, including concept artwork.
2021 - New Attraction - (10/10/18) According to the report posted at Themeparks.EU, Efteling former 2020 plans have been pushed back to 2021. This will see a new attraction expansion on the east side of the park, near the hotel, that will include a new themed area that will become part of the Reizenrijk area of the park.

(1/20/18) Efteling is ready to begin moving forward with a dramatic plans to expand the park into new land as part of their "World of Efteling 2030" masterplan. According to a new post at BlooLoop, they have come to the government to ask for permission to begin working on the first phase of this expansion in order to prepare the 3 hectares site for a new attraction they wish to open in 2020.
According to a map shown, the first phase site will be across the back road of the park, right next door to the Efteling Hotel. This makes me wonder if the 2020 attraction, may be part of the New Coaster rumor we heard a few months back predicted for 2019... as the location given for the coaster (somewhere between Vogel Rok and the Ruigrijk area) is also exactly where the future 2020 to 2030 expansion site lies. Stay tuned...