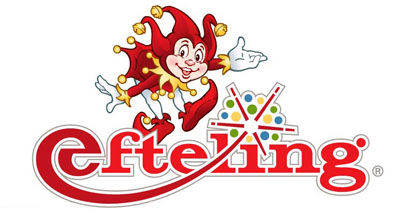 EFTELING
The Netherlands
Park News - (1/13/21) Efteling has announced that due to the extended lock-down orders in effect from The Netherlands government, the theme park will be forced to remain closed through to at least Tuesday, Feb. 9th. Under this current timeline the earliest Efteling will open for the 2021 season would be Wednesday, Feb. 10, 2021, but keep in mind that the lockdown orders could be extended again as this date gets closer.




(12/16/20) According to ThemeParkPortal, Efteling has now been forced to close as COVID-19 case numbers are said to be spiking in The Neatherlands. Normally Efteling attempts to stay open over the Winter but according to the report, the current government orders will see Efteling and the Efteling Hotel stay closed until at least January 19, 2021.

(5/16/20) With Efteling ready to reopen on May 20th, the theme park has add a new page of policies and rules that will be enforced while you visit. (Remember, reservations are also required before you visit.) The rules are fairly simple and what you might expect… social distancing is to be enforced (1.5 m), extra hygiene measures in the park, you are asked to wash your hands frequently in restrooms or at various sanitizer stations located throughout the park, seating will be assigned on the rides, and there will be capacity limitations.
The park will not be performing Temperature checks on guests however, but they do ask that anyone not feeling well or with even a slight fever to stay home. Guests from "abroad' will be asked to make a "self-declaration of hearth" when buying tickets to the park. Face Mask use is permitted, but not required.
Despite the policy in place at Shanghai Disneyland, I've put some thought into this myself over the past week and have realized that for most theme parks other than Disney, who are known for their wilder and more thrilling rides, parks are likely to ask riders to remove face masks when on rides anyway to prevent them from flying off in mid-ride or getting wet. Efteling's website also confirms that wearing face masks are NOT PERMITTED while riding the park's roller coasters.

(4/18/20) For a little bit of beauty, check out a video shot by Efteling touring their empty theme park by ground and by air, showing off the beauty of this unique theme park that appears immaculately landscaped, full of beautiful flowers and just ready to open to guests when the time is right.



Dec. 2019 - Fabula 4D - (12/10/19) Efteling opened a new 4D theater attraction this month called Fabula, with the new animated film created in collaboration with Aardman. The new film takes the place of the former PandaDroom 4D theater attraction.




(5/15/19) Efteling has announced that their PandaDroom 4D theater attraction will reopen this season with a brand new 3D film along with a new restaurant, and be renamed as Fabula. The new Fabula animated film is part of a collaboration with award-winning Aardman Animation, the studio behind Wallace & Gromit and Shaun the Sheep. Look for Fabula to open sometime in the second half of 2019.
2020 - Max & Moritz - (6/27/20) Max and Moritz as now opened at Efteling. You can see a POV video showing off the layout on both the green and blue tracks in the two videos below. Along with an onboard soundtrack, the trains are propelled out of the station in opposite directions and then upon returning to the station they are sent through the layout a second time at an even higher speed.





(5/26/20) Efteling has announced that they will open their new Max & Moritz coaster on June 20th. You can find a time-lapse video posted below by the park showing off the construction of the dueling powered coaster tracks.


(3/22/20) Some footage of the Max & Moritz powered coaster attraction under construction at Efteling has been posted to YouTube this week.


(3/11/20) More fun pictures of the Max train being loaded onto the tracks at Efteling's new Max & Moritz racing powered coasters have been posted to Twitter by Michael Mack this week. Be sure to take a close-up look at the level of detailing on this coaster car, as it really is superb.


(1/18/20) Some great new pictures of Max & Moritz showing off the now completed track sections can be found in the Tweet below.


(1/10/20) New construction photos of the Max & Moritz coaster coming to Efteling were found on Twitter this week.


(12/24/19) According to this update from BlooLoop the new Max & Moritz dueling coasters are now under construction at Efteling for the 2020 season. The ride will feature two separate powered coasters from Mack Rides that will run in opposite directions, but reuse the former station building for The Bobs.



(10/10/18) I'm that that Efteling has confirmed that a new coaster is planned to take the place of the current Bob coaster in time for the 2020 season. This will apparently be a new dual-tracked coaster themed around Max & Moritz, a "well-known German visual poem about two naughty boys". The new coaster will reuse some of Bob's Swiss theming and re-use the current station building structure as well.
Look for Bob to remain open through to Summer 2019 however, and then construction on the new coaster is set to begin sometime in September 2019 at a cost of about €15 million. Follow the link over to Themeparks-EU to see more details about the Max & Moritz coaster, including concept artwork.
2021 - Nest! - (10/15/20) Efteling has announced that they will open "Nest!" in 2021, a new all-inclusive play area that will be suitable for children of all ability levels to play together. "Nest!" will include areas and activities themed to some of the park's roller coasters and will replace the existing Polka Marina flat ride, built amid the trees between De Vliegende Hollander and Game Gallery.
The Polka Marina will take the final rides on Nov. 30, 2020 and be retired for good after 36 years. You can see a video preview from the park showing off the area it will be coming to and some descriptions and art of how it will look.

???? - New Attraction - (10/15/20) With the announcement of "Nest!" for 2021, it seems that the previous 2020 plans that were already pushed back to 2021 way back in 2018, have likely been pushed even further back. Stay tuned!

(10/10/18) According to the report posted at Themeparks.EU, Efteling former 2020 plans have been pushed back to 2021. This will see a new attraction expansion on the east side of the park, near the hotel, that will include a new themed area that will become part of the Reizenrijk area of the park.

(1/20/18) Efteling is ready to begin moving forward with a dramatic plans to expand the park into new land as part of their "World of Efteling 2030" masterplan. According to a new post at BlooLoop, they have come to the government to ask for permission to begin working on the first phase of this expansion in order to prepare the 3 hectares site for a new attraction they wish to open in 2020.
According to a map shown, the first phase site will be across the back road of the park, right next door to the Efteling Hotel. This makes me wonder if the 2020 attraction, may be part of the New Coaster rumor we heard a few months back predicted for 2019... as the location given for the coaster (somewhere between Vogel Rok and the Ruigrijk area) is also exactly where the future 2020 to 2030 expansion site lies. Stay tuned...