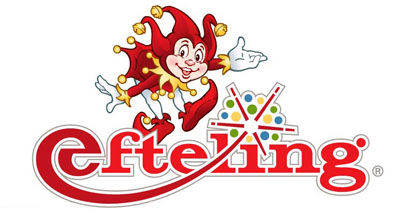 EFTELING
The Netherlands
Park News - (6/26/13) NewsParcs reports that Efteling has come to an agreement to part ways with the park's CEO for the past 6 years, Bart de Boer. Bart led the park on an extensive €220 expansion campaign which saw attendance hit an all time record high of 4.2 million guests during the park's 60th Anniversary celebration in 2012, as well as turning the park into Europe's second Year-Round operating theme park, after Disneyland Paris. Bart will leave his office on September 1st, 2013.
While a new CEO has not yet been chosen, rumor has it that the company may be seeking a change in direction, now eager to perhaps slow down on the fast paced expansion and take a more slow pace for the time being.
2014 - Laaf Themed Double Drop Tower Ride - Rumor - (3/28/13) I've been told that the double family Zierer tower ride coming to Efteling is planned for 2014. The ride, themed to the Laaf origin story about how they traveled from the North Pole through caves in the earth to find Efteling. It will feature a cave themed queue and pre-show environment with projection effects. Along with this the park will open a newly revitalized and updated Droomvlucht in 2014. I've been told that Efteling will close down Droomvlucht for a 3.5 month long rehab project starting in September 2013.
(3/27/13) It's a bit hard to translate, but this posting at Eftelist seems to indicate that a pair of indoor family drop towers from Zierer may be added to Efteling's Volk van Laaf area. I'm just not sure if they believe this will be a last second addition for 2013, or something for 2014.
2015 - Dive Coaster - Confirmed - (4/22/14) According to this article Efteling is planning on adding a "Dive Coaster" to the park with a 37.5 meter (123 foot) plunge. Based on the size, I wouldn't be surprised if this is another mini (6 across) Dive Machine from B&M, much like Krake at Heide Park. The article also mentions that the park's Bosrijk bungalow hotel will be expanded to add an additional 400 beds.

???? - Hartenhof - Delayed / Status Unknown- (5/7/13) It has been awhile since we've heard much of anything about the delayed Hartenhof attraction for Efteling. While I'm not really sure of the cause of the delay, I have been told a bit more about the ride system that the park intended to use back when they wanted it open by 2012.
The artwork previously uncovered as belonging to Vekoma does seem to be the real deal. Efteling wanted to create their own dark ride experience that would have offered a similar experience to that of Universal Orlando's Harry Potter and the Forbidden Journey ride. As seen, this was intended to be a much more beefy platform, able to hold and toss around 24 seats all at once instead of just four, which meant fewer cars on the track at once. It is possible this issue alone may have been the cause of the delay as they were wanting a ride system as swift and nimble as the Harry Potter KUKA arm system, but with six times the capacity per vehicle. I don't know if they've been forced to go back to the drawing board on this system or if they have elected to simply go an entirely new route. Hopefully we'll know a bit more later this year.
(1/10/13) This may be a bit old, but artwork from a pattent from Vekoma showing off what is said to be the prototype ride system for Hartenhof at Efteling was posted to Themepark.NL a few months ago. All said and done, it looks like a bigger and very high capacity version (24 riders) of the Kuka robotic arm ride system used on the Harry Potter ride at Universal Orlando.
If that wasn't good enough, eagle-eyed spies watching an episode of Megastructures detailing Vekoma's construction of a Giant Inverted Boomerang coaster spotted a prototype version (one chair) of this new Efteling ride car in the background behind a bunch of cobra themed coaster cars and posted it here.
Speaking of Hartenhof, I'm told that it will be at least 2015 at the earliest until we see this attraction open. However a preview reel for a new television series staring the park's characters that we will see in the attraction when it opens can be seen below. The ride will use a number of the same locations, as well as the big domed observatory / library that you see at the start of the video.



(7/22/11) According to News Parcs, the Hartenhof attraction plans for 2013 have now been delayed until 2015 because they have become a little more ambitious. However the restaurant project for 2012 is still said to be on the way.

(1/15/11) A great collection of model shots of Efteling's new Hartenhof attraction building can be found here.
(12/17/10) Construction for Hartenhof has begun it seems, as the site has now been walled off. From what I'm told the outer themed portion of the area around it will open first, but the ride may not be ready until 2013. You can find current construction pictures here.
(7/22/10) I'm told that the ride system for the new Efteling dark ride will actually be from Vekoma and should be something very unique that is inspired by the Pandora's Box ride concept hardware Vekoma designed a few years ago, but never actually built anywhere. It's not a true Pandora's Box… just based on a similar concept.
Pandora's Box was kind of an odd idea of having a ride car able to move along a track around the outside perimeter of a structure divided into different show scenes. However the riders could not only move sideways around the edge... but up and down as well, moving from floor to floor. For this new version... ign
ore the robot arm looking seats. I'm told to think of this more like a large moving cabin of seats. More on this when we find out.
(5/28/10) Efteling has announced a major new dark ride project that will open at the end of May 2012 and be themed to the park's mascot, Pardoes, the Magician. The ride will be located near the front of the park at the end of Pardoes Promenade and be themed as Hartenhof, the castle home of the the father of Pardoes' girlfriend Pardijn. The estimated cost of the ride is 42 million Euros. According to the story at Eftelist, the ride may feature a Mack ride system and possibly used Augmented Reality technology.