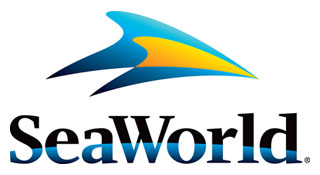 SeaWorld California
& Aquatica California
San Diego, CA
SeaWorld Parks & Entertainment
Attraction Rehabs - The following information is not guaranteed to be 100% accurate.
Riptide Rescue - Sept. 12 through Sept. 23
Shipwreck Rapids - Nov. 7 through Nov. 18
Park News - (9/15/16) I kinda feel like I'm reliving the very end of the original Planet of the Apes, with the voice in my head shouting, "You finally really did it! You maniacs!"
Why? Because the governor of California just signed the legislation to officially outlaw the captivity and breeding of Killer Whales within the state. The law will go into effect in June 2017 and grandfathers in any Orcas already living in captivity within the state to stay, but it also includes a clause that they may only be used for "educational presentations".
It is worth mentioning that all this political bull will have ZERO effect on the future of SeaWorld San Diego, as the park has already laid out their future intentions, policies and plans for the treatment of the Killer Whales that will follow this same path starting in 2017. The only difference is it seems the state felt they needed to waste time and taxpayer money to make this an official law that would only target SeaWorld and no one else. It seems highly unfair for the government to take such an action that is clearly only made to target one specific company operating in the entire state of California, one who has been a good partner for the state and the city of San Diego.
(4/22/16) The local news is reporting that SeaWorld has now officially cancelled their plans for the Blue World Project that would have seen the Killer Whale habitat expanded. While the California Coastal Commission said they would allow it if SeaWorld chose to end their Orca breeding program, at the time SeaWorld fought back against this with a lawsuit, but is now in the process of withdrawing and dismissing the lawsuit entirely how that they have opted to end the breeding program anyway.
It's a shame that the Blue World project is now abandoned, because even now that the breeding program has ended, an expanded habitat for the whales would have been a nice thing for those that are left. The $100 million once budgeted for the project will now instead be diverted into other new attraction projects.
(3/17/16) SeaWorld has announced that starting today they will end their Orca / Killer Whale breeding program, and that the animals currently in the park's care will be the last generation of orcas at the SeaWorld parks. They did note that at least one of the whales, Takara, is currently pregnant, so there will be at least one more baby to be born, keeping in mind that they have a gestation cycle of 17-18 months.
SeaWorld also announced that their new "Orca Encounter" program that will see the park's current theatrical style show in San Diego transformed in 2017 into an educational experience focused on enrichment, exercise, education and conservation, will be followed by similar updates of the facilities at the San Antonio park (assuming in 2018) and then the Orlando park by 2019.
SeaWorld also announced today a broad new partnership with the Humane Society of the United States (HSUS) to protect our oceans and the animals that call them home. The company is committing to educating its more than 20 million annual visitors on animal welfare and conservation issues through interpretative programs at the parks and expanded advocacy for wild whales, seals, and other marine creatures.
"We are pleased to join with HSUS on the significant issues facing marine mammals and their ocean homes," said Joel Manby. "The work done by zoological facilities like SeaWorld is critical for the protection of animals in the wild, especially marine mammals. To that end, SeaWorld has committed $50 million over the next five years to be the world's leading marine animal rescue organization, to advocate for an end to the commercial killing of whales and seals and an end to shark finning."
2016 - Nothing is known at this time...
2017 - Ocean Explorer Dark Ride, Four Flat Rides and Killer Whale Update - Confirmed -


(9/21/16) A new piece of concept art showing off the 2017 addition (see thumbnail) has been put on the construction wall in the park now. It shows off the new flat rides and I guess we now know why that submarine themed ride will now have interactive touch screens. Based on the air, it now looks more like an aerial car ride, almost entirely built outside in the sun instead of the dark ride it was first promoted to be. You can see the large structure running around the land on elevated tracks as if it were trying to mimic Disney's old Peoplemover, and I assume it will no longer run through any aquariums as well.
(9/3/16) According to the local news construction work on the new Ocean Explorer faux-submarine themed ride has begun on SeaWorld San Diego. According to the article and what we've seen mentioned so far it looks like a nice dark ride that will travel through several aquariums along the route that will show off giant octopuses, those giant creepy spider crabs as well as moray eels. From the sound of things it will be built near the circle of flags area near what was once the old Budweiser Hospitality Center building I believe.
What is disturbing however is how SeaWorld is promoting this attraction as something that will mainly appeal to just "younger children" with just a 3 minute ride time in the subs that will feature "digital navigation dashboards customized for different age levels" that will apparently ask the riders questions during the journey.
Forgive me if I'm wrong here, but isn't this the equivalent taking a child to a movie or show and handing them an iPad to play with if they get bored? If I'm on a dark ride, or even just walking through an aquarium, I'm looking at everything around me, especially the live animals, and couldn't give a flying hoot about answering trivia questions on a touch-screen. Nope... scrub that... and kids normally go nutzoid over seeing real animals, so what's the deal?
Of course this begs the question... what is wrong with this planned attraction that they felt the need to try to enhance the experience with these digital dashboards? Looking over my past updates on the attraction they also mentioned way back in February that the Ocean Explorer ride will feature both indoor and outdoor sections... but I fail to see how this works with the theme of the ride being a submarine going underwater and look into aquarium environments, unless it is just the station that is outdoor, but from the look at the concept artwork, the station seems to be indoor. Hmmm...
The article does go on to confirm that the area will feature a total of "five rides" and in addition to the sub ride one will be a small Wave Swinger themed as a jellyfish that will have riders soaring through a field of real life bubbles. (Ok, that's unique and very cool sounding!) Unfortunately it sounds like many of these rides may be too small for adults, taking away the shared family experience appeal.
(2/17/16) SeaWorld San Diego announced the park's new plans for 2017, which will add five new attractions to the park. The biggest of which will be Ocean Explorer, a new three-minute long (Yes, that is kinda short...) dark ride style experience that will actually be both indoor and outdoor. Guests will climb into mini submarine style vehicles that will take them on a simulated journey through the ocean depths where they will encounter interactive "sea-base stations" that are actually aquariums featuring different kinds of sea life such as giant Spider Crabs, Jellyfish and a Giant Octopi. The dark ride will also somehow incorporate digital technology also onboard the subs, such as digital navigation, dashboards, and displays that will show educational information about each of the animal species encountered along the way.
The other attractions coming to the land will be new flat rides, such as a Wave Swinger themed as a giant jellyfish that swings riders around through fields of bubbles. The other three flat rides were not described, though I'm told they will likely be smaller sized kiddie rides and not full scale family friendly attractions, which would be unfortunately as the park has enough kiddie only rides.
(2/15/16) I'm not quite 100% certain about what is going on, but SeaWorld San Diego has begun to tease about 2017 plans for the park through the Twitter account for Clyde the SeaLion, with posts on Feb. 8th and Feb. 11th so far. About three months ago they hinted they were working on a "Sea Rescue" themed dark ride of some kind for 2017, and even posted a piece of concept art at the time.
I believe the announcement will be made very soon, and while I don't know exactly what it will be, I'm hearing that this will be a replacement for the old Budweiser Hospitality building area to the right of the park entrance. Of course that was a replacement for the old HBJ plaza area (with the giant map of the United States you could walk on! Who else remembers that?!) so it will be interesting to see something new added here that isn't tied to a corporate owner for once.
(11/11/15) SeaWorld finally tells us a little bit more about what they have planned for Shamu and friends in 2017. According to what's posted here they back up what we have been told, that the new experience will be a new educational presentation that will take the place of the old "theatrical show" experience and current One Ocean show. "The new orca experience will also include conservation messaging and tips that guests can take home, so that they can join SeaWorld's efforts to make a difference for orcas in the wild." The article also confirms that while the One Ocean show will come to an end in 2016 in San Diego, the new orca experience replacing it is only planned for SeaWorld San Diego.
(11/10/15) The latest updates from the SeaWorld presentation go into more detail about what they have planned to happen at SeaWorld San Diego. For starters they have teamed with the Evans hotel company to both look into ideas to build hotels as well as buy existing properties and have Evans manage it for them at their various parks. In the case of San Diego, it is most likely they will look into acquiring an existing nearby property.
Panasonic has also signed on to be a major corporate sponsor with the parks going forward. Another deal was also signed to bring the Rudolph the Red Nosed Reindeer characters to the parks starting by Christmas 2016.
As for the existing Shamu Show... look for it to come to an end sometime in 2016 while they work on the new 2017 Killer Whale attraction. From what I'm hearing, there may still actually be a show... but it will be a purely educational show only. Now... one note on this is, there hasn't been any mention of if they will totally phase out the special Christmas or Summer night Shamu shows as well, or if they are still planning to offer these more theatrical shows during the busy Summer and Winter seasons.
A Sea Rescue "dark ride" experience is also planned to open somewhere in the park in 2017 as well. No details on what this is were given just yet.
(11/9/15) BREAKING - According to the local news SeaWorld San Diego will phase out the park's popular Shamu Killer Whale show in favor of a "new orca experience" that will open in 2017. The new attraction is only described as having a more natual setting that would carry forward a message of conservation. Funding that was being held for the Blue World habitat expansion is being redirected into this new 2017 project, which essentilly on the surface sounds more like "Blue World Light", which would a similar but smaller style attraction built as a transformation of the existing stadium show facility, and thus avoiding the Blue World restrictions from the California Coastal Comission. Hopefully we'll find out more about what is being planned soon.
It is also worth noting that nothing was mentioned at all by SeaWorld Entertainment about ending the Shamu shows at the Texas or Florida parks at this time.
2018 - New Thrill Attraction - Planned - (5/16/16) In an interview with Joel Manby, he mentions some details about future plans for the San Diego park this week. For starters, while he says that while the Ocean Explorer attraction coming in 2017 is really "more for smaller children", the park is planning something "for teenagers with more of a thrill factor" for the 2018 season season.