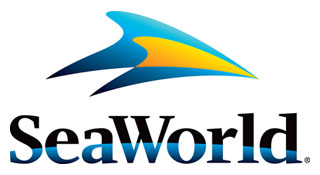 SeaWorld California
& Aquatica California
San Diego, CA
SeaWorld Parks & Entertainment
Attraction Rehabs - The following information is not guaranteed to be 100% accurate.
Submarine Quest - NOW CLOSED Until Further Notice
Pets Rule - June 4 - 8 and June 11 - 15
Park News - (5/24/18) A quick reminder for everyone that Aquatica San Diego opens for the season this friday on May 25th. The waterpark will also put on a Fiesta Aquatica celebration every day at 3pm, adding in music, games and giveaway opportunities. I'm also told that the park will be taking advantage of a new solar power grid that will generate 80 to 90% of the park's power needs each year.
Aquatica is open daily from May 25 through Sept. 3 and then moves to weekend only operations from Sept 8 through Oct. 28th, 2018.
(5/16/18) While the Submarine Quest has been closed perhaps longer than it was ever open, a reader noticed that any and all mentions of it have now been removed from the park's website as well. When sending in a question to the park about the ride's status, they were told that it was, "closed indefinitely". No telling if they will ever reopen it, or if it is destined for the scrap pile.
(5/9/18) SeaWorld San Diego will host the Sesame Street Party Parade on weekends, now through Sept. 2nd. The parade features a number of themed floats and your favorite Sesame Street characters like Abby, Big Bird, Cookie Monster and more.
(4/7/18) The Seven Seas Food Festival has been extended at SeaWorld San Diego, adding two additional weekends to enjoy the food and fun: April 21-22 and April 28-29.
(4/6/18) In a bit of bad news for SeaWorld San Diego, the local news reports that the park's attendance in 2017 dropped 14%, bringing in about 500,000 fewer guests than the previous year. This is much worse than the reported 5.5% drop experienced by the chain as a whole last year. Hopefully the just announced opening date for Electric Eel can bring about a bit of positive change for 2018.
(2/21/18) SeaWorld San Diego has announced a special price offer to purchase a season-long Aquatica Splash Pass for just $46, which is less than the price of a single-day's admission ticket. The special priced pass can be purchased online right now for a limited time, so don't miss out.
2018 - Electric Eel - (5/16/18) Today we update our coverage of the opening of Electric Eel with the official review by Mark:
Combining state-of-the-art animal facilities and world class entertainment is what SeaWorld and Busch Gardens parks do best. SeaWorld San Diego's new rollercoaster attraction Electric Eel is a perfect example. This new coaster adds an absolute thrill to the Ocean Explorer section of SeaWorld. Rising high above the park, it offers an impressive and unique view of SeaWorld and the surrounding Mission Bay Park.
Electric Eel is the tallest and fastest rollercoaster in San Diego County offering just the right amount of thrills for the more adventurous park guests. It propels riders over 60 miles per hour between three forward and backward launches offering intense airtime, dramatic twists and turns and an unforgettable heartline roll 150 feet in the air. The upside-down views of Mission Bay are spectacular! It is worth riding it a few times to enjoy the experience from different vantage points.
The entrance to Electric Eel is situated next to the California Moray Eel exhibit of Ocean Explorer. Did you know that electric eels are not eels at all but instead belong to a family of Central and South American freshwater fish known as knifefish? SeaWorld does an amazing job bringing an educational element into all of their attractions. "We always strive to provide new reasons to visit SeaWorld and give our guests experiences that matter with a blend of exciting rides and incredible animal and educational experiences," said Marilyn Hannes, president of SeaWorld San Diego. "We want our guests from around the world to not only have a great time, but be inspired to care about the ocean and the animals that live there." It is my personal experience that while at SeaWorld, you will learn something new at every turn. THAT makes SeaWorld special.
SeaWorld has recently been pairing their attractions and events with local conservation or non-profit components. A great recent example of this was the Lunar New Year festival (Year of the Dog) that was paired with local animal shelters. Electric Eel has paired with WILDCOAST who works to conserve coastal and marine ecosystems and wildlife. "I am very excited about our new partnership," said Hannes. "SeaWorld has been a global leader in animal rescue, conservation and research for more than 50 years, while WILDCOAST has been conserving coastal and marine ecosystems and wildlife for nearly two decades. Together we can make a difference in helping even more people understand why we must protect our oceans."
The Electric Eel area also features Mission: Deep Discovery, an interactive educational experience which allows a team of up to four players to embark on a virtual deep-sea adventure aboard a manned-vehicle where they encounter the marvels of the deep ocean. This has a similar feel to the park's Race for the Beach at Turtle Reef.
Electric Eel will be a challenge during busy days. This attraction will average only around 600 people per hour. The park's Quick Queue pass will not offer express access to Electric Eel but a one-time express line pass can be purchased at the kiosk located at the start of the queue. The line does not have much in the way of shade, so it'll be an extremely warm wait in the summer.
Electric Eel brings a whole new level of thrill into the park and will be loved by adults and families with older children. It is an extremely fun attraction and well worth the visit to SeaWorld San Diego.



(5/12/18) Along with the opening of the new Electric Eel coaster at SeaWorld San Diego, our own San Diego guy, Mark, was on hand to head down to the park to give it a test run for Screamscape. In a park where over 90% of the structures are 30 feet tall or less, it is safe to say that the introduction of the park's first tall coaster, standing 150 feet tall, really does a lot to change the skyline there.
Electric Eel is another Premier Rides "Sky Rocket II" model coasters, like Tempesto that was introduced at Busch Gardens Williamsburg in 2015, that is ultra compact, but packs a bunch of thrills into a very tiny footprint and should do very well at a park the size of SeaWorld San Diego.
While Mark tries to unscramble his brain and put some words together about his opinion on the experience, I thought I'd share the on-ride video of all the action.

(4/17/18) SeaWorld San Diego has let us know that the grand opening of their new Electric Eel coaster has been pushed up a few days and will now open to the public on May 10, 2018.
(4/6/18) SeaWorld San Diego has confirmed that the new Electric Eel coaster will open for guests on May 12th. In the meantime, testing of the coaster is now ongoing which you can also see in the video below.


(3/12/18) Thanks to a local reader for sending in three new pictures of the Electric Eel construction site as of this weekend.
(2/22/18) Drop by CaliforniaCoasterKings to get the latest peek at the Electric Eel construction site this week, which includes a look at the station, the train on the tracks and more.
(1/21/18) A fun collection of four new pictures of Electric Eel were sent in by a reader this afternoon. As you can see in some images, there is still work taking place on the station and hardware within, but otherwise the coaster structure is complete.
(1/19/18) SeaWorld San Diego celebrated the completion of the Electric Eel track with an unveiling of the coaster train. Just like the sister ride in Williamsburg (Tempesto), Electric Eel will feature a combination lap bar and over the should restraint system that are bucked together.
(1/18/18) A small group of photos of the complete Electric Eel coaster track at SeaWorld San Diego were sent in to Screamscape this week. Enjoy!
(1/12/18) A reader sent in some brand spankin' new construction pictures of Electric Eel at SeaWorld San Diego tonight. They've gotten an impressive amount of work done in such a short period of time and appear to have installed all of the track.
(12/26/17) Special thanks to one of our readers who sent in three new construction pictures of the new Electric Eel coaster going up at SeaWorld San Diego this week. It was also noted that the new Submarine Quest that closed down suddenly in late summer is STILL CLOSED. (Update - It reopened from the rehab earlier this month, so this new closure is something new.)
(12/24/17) A reader sent in a couple of new picture of the Electric Eel coaster construction taking place at SeaWorld San Diego, as seen from the SkyTower.
(12/1/17) Time to get excited for SeaWorld San Diego as the coaster supports for the new Electric Eel coaster have arrived on site. Thanks to a reader for sending in the pictures!
(10/9/17) A reader sent in a couple picture from SeaWorld San Diego taken over the weekend where it looks like work is finally starting up to install the new Electric Eel coaster.
(9/12/17) A reader sent in a picture from SeaWorld San Diego a few hours ago showing off what appears to be the first sections of roller coaster track for the Electric Eel coaster arriving on-site.
(8/11/17) Good news for SeaWorld San Diego, the park received the final approved needed for the Electric Eel coaster from the California Coastal Commission last night. With that final hurdle out of the way, you can expect to see construction start very soon... oh... and those construction walls we had posted pictures of last week? Apparently those were left over from the building of the Ocean Explorer land, but new walls will soon go up for Electric Eel at Polar Bear Plaza, next to Journey To Atlantis.
(8/5/17) Good news for SeaWorld San Diego's coaster fans... the park has now put up construction walls for the new Electric Eel coaster to open in Summer 2018.
(5/30/17) Good news for SeaWorld San Diego for once as the park's plan to add the Electric Eel coaster in 2018 won an easy vote of approval from the city's Planning Commission. Now the City Council must vote on it as well, and then it will go to the California Coastal Commission for final approval.
(3/6/17) A few new pieces of concept art for the new Electric Eel coaster have been posted to OrcaAction, showing off how the new ride will be colored to be less obtrusive in the sky near the park, as well as a piece of art showing off what the ride would look like from outside the park from a nearby road where it only looks a little taller than the park's Journey To Atlantis structures.
(1/4/17) SeaWorld San Diego has confirmed that their 2018 coaster plans are indeed a Premier Rides Sky Rocket II design that they will call the Electric Eel. The plans still have to get final approval from the California Coastal Commission, but the site chosen for the coaster is already placed on one of four locations in the park already approved for attractions up to 160 feet in height.

(12/24/16) So what is SeaWorld San Diego planing to build for their 2018 coaster? New evidence released by the city in the form of an email from Morris E. Dye (Development Project Manage for the City of San Diego) sent to one of our readers confirms new details that might unlock the mystery. The email confirms that it will be a compact coaster design standing 150 feet tall, featuring inversions, twists, turns and would be visible from outside the park. The ride would also be painted in colors, above the 60 foot level, that would either blend with the skyline or be more muted than the colors used at the bottom, and use an "open and airy track and support structure" to help it increase transparency on a site taking up only 2 acres of space.
So what new coaster has SeaWorld Parks and Entertainment built recently that stands exactly 150 feet in height and would fit perfectly into a small 2-acre site? How about Tempesto, a Premier Rides SkyRocket II coaster clone? You can actually see the layout much better if you look at the Phobia Phear Coaster version installed at Lake Compounce a few months ago. The ride features a unique launch experience where it launches forward, then backwards, and then forwards once again, each time gaining more speed, before launching the riders up through the entire ride course.
This theory also matches up perfectly with the confirmation from Premier Rides (see our story here) that they would open a new Sky Rocket II coaster in the USA in 2018, thus bringing the first steel looping coaster to San Diego.
(12/22/16) One of our readers who lives very close to SeaWorld San Diego received an interesting item in the mail today. It was a public notice from the City of San Diego regarding a new building application files by SeaWorld San Diego to "remove existing shade structure and construct a new roller coaster ride, site improvements and ancillary buildings" such as an aquarium, a retail area, food service areas and a maintenance building for the new coaster. The project name is 'Sea World 2018 Attraction".
(5/16/16) In an interview with Joel Manby, he mentions some details about future plans for the San Diego park this week. For starters, while he says that while the Ocean Explorer attraction coming in 2017 is really "more for smaller children", the park is planning something "for teenagers with more of a thrill factor" for the 2018 season season.