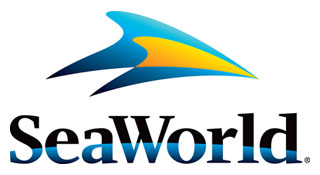 SeaWorld California
& Aquatica California
San Diego, CA
SeaWorld Parks & Entertainment
Park News - (11/12/19) According to a post at Behind the Thrills, SeaWorld San Diego has filed paperwork with the California Coastal Commission to put on a nighttime drone light show over the park on select nights in February 2020. The show will use a fleet of about 500 of the Intel Shooting Star drones that we've previously seen used for small limited-time shows at Walt Disney World, Universal Studios Hollywood and in Las Vegas.

(11/6/19) The SeaWorld Christmas Celebration is coming to San Diego from Nov. 23 through to Jan. 5, 2020 with an all new ice skating show called Winter Wonderland on Ice, the new Cirque Christmas, a visit to the Sesame Street Christmas Village and returning favorites like Rudolph's Christmastown, Santa's Cottage, Merry Manta and the 320 foot tall Skytower Tree of Lights. Click here to read up on all the official details.

(9/20/19) SeaWorld's Halloween Spooktacular will kick off at the San Diego park on Sept. 21st and run each weekend through to Oct. 27th. In addition to returning favorites like the trick-or-treat stations, a kids dress up dance party, Sesame Street Halloween Parade and Clyde & Seamore's Big Halloween Bash, the park also has a special kids ticket offer. For each full-paid adult admission you can also get one child admission (age 3-9) for free. New to this year's event will be the addition of the Fall Festival at the Waterfront featuring a Hay Maze for the kids, and wide and seasonal beers for the adults, plus lots of fall special treats like Pumpkin Pie, S'mores Ice-Cream and more.

(9/18/19) Good news for SeaWorld San Diego, as I've been informed that the park's Skyride is planning to reopen for rides once again today (Wednesday) after being closed for the last few months.

(9/4/19) SeaWorld California will host a special "See What the Vets See" event over the next two weekends (Sept 7-8, 14-15), a popular behind the scenes tour with access into various animal habitats as well as a look inside SeaWorld's Animal Health and Rescue Center. The tour is free to guests, but space is limited to those who sign up first.

(8/29/19) SeaWorld San Diego will host their annual Halloween Spooktacular event with 10 free trick-or-treat stations, the Sesame Street Halloween Parade, Clyde & Seamore's Big Halloween Bash show and more. Look for it every weekend in October at the park from Sept. 21st through to Oct. 27th.

(8/7/19) SeaWorld San Diego has announced new additions to their concert series, with performances now scheduled for Craig Morgan on Aug 10-11, Never Stop Believin' (A Journey tribute band) on Aug. 17-18, Jesse McCartney on Aug. 24-25 and Jefferson Starship on Aug. 31 - Sept. 1 at the Nautilus Amphitheater.

(8/1/19) Local sources tell us that Tidal Twister has been down for most of July so far, as the prototype attraction seems to be going through more growing pains. The park hopes that they will be able to open it sometime within the next week or two and leave these problems behind them.

(7/30/19) SeaWorld San Diego has announced a surprise concert series for the park (performing in the Nautilus Amphitheater) that will start off when Vertical Horizon takes the stage on Aug. 3rd and 4th. The free concert schedule will continue throughout the weekends from then through to Sept. 1st with future performers to be announced very soon, so stay tuned!

(7/12/19) While the SkyRide at SeaWorld San Diego is still closed for repairs and re-inspection, the local news has posted an article going over the details about what happened when a crazy gust of wind shut it down earlier this year, taken from the official incident report from Cal/OSHA.

(7/1/19) Behind the Thrills reports that SeaWorld San Diego will open a new "The Waterfront" area for dining and drinks, located where the former Bayside Cafe used to be located, next to the Skyride. The Waterfront will open officially on July 4th, and remain open from the 4-7th, and then on weekends only for the rest of the summer, from 4pm to 7:30pm.
Even better however is the fact that the park will bring back the loved fireworks show, but only on Saturday nights from July through to Labor Day Weekend at 9:50pm.

(6/8/19) Screamscape sources have confirmed that Tidal Twister did reopen at SeaWorld San Diego. So time to go get your ride on!

(6/7/19) A today published by the local paper is now spreading days later, reporting that the new Tidal Twister ride at SeaWorld San Diego is now shut down. According to the official statement from the park there was an "operational issue" that is being addressed and they hope to have it reopen as soon as possible. The reports claim that it was shut down earlier this week, but as a true "prototype" ride, a few start-up issues are to be expected as they work out the kinks.
Digging a little deeper I was told that while the concept for the Skywarp Horizon ride (Tidal Twister) is on the surface based on the initial Skywarp ride concept, but features a ton of all new engineering designs to make it work, including some that will probably find themselves made part of the next Skywarp design. But unlike the first Skywarp which I don't believe actually opened until August of last year, this prototype Horizon model was able to open in May.
Either way, I'm told we should look for Tidal Twister to open any time now, if it hasn't already.

(5/25/19) I'm told that Journey To Atlantis was removed from the list of closed attractions at SeaWorld San Diego. Anyone get a chance to ride and report back on what is new and improved?

(5/13/19) A new video below mentions that Journey To Atlantis at SeaWorld San Diego is now testing ahead of being reopened.




(4/18/19) SeaWorld San Diego will host the latin food and music themed Viva La Musica event at the park on May 4-5, May 11-12, May 18-19 and June 1-2, 2019, featuring concerts each day at 3:30pm and 6pm at Nautilus Amphitheater.
May 4 - Los Tucanes de Tijuana
May 5 - Pancho Barraza
May 11 - Lupillo Rivera
May 12 - Pesado
May 18 - Chiquis with special guest Luis Coronel
May 19 - La Septima Banda w/ El Dasa con Mariachi
June 1 - Regulo Caro
June 2 - Los Rieleros del Norte w/ Kevin Ortiz

(3/27/19) Mako Vote, Tidal Twister and Atlantis Updates

(3/8/19) Some great images showing off the new paint job they are giving Journey To Atlantis at SeaWorld San Diego can be seen in the tweet embedded below.



(3/3/19) SeaWorld San Diego will launch their own Seven Seas Craft Beer & Food Festival on the weekends from March 9 through April 28th. Guests can "embark on a global gastronomic cruise without leaving the park, including culinary delights representing the Caribbean, Europe, the Pacific Islands and Latin America and more, more than 125 craft beer selections and several wine varietals. Seven Seas, featuring 33 new food items and a new Flavors of India area".
In other news the park has closed the Pets Rule show and will repurpose the Nautilus Amphitheater into a new concert performance friendly venue over the next couple months in time to reopen it in May for Viva La Musica concerts taking place on select dates from May 4 through May 19. From there the venue will also be used for other concerts and special events throughout 2019 such as the Illuminight show during the summer and more.

(2/21/19) SeaWorld San Diego's SkyRide shut down in mid ride earlier this week after a freak wind storm blasted through the area, trapping 16 riders in mid-span from about 7pm to 11pm. From what I've heard the ride shut down when a safety sensor was tripped as a section of the ride's cable had came out of the the groove on one of the sheaves (the wheel like things at the top of the towers that guide the cable), rolling inward and striking the sensor.
As the SkyRide was my old stomping ground when I worked at the park, I can tell you normally if the ride shut down for any kind of reason, if the safety sensors rechecked as being good you could still pull the cars slowly around the course via a backup gas-powered VW motor, but since the cable was blown off course in an unsafe area, the only means left was to call in the rescue teams who go out via boat to the ride's two towers, climb about 90 feet up the ladder to the top and with climbing gear, they have to go out over the cables to each car, enter, and rig up a rescue system to lower each guest individually down to a waiting boat below. I've seen it done myself when I worked there, as we did test rehearsal drills with the fire department.
The ride also features a constant wind monitor that sends information to the operators in the station, and will sound an alarm if it gets over a certain speed, with different speeds set for each direction that if I recall, ranged anywhere from 14 to 28 mph. Unfortunately, the word I've been hearing is that a sudden gust sprung up out of nowhere with reported speeds up to 50 to 60 mph that rocked one of the cars as it was going over a tower and caused the cable to roll off and hit the sensor. By about 11:15 all 16 riders have been safely lowered back to the surface.
I'd expect the SkyRide to be closed for a bit to repair any cable issues, as well as undergo all new inspections and safety certifications, but everything appears to have worked exactly as designed, keeping everyone safe and sound. It sounds like the freak wind blast affected all areas of the city, as riders on a hot air balloon ride at the San Diego Zoo Safari Park also were caught off guard in mid flight and given a bit of a scare.


(2/12/19) Rehab work continues on Journey To Atlantis at SeaWorld San Diego this week, with the latest photos posted to Twitter showing that the ride's towers and buildings are now all being repainted a sky blue color to blend in better with the skyline around the park.


(2/9/19) Now I've got something new to haunt my nightmares for the next several weeks. Crabs… the giant variety… specifically the Japanese Spider Crab. Just saying that out loud gives me the chills. SeaWorld San Diego caught one of their Japanese Spider Crabs in the act of molting… the process where it has outgrown its own exoskeleton and sheds it in order to grow a new larger exoskeleton. They repeat this process many times throughout their lifespan as the exoskeleton is incapable of "growing" with the crab as it ages.
According to SeaWorld the entire process they caught on time-lapse video took about six hours to complete. You can watch the horror show below, as it pops the lid on it's old skin and begins to ooze its way out bit by bit, until blasting out free, legs and all in a new body significantly bigger than it's former self. Ewwww….



(12/23/18) The rehab of Journey To Atlantis at SeaWorld San Diego is moving ahead full steam, with some new pictures discovered on Twitter posted below. As you can see the towers are now covered in scaffolding and the domed top of the main tower (with the elevator lift inside) appears to have been removed and covered up. This makes sense as the rumors suggested this section of the ride would be undergoing some of the biggest changes and maintenance upgrades. (Update - Look For JTA To reopen in Spring 2019).


(12/17/18) A new Journey To Atlantis construction update has been posted on Twiter showing off the towers of the ride are now covered in scaffolding and several sections of track are now missing. Check it out below.


(12/3/18) We told you awhile back that Journey To Atlantis was going under the knife for a prolonged and major rehab and now we've got pictures sent in by a reader. As you can see, several sections of the ride's outdoor coaster style track have now been removed. Based on this we can only assume these more high speed / dynamic track areas will be replaced with brand new track pieces, or they are sending out the old track to be refurbished and returned.
2019 - Tidal Twister and 55th Celebration - (6/1/19) A great promotional video of the new Skywarp Horizon attraction, known as Tidal Twister at SeaWorld San Diego, has been posted by Ride Entertainment. Check it out!




(5/15/19) While the public date to ride the new Tidal Twister at SeaWorld San Diego is on May 24th, I'd look for it to possibly soft open a few days prior to this, as the park will be hosting a media preview day on May 21st. Passholders have also been promised preview sessions on Tidal Twister from May 21 to 23rd from 1-5pm each day, so there is always a chance they could open it up to anyone passing by if the crowds are low.
No word on when Journey To Atlantis may reopen, though I've got a feeling there is always a chance that it could reopen around the same time-period to take advantage of the media on-site if it is ready to roll.

(4/6/19) I'm told that the new Tidal Twister ride at SeaWorld San Diego is now set to open to guests on May 24th.

(3/17/19) A video construction update for Tidal Twister at SeaWorld can be found below, including a look at the train which is now mounted to the track. Keep watching and the second half of the video shows off the progress taking place at the Journey To Atlantis refurbishment.


(3/14/19) A video construction update showing off the progress of Tidal Twister at SeaWorld San Diego can be seen below.


(2/13/19) A new construction photo showing off the Tidal Twister site at SeaWorld San Diego was posted to Twitter earlier today. Check it out below.


(1/7/19) While we know 2019 is all about the new Tidal Twister ride, SeaWorld San Diego will also be celebrating the park's 55th anniversary celebration that year with an assortment of other enhancements. According to a report at BehindTheThrills, this will include a special Celebration Weekend event from Mar. 21-24, new enhancements to the Rescue Plaza, special pass member events, upgrades to the entrance plaza to make security checks go more smoothly, a Sesame Street 50th Birthday Parade in the summer and an upgraded Electric Ocean sky show involving light-up drones in the sky over the park. For the last item, they say they are talking to Intel about it, who you might remember worked on other similar shows in Las Vegas and even Walt Disney World at one point, and they are calling it the BrilliantSea Sky Show.

(11/14/18) Skyline Attractions and SeaWorld San Diego had the lead car from the new Tidal Twister ride on display at IAAPA this week.


(10/20/18) Construction walls are up at SeaWorld San Diego for the new Tidal Twister ride, and based on the photos, this is going to be quite a tight fit to squeeze that ride into this small area between the tide pools and the stadium.

(10/10/18) SeaWorld San Diego confirmed all the details for 2019 by announcing Tidal Twister for 2019. As we predicted, this was confirmed to be the world's first Skywarp Horizon from Skyline Atttractions. The interesting thing is SeaWorld is marketing this as "dueling coastrers" even though the two trains are really connected on one side. But the way these rides work is that unlike a Larson Loop where the train's movements are powered the entire time, the Skywarp attractions really are just one very long train on a coaster track… where they are given power and pushed through the station by drive-wheels most of the time, but there is a section of time where the train does just "coast" as it moves through the layout. This technically does make it a coaster I think… though mostly a powered one. The interesting possibility is that if the ride length is programmed to go long enough, these kind of rides could take the record for most inversions quite easily. Just something to think about. Look for Tidal Twister to open in May 2019 next to the park's tide pools.


(9/25/18) While Screamscape uncovered that SeaWorld San Diego's new coaster would be the world's first Skywarp Horizon ride, a leaked presentation graphc does show off some of the ocean themeing they are going to incorporate into this attraction as it swoops and loops around on the infinity loop shaped track. It also confirms that as expected, the layout will include an inversion.

(7/28/18) A little more news leaked out regarding the new coaster coming to SeaWorld San Diego. Backing up our report that this will be possibly the first Skywarp Horizon ride from Skyline Attractions, a report on the ride by the local newspaper confirms that the new ride will contain a moment where the riders are inverted. One of our readers on Facebook posted a neat idea that could also explain the lower height limit, pondering a possible slight change to the design, where instead of a hill over the inversion, what if the train attempted to go UNDER the inversion instead, creating a great "High-5" style moment as the two trains passed by each other here.
While the theme is unknown, it was mentioned that the ride would maintain elements of the park's "Rising Tide" conservation program. With the ride also located next to the park's Aquaria tide pool and aquarium exhibit, so I imagine some kind of theme and enhanced animal exhibit could be tied into the ride as well.
(7/27/18) Some breaking news for everyone, SeaWorld San Diego is adding another new coaster for 2019 and have filed the necessary paperwork with the California Coastal Commission. The project will involve the removal of the old restroom structure between the Tide Pools and the Cirque lagoon stadium with the replacement of what looks to be a figure-8 shaped coaster layout that they claim will only be about 22 feet tall or so.
While at first you may dismiss this as being another kiddie coaster or a powered SBF/Visa spinning coaster, I think we may be in for a much bigger treat. A quick look at the layout drawing of the site show that the coaster seems to have loading stations on BOTH SIDES of the
Figure-8… which immediately brought to mind something unique I saw at IAAPA this November that has never been built anywhere before. A Skyline Attractions "Skywarp Horizon", which features the same loading station layout and a figure-8 layout, except the track goes over an airtime hill on one pass and spirals through a corkscrew below it on the return path.
The only thing is that the layout really just shows a simple figure-8… with no sign of the inversion, and a Skywarp Horizon, while it would perfectly fit the site (115ft x 55 ft) is said to be 30 feet tall, and not 22 feet tall, so perhaps SeaWorld has asked for a more family friendly version of the Skywarp Horizon without the inversion.
2020 - B&M Dive Machine - (10/27/19) It's a beautiful day for San Diego as the first ever B&M track pieces have arrived in the city at SeaWorld in preperation for the park's new 2020 Dive Machine coaster, which you can see over at Behind the Thrills. Now if only SeaWorld would give us the final name for the coaster, as it seems that they have decided to not use the previously announced 'Mako' name and are still working on finalizing a new name for the coaster.
Previously I had suspected that an early name proposed and then dropped for the Texas park's new coaster, "Abyss", could be re-purposed for the San Diego ride, as it is a perfect sounding name for a Dive Machine, but a quick search of the trademark database no longer shows any kind of record of SeaWorld applying to use the name "Abyss", which I can only assume to mean that the name was met with opposition and denied. (Disney now owns Fox, who owns the rights to the film 'The Abyss', so take that for what you will…)
I also see nothing new in the databased filed by SeaWorld, so for the moment, it seems the name of the new ride is still a mystery.

(9/10/19) One of our readers did a little Drone flying this week and sent in a picture of the current state of the 2020 coaster construction site at SeaWorld San Diego for the B&M Dive Machine formerly known as Mako. Yes… formerly known as, as we previously reported that the park was seriously looking into other names for this mythical coaster, and rightly so. In fact, one rumor going around claims that they are also looking into alternate names for the wooden coaster under construction at SeaWorld San Antonio which was rumored to be named "Abyss".
Hmmm… Abyss… that would make a great name for the San Diego Dive Machine coaster don't you think? Now they just have to come up with a new name for the Texas coaster.

(8/23/19) Congrats to SeaWorld San Diego who reported last week that construction has now officially begun on their new 2020 dive machine coaster, which they are billing as California's tallest, fastest and longest dive coaster. But wait… there is more good news. The coaster may drop the name Mako in favor or something else, which is perhaps the only gripe I had myself about this ride, as the company has already opened a world class Mako coaster in Orlando that is an entirely different style ride experience.
For what will surely be the biggest coaster in the park for years to come, a coaster like this deserves to have a unique name and theme, and now SeaWorld admits that the name is up in the air once again with new options being considered. Good for them, and I look forward to seeing what they come up with, as the chain has long had a history of coming up with some of the most unique sounding coaster names for their parks.

(7/12/19) Good news for SeaWorld San Diego this week, as I'm told that the California Coastal Commission quickly and unanimously approved the park's plans to build the Mako roller coaster for 2020.

(7/1/19) A couple of Instram posts sent my way show off some drawings for the Mako coaster project planned for SeaWorld San Diego. One shows a lift-hill height of 153 feet, while the other shows off a layout drawing of the coaster track along with queue placement.





(6/22/19) Screamscape sources tell us that the California Coastal Commission will meet to discuss SeaWorld San Diego's plans to build the Mako roller coaster on July 10th. This is listed on the agenda as "Coaster Permit Application' #6-19-0010.

(4/26/19) I'm told that the San Diego City Council voted unanimously to approve SeaWorld's new master-plan, which includes the new Mako dive machine coaster project. With the city on-board with the new coaster, the project is said to now only have to get final approval from the California Coastal Commission.

(3/27/19) Sources tell Screamscape that the San Diego Planning Commission voted to approve SeaWorld San Diego's plan to build the Mako roller coaster with a unanimous 7-0 vote. The matter is now headed to the City Council to vote on.

(2/4/19) Based on the layout plans released thus far Coaster-Nation has created an animation showing off what Mako at SeaWorld San Diego could look like when it opens in 2020.


(1/24/19) A reader came across a document with the Mako proposal artwork (added here) which included the official initial layout for the proposed new Dive Machine coaster. It also lists the major elements as: Immelmann, Hammerhead, Barrel Roll and Flat Spin.

(1/7/19) SeaWorld San Diego dropped one hell of a bomb about what they are planning for 2020. They are planning to add a new coaster called Mako, but unlike the Orlando park's Mako, the version planned for San Diego will be a mini B&M Dive Machine coaster standing 153 feet tall and placed very close to the park's Journey To Atlantis ride, with a 143 foot vertical first drop. If approved as planned, it will end up being the Longest, Tallest and Fastest Dive Coaster in all of California… which simply means it will be bigger than Hangtime at Knott's Berry Farm. I would also bet that unlike the sister Dive Machine coasters at the Busch Gardens parks (Sheikra and Griffon) this one won't feature wide trains, but instead will likely be the more cost friendly "D6" design that only seats 6 riders across each row and uses a smaller size track.
2021 - Wild Arctic Replacement / New Launched Coaster - Rumor - (8/6/19) Back in March the park confirmed that they were looking to replace their old Wild Arctic simulator attraction with a new arctic themed attraction that would be only be 30 feet tall at most. A few ideas have been floated around since then, but a new update from our friends at Behind the Thrills strikes a chord with me, as they claim the idea is to add a new family coaster to the park that would re-purpose the large attraction building for part of the ride experience as well as extend outwards into the parking lot area beyond for the majority of the high speed ride track.
While they were thinking more along the rides of Premier Rides who just built Electric Eel, I've got an entirely other idea that would also perfectly keep the arctic theme. What if this were to be a Snowmobile themed launched coaster featuring multiple launches through a frigid arctic landscape of ice and snow? Think of this as a frozen themed version of Hagrid's Magical Creatures Motobike Adventure, but with the cars themed to snowmobiles instead of bikes. The idea isn't as crazy as it might sound either, as the popularity of Hagrid's would bring a lot of interest in having this style ride on the west coast, and Intamin did just create a launched Jet Ski themed version for SeaWorld San Antonio called Wave Breaker that opened in 2017. Here is another little known fact, as I was once told that SeaWorld's Wave Breaker did not start out as a Jet Ski themed ride at all… as the initial concept was said to be for it to have an arctic theme and snowmobile themed vehicles and be located elsewhere in the park, closer to their Penguin Encounter. If any of this is true, it does sound like the corporate office may have dusted off those old plans to build a new and exciting ride concept for SeaWorld San Diego.

(4/26/19) OrlandoWeekly is hearing that the long-term plan to replace Wild Arctic at SeaWorld Orlando may be replace the attraction's aging simulator fleet with a new modern Flying Theater style attraction at some point down the line. With the San Diego park also looking to replace their attraction sooner than later, I do have to wonder if the California park might get the Flying Theater first.

(3/22/19) According to the local news SeaWorld San Diego is looking into ideas to replace the park's Wild Arctic simulator attraction. A park spokesperson confirmed that after 25-years of service, they are looking to "replace the ride experience at the attraction" with a new kind of arctic themed ride, but one that will be lower than 30 feet in height. Little else was revealed other than that this project is something they are planning for 2021.
Previous rumors had indicated that the park may have been planning to also renovate the park's Penguin Encounter this same year, which sits across the plaza from the entrance to Wild Arctic. If this plan is still in the works, it would likely see the animal exhibit completely renovated, much like what was done in Orlando… but without the costly dark ride experience that was added in Florida.
Fun note… going way way back to the time I spent at this park, there was one a dream of creating some kind of attraction that could sit between the Penguin Encounter and Wild Arctic, that could offer two different experience, one that would offer a trip to the south pole and unload guests at the Penguin Encounter while the other would be a trip to the north pole, dropping guests off inside Wild Arctic. It is also worth mentioning that while the park says it is time to replace the ride… this could be misleading as the sister attraction built at SeaWorld Orlando is a few years older and still operational.

(3/14/19) According to the latest rumors, SeaWorld San Diego will be replacing the park's old Penguin Encounter attraction for the 2021 season. No word on if they will simply built a new modern facility, upgrade the old one, or look into building something new entirely. While there is always a chance they could try to mimic what was done in Orlando, I have serious doubts that they would try to add the same Antarctica dark ride experience to San Diego after guests in Orlando seemed to be very underwhelmed with the Orlando attraction when it opened.