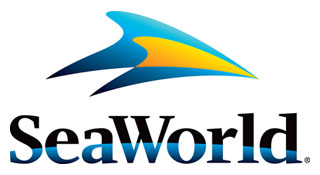 SeaWorld California
& Aquatica California
San Diego, CA
SeaWorld Parks & Entertainment
Attraction Rehabs - The following information is not guaranteed to be 100% accurate.
Skytower - NOW CLOSED until TBD
Riptide Rescue - Sept. 8 through Sept. 19, 2014
Shipwreck Rapids - Nov. 3 through Nov. 21, 2014
Park News - (8/30/14) SeaWorld San Diego will see the return of SeaWorld's Halloween Spooktacular on weekends from Sept. 27 to Oct. 26.
(8/17/14) Updated: Killer Whale Habitat Expansion News.... click here.
(8/6/14) In what may be our first batch of bad news for the 2015 season from SeaWorld Parks, I'm hearing it said that the California park's 2015 in-development plans were canceled due to budget cuts. Things are not looking good for the chain at the Turnstiles, nor are they looking any brighter over on Wall Street. Readers may recall I warned repeatedly that SeaWorld parks going public with a stock offering was a colossal mistake and it really has been.
Even more interesting is that our sources also claim that the corporate bigwigs will be touring the parks across the nation with some unknown and very important "investors" in the next few weeks. Could it be the Wanda Group from China? (See the 8/5/12 story for more details.)
(7/2/14) According to many reports, about 40+ guests and 2 crew members were stuck on the SeaWorld SkyTower for about 4 hours the other day, when a power crash brought their ride to a halt in mid-air. Everyone was kept calm and comfortable while they waited for the park's maintenance crews to repair the problem and lower the ride back down to the ground.
(5/22/14) The SeaWorld Parks have launched all new version's of their official park smartphone Apps (Discovery Guides) earlier this year, and the improvements just keep on coming. I'm told that the ability to purchase QuickQueue to cut to the front of the line will soon be coming to the app itself, which means you can upgrade your experience from within the actual line you are trying to skip.
Other new additions include GPS enabled park maps, real-time updates of park show schedules and special events, current ride-wait times, the ability to receive broadcasted park notifications and special offers, and soon will also give you the ability to order your food online from select locations so you don't have to wait in line to order.
You can download the official Discovery Guide apps for the SeaWorld, Busch Gardens and Sesame Place parks for free in both: Apple (App Store) and Android (Google Play) flavors.
(4/9/14) According to the local news, the bill that was seeking to put an end to Killer Whale shows at SeaWorld in California was essentially "put on hold" at the hearing earlier today, killing the proposal for the year while the author puts it under further review. The earliest it can be brought up again as a proposal wont be until at least mid-2015.
(3/8/14) Just when you thought the fallout of Blackfish might start to die now, the next wave is threatening to hit SeaWorld of California. A California Assemblyman, Richard Bloom, is introducing a bill proposal called the Orca Wellfare and Safety Act. The bill is targeted right at SeaWorld, and only SeaWorld, by banning the park's ability to keep both wild-caught or captive-bred Killer Whales in the park, to use them in any display or entertainment capacity. The law would also require SeaWorld's California park to rehabilitate and release their whales back into the ocean if possible.
Since the bill would only impact the California park, the obvious loophole here would be for SeaWorld to just 'move' all their California whales to their other parks if need be, making the "release and rehabilitate" part of the bill kind of pointless in the end. So will this bill get passed? Normally, I would say no… that a bill so obviously targeted to cause harm to a single company, from a single Assemblyman, wouldn't stand much of a chance. But this is California we are talking about… and stranger things have happened there before, especially when it comes to another "issue" between SeaWorld San Diego and a local Politician. The San Diego park has always served as a long standing target for political bile in the region, and looks like it will continue to do so.
So anything can happen. CNN did actually have a decent and intelligent interview with zoologist Grey Stafford about the issued that is worth seeing here.

2014 - New Entrance / Explorer's Reef / Sea of Surprises - (3/14/14) SeaWorld California has opened their new themed front gate area at last. Check out the photos sent in showing off all the details, inside and out.


(2/17/14) SeaWorld California has sent out a couple of new preview images of the new Explorer's Reef area which is nearing completion. The park's new "arrival experience" is slated to open on March 21st, just in time for the park's 50th Celebration. In addition to adding four freshwater and saltwater touch pools (with sharks, rays, horseshoe crabs and cleaner fish) Explorer's Reef will also feature a unique wave structure that guests will pass under as well as a new beach-themed concierge-style ticketing area.
(1/7/14) SeaWorld San Diego has opened the newly renovated SeaWorld Store, a large gift shop at the main entrance of the park that gives us our first look at the new themeing that will be incorporated throughout the new Explorer's Reef area, allowing guests to shop underneath giant coral formations. Check out the pictures below.
(11/22/13) A reader took a spin in the Skytower the other day and sent in our latest main gate construction picture. Lots of new structures are now in place that will change the look of the area once finished.
(10/22/13) A reader sent in a nice collection of pictures showing off the progress on the new entrance area under construction at SeaWorld, as seen from the Skytower.
(7/17/13) We take a quick look at the construction taking place for SeaWorld California's new entrance area this week over at Westcoaster. While new things are starting to appear, the overall site is still mostly a big dirt field for now.
(6/12/13) A new 18-month long celebration event called A Sea of Surprises will kick off on March 21st, 2014... marking the 50th Anniversary of the grand opening of the original SeaWorld park in San Diego. All three SeaWorld parks in San Diego, Orlando and San Antonio will join in the epic celebration that will see a variety of special experiences added, new shows, pathway performances (aka: Splash Mobs), animal encounters and you may get a visit by the Surprise Squad who will be wandering the park treating guests with special prizes each day.
In San Diego the event will also kick-off with the opening of the new Explorer's Reef interactive entrance plaza. New giant sea life sculptures will also be put on display and the parks will offer new enhancements and digital services and special park apps to provide a new way to experience the park. Look for the official details to be released, piece by piece at the official 50th Celebration website starting this fall.
Here is a fun fact for you... I helped celebrate the 25th Anniversary of SeaWorld San Diego back when I was a teenager and working at the park. I think I may still have my special Crew Member 25th Anniversary 'disco jacket' tucked away in a dark closet somewhere. I also grew up in San Diego "in the shadow of the Skytower" and remember seeing how the park looked in the early years and watched it grow as I grew up along with it, so seeing the park turn 50 next year will also be a bit of a personal celebration for me as well, remembering the fun times of visiting as a guest as well as working alongside old friends as a Crew Member as well. So I must say, "Congratulations to SeaWorld!" on this huge occasion. Now check out this video preview of what's on the way.

(6/6/13) New construction pictures showing off the current progress of things as SeaWorld California builds a new park entrance area were sent in this week by a reader. Enjoy!
(4/9/13) A construction update on the new main entrance area being added to SeaWorld California was posted to Westcoaster this week.
(1/21/13) A reader dropped by SeaWorld this past week and sent in a look at the closed 4D theater (and notice on the park map) as well as taking a bunch of pictures of the new blue construction walls for the new main gate project area that have gone up to the right of the current entrance.
(10/11/12) SeaWorld California has confirmed that construction will begin this December on a 16-month long project that will see an entirely new themed main entrance area built at the park. The new entrance area will be called Explorer's Reef and they expect to have it open by March 2014. The new entrance area will not only be faster and more efficient, but will finally create a themed "sense of arrival" for guests upon entering the park.
The existing ticket booths will be replaced with a new beach-themed concierge-style ticking area to buy tickets, sign up for tours, animal interactions and dining experiences. "Explorer's Reef will transform our guests' arrival by providing them with unparalleled welcoming services and then transporting them into the world of the sea as they pass under an iconic and stunning wave," said John Reilly, SeaWorld's park president. "The promise of SeaWorld will be delivered immediately, giving our guests opportunities to connect with amazing animals as soon as they enter the park." Guests will enter the park beneath an immense wave sculpture giving them the impression of actually entering an underwater world." Once inside the new 3-acre Explorer's Reef area will have a tropical coral themed look to the new animal attractions, buildings, shade structures and shops.
Animal Interaction opportunities will begin right away with a series of four touch pools, featuring a total of nearly 5,000 fish in both freshwater and saltwater environments. Guests can shop in an open air marketplace environment to shop in, as well as new culinary opportunities. During the construction, a new temporary entrance gate will be used just to the right of the current main entrance.
(10/9/12) SeaWorld San Diego has filed paperwork with the California Coastal Commission to completely renovate the park's main entrance area to include a new ticket booth building, 1000 sqft aquarium, a culinary facility and replacement of the existing turnstyle areas and more.
(7/19/11) SeaWorld California, the first of all the SeaWorld parks, will turn 50 in 2014. We've heard rumors about possibly building a new themed main entrance area, possibly similar to the one used in Orlando, and some new special attractions to celebrate the big event. One of these may be a new special night-time version show in the Blue Horizons stadium.

2014 - Aquatica San Diego adding Taumata Racer - Confirmed - (10/14/13) Aquatica San Diego has announced that a large new high capapcity water slide is on the way to the park for 2014 called Taumata Racer. Taumata Racer is a multi-lane head-first racing slide featuring an 180º enclosed swooping turn before the lanes line-up for a series of high speed drops to the finish line. It will be located between Walhalla Wave and Kata's Kookaburra Cove and will be ready to open on Memorial Day Weekend, 2014.
2015 to 2018 - Killer Whale Habitat Expansion / Blue World Project - (8/17/14) New concept artwork shows off the layout of the killer whale habitat expansion at SeaWorld San Deigo, as well as some great looks at what it will look like have been released. The view of the 40 ft tall underwater viewing panel is very impressive, as you stand at the bottom of the 50 foot deep pool and can look up at the whales. Kind of reminded me of the impressive views you get from inside the impressive Georgia Aquarium.
(8/15/14) According to an early post by the Orlando Sentinel, SeaWorld Parks have announced plans to nearly double the size of their Killer Whale habitat at their parks. Construction will begin first in San Diego in early 2015 and by the time they are finished in 2018 with the upgrades the new habitat will hold about 10 million gallons of water, go down to 50 feet in depth (from the current 36 ft. max depth) and include the rumored "water treadmill" system SeaWorld engineered to allow them to swim against a moving stream of water for more exercise.
UPDATE - They are calling this the Blue World Project and you can see some beautiful artist renderings of what to expect here. They say more details will follow at 11am EST, but here is what is posted now.
---
Once again, SeaWorld is on the leading edge of innovation and science with the announcement of these first-of-its-kind killer whale environments. These new homes will build upon SeaWorld's legacy of providing state-of-the-art animal living spaces and offering park guests unique killer whale encounters, inspiring generations to come.
The new killer whale homes and related research initiatives have a bold vision: to advance global understanding of these animals, to educate, and to inspire conservation efforts focused on protecting killer whales in the wild.
The first of these environments will be built at SeaWorld San Diego and is planned to have a water volume of 10 million gallons, nearly double that of the existing facility. With a maximum depth of 50 feet and a surface area of nearly 1.5 acres spanning more than 350 feet in length, there will be no other realm like this in the world. The new environment will also have views exceeding 40 feet in height, providing guests with the world's largest underwater killer whale viewing experience.
Named the Blue World Project because of its size and scope, the new environment will allow for increased engagement with SeaWorld experts through new enrichment experiences and interactive programs. The environment will enhance the educational experience for guests, foster deeper knowledge of killer whales and their ocean environment, and inspire guests young and old to celebrate and conserve the natural world.
Expanding on SeaWorld's legacy of animal environment design, the enlarged environment will provide killer whales with even more dynamic opportunities. It will support the whales' broad range of behaviors and provide choices that can challenge them both physically and mentally.
Among other things, it is planned to include a "fast water current" that allows whales to swim against moving water, thus functionally increasing speed and diversity. Innovative features focused on husbandry and animal care will offer SeaWorld's animal health professionals and independent scientists unique access to the whales that can lead to a better understanding and care of the animals both in the parks and in the wild.
The San Diego environment is expected to open to the public in 2018 with new killer whale homes to follow at SeaWorld Orlando and SeaWorld San Antonio.

???? - Revamp Penguin Encounter / Wild Arctic Area - (8/16/13) According to the latest gossip, any and all plans to build any kind of Antarctica themed attraction, with or without a ride, in the San Diego park has now been put on indefinite hold. Looks like something else is in the works instead.
(8/15/13) While SeaWorld San Diego is busy building the park's new main gate / entry area for 2014, I've heard about a possible new plan in place for 2015. From what I'm told nothing has been finalized yet, but it seems the park was already looking into remodeling their own Penguin Encounter attraction into their own version of Orlando's Antarctica: Empire of the Penguin attraction.
However, due to the less than satisfactory guests response to the ride portion of the Orlando attraction, the San Diego version may opt to cut out that part of the plan. Instead they would remodel the overall area around the existing Penguin Encounter attraction and put extra money into making the walk-through animal habitat portion even bigger and better than the Orlando version. Much like in Orlando, they would build the new Penguin attraction on the frame of the existing habitat. If approved, we could see this happen as early as 2015 or 2016.