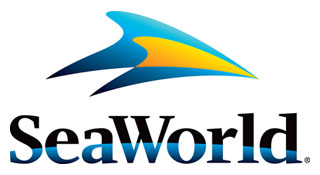 SeaWorld California
& Aquatica California
San Diego, CA
SeaWorld Parks & Entertainment
Attraction Rehabs - The following information is not guaranteed to be 100% accurate.
Abby's Sea Star Spin - May 19 through May 20
Dolphin Stadium - Sept. 8 through Sept. 18
Riptide Rescue - Sept. 14 through Sept. 25
Shipwreck Rapids - Nov. 2 through Nov. 13
Park News - (4/29/15) SeaWorld California is kicking off the new Seven Seas Food Festival on May 2nd, allowing guests to "explore and celebrate culinary creations" from the park's Executive Chef, Axel Dirolf. They will feature local craft beers, California wines with bold new food creations from around the world, featuring flavors from California, France, Nuevo Baja, Asia, the Mediterranean, South America and Caribbean.
The Seven Seas Food Festival will take place on May 2-3, 9-10, 16-17 and 23-24.
(4/9/15) The final act of SeaWorld's Magic Weekends run will be Michael Grasso, who appeared on "America's Got Talent", and will be performing on April 25-26.
(4/2/15) SeaWorld San Diego will hold a new unique special event on weekends between April 11-26 called Magic Weekends. As the name implies, the park will put on special magic shows featuring different acts in the park's Mission Bay Theater.
April 11-12 will feature Kalin and Jinger, a husband and wife magic team.
April 18-19 will feature Seth Grabel who will perform magic, illusions and AcroMagic.
April 25-26 - TBA
(1/9/15) SeaWorld San Diego will soon ring in the Lunar New Year with an all new celebration on February 13-16, 21-22, 28 - March 1st. SeaWorld's Festival Village will feature Asian-inspired culinary offerings and a community stage presented by Coca-Cola featuring cultural performances celebrating Asia, such as taiko drummers and fan dancers. Also, the Chinese Acrobats of Hebei will perform 25-minute shows at Mission Bay Theater. And, each guest will receive a red envelope with a special gift inside.
SeaWorld Wild Days will take place in March, starting with Jack Hanna and Julie Scardina on March 7-8. Sea Rescue weekend will run on Mar. 14-15, and this will be followed by Generation Nature (GenN) weekends on Mar. 21-22 and Mar. 28-29.
SeaWorld's Craft Beer & Food Festival is up next and will feature many special brews, international food items and local bands in the Garden Plaza on May 2-3, 9-10, 16-17, 23-24.
(1/6/15) SeaWorld San Diego is putting on a new celebration event called Lunar New Year at SeaWorld, a tradition to wishing good fortune and happiness to family and friends. This will take place Feb. 13-16, Feb. 21-22, Feb. 28-Mar. 1.
This will be followed by Wild Days on the March weekends of 7-8, 14-15, 21-22 and 28-29.
A new SeaWorld Food Festival event will then take place on the first four weekends in May, featuring international cuisine, craft beers and wines and more at special venues throughout the park.
Of course the best way to experience it all is to take advantage of the 2015 SeaWorld Fun Card, your for the price of a regular day's full-priced admission of $86 for adults or $80 for children. You'll get to return to the park every day for the rest of the 2015 season.
(12/29/14) While I had not heard this before, apparently another victim of the company wide budget cuts to the SeaWorld chain of parks was the Madagascar Live! show from SeaWorld San Diego. The entire cast and support staff were all let go earlier this month.
(11/26/14) SeaWorld San Diego will be having a Blue Friday sale this week, with specials on ticket prices, passes, exclusive park experiences, etc. There will be deals on Fun Cards, Buy a 1 year Annual Pass and get a second year free, discounted Dolphin Interactive Programs, Dine with Shamu and more. For details go here on Friday, with the deals set to run through Monday, Dec 1st.
(11/4/14) SeaWorld San Diego has announced that as part of the park's Christmas Celebration (starting Nov. 15 through Jan. 4) the popular SnowWorld will return to the park once again over at Arctic Plaza featuring 8,000 sqft of fresh snow, a snowball target game, sledding, snowmen building, snow falling along the pathway and special holiday season treats!
(9/11/14) SeaWorld's Halloween Spooktacular is coming back to San Diego on Sept. 27-28, Oct. 4-5, 11-12, 18-19 and 25-26. Aimed mostly at kids 12 and under, the event features in park trick-or-treating, character meet & greets, Otter & Penelope's Pumpkinfish Patch, DJ's playing music, a special Clyde & Seamore SeaLion show called "Clyde & Seamore's Spooky Adventure" and Sesame Street's Countdown to Halloween show.
(8/30/14) SeaWorld San Diego will see the return of SeaWorld's Halloween Spooktacular on weekends from Sept. 27 to Oct. 26.
(8/17/14) Updated: Killer Whale Habitat Expansion News.... click here.
(8/6/14) In what may be our first batch of bad news for the 2015 season from SeaWorld Parks, I'm hearing it said that the California park's 2015 in-development plans were canceled due to budget cuts. Things are not looking good for the chain at the Turnstiles, nor are they looking any brighter over on Wall Street. Readers may recall I warned repeatedly that SeaWorld parks going public with a stock offering was a colossal mistake and it really has been.
Even more interesting is that our sources also claim that the corporate bigwigs will be touring the parks across the nation with some unknown and very important "investors" in the next few weeks. Could it be the Wanda Group from China? (See the 8/5/12 story for more details.)
(7/2/14) According to many reports, about 40+ guests and 2 crew members were stuck on the SeaWorld SkyTower for about 4 hours the other day, when a power crash brought their ride to a halt in mid-air. Everyone was kept calm and comfortable while they waited for the park's maintenance crews to repair the problem and lower the ride back down to the ground.
2018 - Killer Whale Habitat Expansion / Blue World Project - (1/22/15) The local news reports on an expanded explanation of SeaWorld's Blue World Project to expand the killer whale habitat. The area is still set to begin work later this year and open in 2018 if all goes well. The article goes into more detail and a breakdown of the various environment areas within the Blue World Project, and how guests will experience them.
(1/7/15) According to this article about the Blue World Project (Killer Whale Expansion) at SeaWorld San Diego, the project will start construction around the end of the year and the $100 million project wont be completed until 2018.
(8/17/14) New concept artwork shows off the layout of the killer whale habitat expansion at SeaWorld San Deigo, as well as some great looks at what it will look like have been released. The view of the 40 ft tall underwater viewing panel is very impressive, as you stand at the bottom of the 50 foot deep pool and can look up at the whales. Kind of reminded me of the impressive views you get from inside the impressive Georgia Aquarium.
(8/15/14) According to an early post by the Orlando Sentinel, SeaWorld Parks have announced plans to nearly double the size of their Killer Whale habitat at their parks. Construction will begin first in San Diego in early 2015 and by the time they are finished in 2018 with the upgrades the new habitat will hold about 10 million gallons of water, go down to 50 feet in depth (from the current 36 ft. max depth) and include the rumored "water treadmill" system SeaWorld engineered to allow them to swim against a moving stream of water for more exercise.
UPDATE - They are calling this the Blue World Project and you can see some beautiful artist renderings of what to expect here. They say more details will follow at 11am EST, but here is what is posted now.
---
Once again, SeaWorld is on the leading edge of innovation and science with the announcement of these first-of-its-kind killer whale environments. These new homes will build upon SeaWorld's legacy of providing state-of-the-art animal living spaces and offering park guests unique killer whale encounters, inspiring generations to come.
The new killer whale homes and related research initiatives have a bold vision: to advance global understanding of these animals, to educate, and to inspire conservation efforts focused on protecting killer whales in the wild.
The first of these environments will be built at SeaWorld San Diego and is planned to have a water volume of 10 million gallons, nearly double that of the existing facility. With a maximum depth of 50 feet and a surface area of nearly 1.5 acres spanning more than 350 feet in length, there will be no other realm like this in the world. The new environment will also have views exceeding 40 feet in height, providing guests with the world's largest underwater killer whale viewing experience.
Named the Blue World Project because of its size and scope, the new environment will allow for increased engagement with SeaWorld experts through new enrichment experiences and interactive programs. The environment will enhance the educational experience for guests, foster deeper knowledge of killer whales and their ocean environment, and inspire guests young and old to celebrate and conserve the natural world.
Expanding on SeaWorld's legacy of animal environment design, the enlarged environment will provide killer whales with even more dynamic opportunities. It will support the whales' broad range of behaviors and provide choices that can challenge them both physically and mentally.
Among other things, it is planned to include a "fast water current" that allows whales to swim against moving water, thus functionally increasing speed and diversity. Innovative features focused on husbandry and animal care will offer SeaWorld's animal health professionals and independent scientists unique access to the whales that can lead to a better understanding and care of the animals both in the parks and in the wild.
The San Diego environment is expected to open to the public in 2018 with new killer whale homes to follow at SeaWorld Orlando and SeaWorld San Antonio.