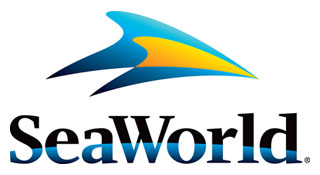 SeaWorld California
& Aquatica California
San Diego, CA
SeaWorld Parks & Entertainment
Attraction Rehabs - The following information is not guaranteed to be 100% accurate.
Dolphin Stadium - Sept. 8 through Sept. 18
Riptide Rescue - Sept. 14 through Sept. 25
Shipwreck Rapids - Nov. 2 through Nov. 13
Abby's Sea Star Spin - Nov. 2 through Nov. 12
Park News - (8/25/15) SeaWorld needs your help... as the forces who want to see SeaWorld shut down are now fighting against SeaWorld's Blue World project to build a much bigger and better Killer Whale habitat. SeaWorld is ready to start construction in San Diego but the only thing holding them back now if the final ok from the California Coastal Commission, which is where PETA and others against the park have focused their efforts to get the California Coastal Commission to deny the permits needed to build the project. Follow this link or this link to help SeaWorld and show your support for the Blue World project.
(8/14/15) This summer, SeaWorld San Diego has been featuring high energy, family friendly performers in their SeaWorld Summer Vibes series. So far, performers have included Will Champlin from The Voice, Eclipse, The Company Men & Filharmonic. Upcoming shows are The Groovaloos (Aug 13-17), So We Know We Can Dance featuring dancers from the show So You Think You Can Dance (Aug 20-24) and Fighting Gravity from America's Got Talent (Aug 27-30). Shows are at the Mission Bay Theater (formerly housing the Madagascar Live show). The event has been very well attended so far and the shows have been very good. Great entertainment and a perfect escape from the warm summer days.
(7/21/15) SeaWorld San Diego has confirmed that they will retire Blue Horizons and kick off the new Dolphin Days show on Aug. 13th.
Dolphin Days combines spectacular dolphin and pilot whale behaviors with a close-up look at the animals and the special relationship they have with their trainers. The show's beach-style music gives Dolphin Days a laidback island vibe that is contrasted with the high-flying fun of these energetic dolphin stars. Guests are awed by their agility, grace and aerial bows, while at the same time encouraged to help conserve and protect dolphins and whales in the wild.
Dolphin Days may also stir nostalgia in longtime SeaWorld fans with a throwback to the days of guest participation. During each show, a young volunteer selected from the
audience has the chance to develop an even more personal connection with these incredible animal ambassadors that may ignite a passion to work with them. After the interaction, a dolphin trainer rides a surfboard to present the lucky volunteer with a one-of-a-kind keepsake to commemorate their special experience.
(6/25/15) According to the latest rumors, I'm hearing that that this may be the last summer for the Blue Horizons show at SeaWorld San Diego. According to the story, the local California tourist market hasn't responded well to the faux "Cirque" style show and expect to see a more traditional Dolphin show replace it. I've got to think that the already reported closure of the Dolphin Stadium from Sept 8 - 18th may tie into this as well.

2018 - Blue World Project / Killer Whale Habitat Expansion - (6/27/15) While I still haven't seen any photos of those reported small sections of construction walls put up near the old Shamu Close-Up area, I have heard elsewhere that the park is installing water pumps near Shamu Stadium to remove the ground water below the surface. This is always an early step for any major project at the park that would require digging down below the surface for a large project, such as the upcoming Blue World habitat, so it looks like things may be finally ready to start moving forward.
(6/18/15) A report from ILoveSeaWorld.com mentions three new construction walls have been set up near Shamu Stadium in the old Shamu Close-Up area. Unfortunately I didn't see any pictures, so I'm not sure if this is infrastructure work, or if they are finally taking the first steps towards building the Blue World project.
(1/22/15) The local news reports on an expanded explanation of SeaWorld's Blue World Project to expand the killer whale habitat. The area is still set to begin work later this year and open in 2018 if all goes well. The article goes into more detail and a breakdown of the various environment areas within the Blue World Project, and how guests will experience them.
(1/7/15) According to this article about the Blue World Project (Killer Whale Expansion) at SeaWorld San Diego, the project will start construction around the end of the year and the $100 million project wont be completed until 2018.
(8/17/14) New concept artwork shows off the layout of the killer whale habitat expansion at SeaWorld San Deigo, as well as some great looks at what it will look like have been released. The view of the 40 ft tall underwater viewing panel is very impressive, as you stand at the bottom of the 50 foot deep pool and can look up at the whales. Kind of reminded me of the impressive views you get from inside the impressive Georgia Aquarium.
(8/15/14) According to an early post by the Orlando Sentinel, SeaWorld Parks have announced plans to nearly double the size of their Killer Whale habitat at their parks. Construction will begin first in San Diego in early 2015 and by the time they are finished in 2018 with the upgrades the new habitat will hold about 10 million gallons of water, go down to 50 feet in depth (from the current 36 ft. max depth) and include the rumored "water treadmill" system SeaWorld engineered to allow them to swim against a moving stream of water for more exercise.
UPDATE - They are calling this the Blue World Project and you can see some beautiful artist renderings of what to expect here. They say more details will follow at 11am EST, but here is what is posted now.
---
Once again, SeaWorld is on the leading edge of innovation and science with the announcement of these first-of-its-kind killer whale environments. These new homes will build upon SeaWorld's legacy of providing state-of-the-art animal living spaces and offering park guests unique killer whale encounters, inspiring generations to come.
The new killer whale homes and related research initiatives have a bold vision: to advance global understanding of these animals, to educate, and to inspire conservation efforts focused on protecting killer whales in the wild.
The first of these environments will be built at SeaWorld San Diego and is planned to have a water volume of 10 million gallons, nearly double that of the existing facility. With a maximum depth of 50 feet and a surface area of nearly 1.5 acres spanning more than 350 feet in length, there will be no other realm like this in the world. The new environment will also have views exceeding 40 feet in height, providing guests with the world's largest underwater killer whale viewing experience.
Named the Blue World Project because of its size and scope, the new environment will allow for increased engagement with SeaWorld experts through new enrichment experiences and interactive programs. The environment will enhance the educational experience for guests, foster deeper knowledge of killer whales and their ocean environment, and inspire guests young and old to celebrate and conserve the natural world.
Expanding on SeaWorld's legacy of animal environment design, the enlarged environment will provide killer whales with even more dynamic opportunities. It will support the whales' broad range of behaviors and provide choices that can challenge them both physically and mentally.
Among other things, it is planned to include a "fast water current" that allows whales to swim against moving water, thus functionally increasing speed and diversity. Innovative features focused on husbandry and animal care will offer SeaWorld's animal health professionals and independent scientists unique access to the whales that can lead to a better understanding and care of the animals both in the parks and in the wild.
The San Diego environment is expected to open to the public in 2018 with new killer whale homes to follow at SeaWorld Orlando and SeaWorld San Antonio.