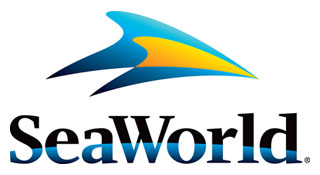 SeaWorld California
& Aquatica California
San Diego, CA
SeaWorld Parks & Entertainment

Attraction Rehabs - The following information is not guaranteed to be 100% accurate.
World of the Sea Aquarium - NOW CLOSED through 5/22/13
Skytower - 5/14/13 (One Day)
Riptide Rescue - 9/8/13 through 9/20/13
Shipwreck Rapids - 10/14/13 through 10/25/13

Park News - (1/14/13) According to documents uncovered the Freshwater Aquarium will be demolished. The nearby existing 4,700 sqft gift shop (next to the Shark exhibit) will be remodeled to become a 2,300 sqft retail site and a nearly 2000 sqft new culinary facility.
(12/31/12) SeaWorld San Diego will offer guests a 2013 SeaWorld Fun Card for the price of a regular full park admission ticket, which will get you back into the park for free for the rest of 2013. Click here for official details.
(11/27/12) It seems that right around the same time that SeaWorld Orlando raised their ticket price earlier this month, SeaWorld San Diego also quietly raised their prices to match as well. Compared to the prices recorded in November 2011, the cost of an adult ticket jumped from $73 to $78 and a child ticket went up from $65 to $70. The current price for parking is $15, up from $14 in Nov. 2011, but I think that price may have been previously raised over the summer season.

2013 - Aquatica San Diego - (3/18/13) SeaWorld San Diego has announced that the opening day for Aquatica San Diego will be on June 1st, 2013. They have sent out some new concept art images sho

wing off how the existing waterpark will be transformed into Aquatica as they add in lush plant life and will make the home to a variety of exotic animals.
As expected, the park's slides and attractions have all been renamed starting this year. Here is the breakdown of the park's attractions and names:
Rides/Slides:
Whanau Way: Boasting a 60-foot water slide complex featuring six slides, four enclosed and two open air, this ride is a must on any waterpark enthusiast's list.
HooRoo Run: Guests can choose their own adventure: two enclosed and two open-air slides await for a thrilling descent down this 80-foot ride.
Woohoo Falls: Adventurers embark on one of three water slides with speedy twists and turns, including one in the dark for those up to the challenge.
Kiwi Curl: Guests can put their adrenaline level to the test as they ride down one of three 60-foot-tall water slides. Thrill seekers have the option of sliding in the dark.
Walhalla Wave: This 78-foot ride is designed for families to enjoy together (height requirement is 42") in a gigantic tube. A tube lift means no lugging it up the stairs!
Tassie's Twister: Plunge down a 75-foot water slide in a multi-person raft through thousands of swirling water before dropping into a six-story funnel.
Attractions:
Big Surf Shores: One of the largest wave pools in Southern California, guests swim in more than 500,000 gallons of water with period swells of up to five feet. A white sandy beach (43,000 square feet!) allows visitors to relax on lawn chairs or luxuriate in nearby cabanas.
Loggerhead Lane: Guests can swim or float along in an inner tube down a winding 1,250-foot long lazy river, with the added surprise of more than a dozen Caribbean flamingos on display. Playful fountains provide plenty of opportunities to splash while soaking up the sun.
Walkabout Waters: This four-story interactive and colorful outdoor attraction features loads of hands-on fun with slides, hoses, jets, geysers and more. Every five minutes, a 500-gallon bucket unloads water on everyone below!
Kata's Kookaburra Cove: Children can splash and play safely in this children's area featuring a pool and ropes. This kooky, quirky cove has a way of making even a grown-up want to jump right in and play.
Slippity Dippity: Families with toddlers can splash the day away and let their imagination run rampant as they explore an endless sea of fun at this attraction, which includes kid-sized slides.
Animal Exhibits:
At Loggerhead Lane, guests will enjoy not only a lush tropical attraction with a winding 1,250-foot-long lazy river, but also an up-close view of more than a dozen Caribbean flamingos. In addition, twice a day, these flamingos will make their way across the park in a fun and festive flamingo parade for guests to enjoy.
Also, a habitat with dozens of freshwater turtles, representing several species, will live in an exhibit that will feature under- and above-water viewing.
(2/4/13) SeaWorld has posted a new construction video showing off the site of the new Aquatica San Diego as seen by a couple of giant Flamingos… Flora and Fernanda, as they check out the park that will serve as their flock's new home.

(11/21/12) In a surprising announcement from SeaWorld Parks & Entertainment, Aquatica California will open in Spring 2013 in San Diego. To accomplish this feat, SeaWorld Parks struck a deal with Cedar Fair to purchase the former Knott's Soak City waterpark on the southern end of San Diego (in Chula Vista) and will transform it over the winter to fit their standards, as well as incorporate new animal encounters as they rebrand it as Aquatica California. For those keeping score, this means that each of the three SeaWorld parks will now have a nearby Aquatica waterpark. At this point in time, SeaWorld wasn't able to go into details about just what kinds of new attractions or animal encounters would be added to the park experience.
SeaWorld will make significant changes over the off-season transforming the park into an Aquatica: "These parks reflect the highest standard of quality in attractions, entertainment and theming, but the presence of animals makes the experience something truly special. Aquatica San Diego, like its sister parks, will feature guest experiences with a variety of exotic animals," said Jim Atchison, president and chief executive officer of SeaWorld Parks & Entertainment. "Having animals in our Aquatica parks adds an educational component to a waterpark visit that is both unexpected and enriching."
As for the park itself… I visited the park many years ago, back before the days of the more modern "gimmick" style slides we are seeing, and was happy with the nice collection of body and tube slides that the park had at the time. Transformed into Aquatica branded park, and with the addition of a few more modern slides to the mix, this has the makings of a really great waterpark.
2013 - Madagascar Live! Operation: Vacation - (2/13/13) I had heard the rumor, but I didn't quite believe it. SeaWorld San Diego will open "Madagascar Live! Operation: Vacation", a new musical character show in 2013, featuring the uber-popular Dreamworks Animation characters opening on June 15th.
"The 20-minute musical show follows the antics of Alex the Lion, Gloria the Hippo, King Julien, Mort and the Penguins during a vacation adventure. The show will feature rock/pop music performed by a live band and include both classic and original songs. The characters also will conduct meet and greets with park guests. Additionally, special co-branded merchandise exclusive to the parks, will be available."
While the location of the show was not officially mentioned, I believe it will be installed inside the park's former 4D Theater show venue.
(1/11/13) A reader who visited SeaWorld this past week sent in some observations from the park. Construction has begun on the new front entrance for the park, with blue walls now covering up a large area on the right hand side. They also reported that the 4D Theater was removed from the park map, and replaced with a mention that the location will be home to a new attraction in Summer 2013.
There are also rumors going around that the Freshwater Aquarium next door may also be removed in the near future. No word on if this is connected to the replacement for the 4D theater, or for something else. On a side note, Journey To Atlantis is also down for a winter rehab, which may see some new changes made to the attraction when it reopens. Stay tuned.
(8/24/12) A strange rumor was sent my way this week regarding that new show in the works for SeaWorld San Diego. Part of me doesn't quite want to believe it, but it is so out of left field and unexpected that I'm not sure anyone would try to make something like this up for the hell of it. Would you believe that a new water based family show themed to DreamWorks Madagascar characters could be coming? If this turns out to be true, I can't see SeaWorld Parks spending that kind of dough to use these characters and keep them only in just one of their parks. Could this be the first of many shows across the chain?
2014 - New Entrance / Explorer's Reef - (4/9/13) A construction update on the new main entrance area being added to SeaWorld California was posted to Westcoaster this week.
(1/21/13) A reader dropped by SeaWorld this pa

st week and sent in a look at the closed 4D theater (and notice on the park map) as well as taking a bunch of pictures of the new blue construction walls for the new main gate project area that have gone up to the right of the current entrance.
(10/11/12) SeaWorld California has confirmed that construction will begin this December on a 16-month long project that will see an entirely new themed main entrance area built at the park. The new entrance area will be called Explorer's Reef and they expect to have it open by March 2014. The new entrance area will not only be faster and more efficient, but will finally create a themed "sense of arrival" for guests upon entering the park.
The existing ticket booths will be replaced with a new beach-themed concierge-style ticking area to buy tickets, sign up for tours, animal interactions and dining experiences. "Explorer's Reef will transform our guests' arrival by providing them with unparalleled welcoming services and then transporting them into the world of the sea as they pass under an iconic and stunning wave," said John Reilly, SeaWorld's park president. "The promise of SeaWorld will be delivered immediately, giving our guests opportunities to connect with amazing animals as soon as they enter the park." Guests will enter the park beneath an immense wave sculpture giving them the impression of actually entering an underwater world." Once inside the new 3-acre Explorer's Reef area will have a tropical coral themed look to the new animal attractions, buildings, shade structures and shops.
Animal Interaction opportunities will begin right away with a series of four touch pools, featuring a total of nearly 5,000 fish in both freshwater and saltwater environments. Guests can shop in an open air marketplace environment to shop in, as well as new culinary opportunities. During the construction, a new temporary entrance gate will be used just to the right of the current main entrance.
(10/9/12) SeaWorld San Diego has filed paperwork with the California Coastal Commission to completely renovate the park's main entrance area to include a new ticket booth building, 1000 sqft aquarium, a culinary facility and replacement of the existing turnstyle areas and more.
(7/19/11) SeaWorld California, the first of all the SeaWorld parks, will turn 50 in 2014. We've heard rumors about possibly building a new themed main entrance area, possibly similar to the one used in Orlando, and some new special attractions to celebrate the big event. One of these may be a new special night-time version show in the Blue Horizons stadium.