US News:
---- UNITED STATES DEVELOPMENT NEWS ----
(9/18/14) South Carolina - Locals Oppose The Track Go-Karts (MORE...)
(9/18/14) Pennsylvania - ScareHouse Teams Up With Legendary Pictures (MORE...)
(9/5/14) Texas - Carnival Accident Update (MORE...)
(9/3/14) Teens Hurt Falling From Carnival Ride in Texas (MORE...)
Arizona - (6/12/14) Rob Zombie's Great American Nightmare haunt will return in 2014, but will move from last year's location in Southern California to a new location in Arizona at WestWorld of Scottsdale from September 19 to November 1. Opening night will feature a concert by Rob Zombie himself.
This year's version will feature three haunts in one:Captain's Spaulding's Clown School in 3D, The Lords of Salem in Total Black Out and The Devil's Rejects. Outside on "Bloody Boulevard" you can take in freak show performers, music, roaming characters, food and drinks, games and more. You can visit the official website here.
California - (9/2/14) Madame Tussauds in Hollywood opened their new Marvel Super Heroes in 4-D theater attraction last week. This should be identical to the one that opened at the Las Vegas location in December 2013. We've still got a reader review all about posted on our Vegas page here.
(7/30/14) According to a reader, two new attractions are under construction at Belmont Park to open later this year: a new 300 foot Zip Line and something called the Leap of Faith which sounds a bit like a SCAD Tower from the description of falling from a tower while in a restraint. Can anyone confirm, or get pictures of these under construction?
(7/24/14) Queen Mary's Dark Harbor haunt event returns for 2014 on select nights from Oct. 2 through to Nov. 2. This year's event will feature two brand new mazes, the new VooDoo Village and what they are calling an 'Exclusive Encounter" aboard the ship itself. Note: the Hellfire and Containment mazes from last year have been retired. Other features include the Monster Midway, the Freakshow, the Deadrise maze and The Ringmaster running the Circus. You can view the details at the official site here.
(6/13/14) A huge review along with photos and video of the amazing looking Great Horror Campout 2014 event in Los Angeles has been posted to Theme Park Adventure. If you are a haunt fan, you really need to see this.
(5/16/14) Could Southern California's infamous Santa's Village park in Skyforest reopen? According to a fantastic article at Theme Park Adventure the park which closed down 1998, the 154-acre property has been sold to an "unidentified Lake Arrowhead resident" who apparently has big plans to renovate and reopen the property within a year of closing the deal. Make the jump to not only read the details, but see an amazing photo gallery of old images from the park itself, which largely remains standing as it was.
(3/5/14) Lake Dolores, the fascinating water attraction built next to I-15 between Barstow and Baker, many SoCal residents will remember driving past it on their way to and from Las Vegas. A popular local water fun spot that became popular in the 70's when the owner created an array of unique waterslides out of sheet-metal (including one you stood up on), it was later transformed in 1998 to become a more modern waterpark known as Rock-A-Hoola. Bankruptcy troubles saw it close in 2000 and reopen in 2002 as Discovery Waterpark, which then closed again in 2004. The park has sat dead and empty for the past decade, but according to this article, a new owner seeks to bring it all back to life, renaming it as the Lake Dolores Waterpark with a goal of reopening the park in 2015. The new official website, OasisThemePark.com, has some great vintage shots of the old Lake Dolores slides, old video clips and more.
Colorado - (7/21/14) What has to be one of the most frightening custom thrill rides ever built has just opened up at Colorado's Cave of the Winds... and they call it the Terror-Dactyl. Imagine being strapped into a chair on the edge of a massive canyon... and someone begins to pick up the chair from behind, tilting you forward more and more until you are facing straight down at the rocky spires waiting to impale you below. Then you fall... dropping 200 feet down into the canyon, still strapped helplessly into your chair and all you can do is scream so loud that your voice echoes off the canyon walls. Scream in terror... scream for mercy... scream because you just want to wake the F*@K UP from this nightmare! But it's not a nightmare... because this appears to be the latest creation from thrill ride genius Stan Checketts (Founder of S&S Worldwide / Creator of the Soaring Eagle Ziplines) and it looks simply amazing!
Need a little more? Check out the POV video of one of the first test riders below... but be warned... this video is filled to the brim with bad language from the passenger wearing the camera, so it is not safe for viewing in a work environment. View in an appropriate setting and place. You have been warned!

Florida - (8/11/14) An interesting new haunt experience is coming to Florida's St. Peterburg area this fall. For 15 nights in October the Radley Haunted House will become Dr. Radley's Nightmare Machine, which will take you into the horrors of the dream world. However, on the night of October 22 the venue will go to the extreme for one night only and become Dr. Radley's Sleep Sessions. This will be a 30 minute very intense haunt experience for groups up to 4 people with very limited availability. All who go inside must be at least 18 years old and sign a waiver, because unlike in a normal haunt where you are safe from being touched, physical contact with be a key part of your starring role in the "Sleep Sessions" experience. Go to the official website for all the latest information.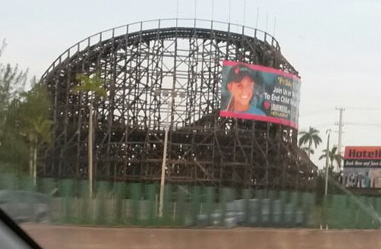 (7/4/14) Surprise… it's 2014 and guess what? Drop the needle on the Elton John album and play "I'm Still Standing" because the Dania Beach Hurricane is STILL standing. Apparently it has also found a new purpose in life as a billboard. Yep… they are now using to mount a giant freeway advertisement according to a picture sent in by a reader this week. If you recall the owners even started a promotion to give away the roller coaster FREE to anyone willing to come and take it down back in early 2013 but have had no takers. Meanwhile the ride ceased to run way back in 2011.
(11/22/13) A monstrous tower attraction has been proposed for Miami… and it isn't the Polercoaster. They call it SkyRise Miami, which will have a very modern and unique shape to the proposed 1,000 ft tall structure. If built the tower would be the tallest building in Florida, the tallest "tower" on the Eastern Seaboard and second tallest tower in the US, just behind the 1,148 ft Stratosphere Tower in Las Vegas.
Much like the Stratosphere Tower, the plan for SkyRise Miami also includes some thrill rides. In addition to an obverservation level and the obligatory restaurant with a view, the tower will include a "flying theater" attraction similar to Disney's Soarin', an 800 ft tall freefall ride called the SkyPlunge and a 600 ft controlled descent bungee jump called SkyRise Drop. The structure will also have room for several clubs and lounges as well as a 500-seat ballroom.
I'm sure there will be a lot of red tape and financial paperwork to deal with for months before this thing gets off the ground, but it would really give the city a globally recognized landmark if SkyRise Miami were built.

(6/6/14) I don't know much about this, but it seems a new development is moving forward in Jasper, Georgia to build Port Royal, a $145 million Waterpark Resort & Conference Center. Themed after the city of Port Royal in Jamaica, the resort will have a tropical Caribbean theme.
The 176-acre resort will feature 400 hotel rooms, a day-spa, restaurants, a sport bar, conference center, 16,000 seat amphitheater and both indoor and outdoor waterparks. They are planning to break ground before the end of 2014 and open sometime in 2016.
It sounds great, though my biggest concern would be the location, and only because I've never heard of Jasper, GA. I admit, I'm not familiar with the ins and outs of Georgia, with my primary experience being driving in and out of Atlanta a few times, or passing through along I-95, so forgive me if I'm out of touch with this particular area of the state. Jasper is located an hours drive to the north of Atlanta, but not along the busy I-75 freeway, but instead lies to the east in what appears to be a less populated area. Given the location, it is still close enough for the local Atlanta market to make the drive and stay for the weekend, so they do have access to a vast market of locals who can drop in.
On another note… not too far away in Emerson, GA the local residents have been complaining for some time about the proposed PolerCoaster project announced for the LakePoint Sporting Community. The residents who were behind the LakePoint sports park project at first because it also was supposed to have a waterpark, which was later replaced by the proposed 250 foot PolerCoaster. Apparently the proposed PolerCoaster for LakePoint has been cancelled, because there is no longer any mention of the project on the official LakePoint website. In fact if you look at the list of what's coming soon to the site, not only is there no mention of a PolerCoaster at all, but instead they are not working on a waterpark once again, along with ropes course, zip lines, mountain bike trails, a movie theater, bowling alley and more to go along with the rest of the huge and impressive sports complex.

Kentucky - (8/6/14) Kentucky's long in development Ark Encounter park project was granted up to $18 million in tax breaks by the state after a unanimous vote this week. Construction is expected to begin before the end of the year with the first phase to open by Summer 2016 in Williamstown if all goes as planned.
(3/5/14) I'm a bit surprised this project is going forward, but according to the official Facebook page for the Ark Encounter park proposed for Kentucky, they have the funding now in place and are ready to begin construction and break ground in May.
Technically however, I don't think they have the funding for the entire park… only to build the massive icon for the park, the Ark itself. The rest of the proposed theme park, and funding for it, will have to come later.
New York - (9/1/14) Theme Park University takes us for a Behind the Scenes look at the "Niagara's Fury: The Creation of the Falls" attraction at Niagara Falls. Created by Technifex, this new special effects heavy attraction just opened a few years ago and is essentially a Disney style 360 CircleVision theater attraction on steroids, loaded to the gills with amazing special effects and placing the 100 guests inside on top of a motion platform. Oh... and you have to wear a poncho too. Never seen that done before. Check it out here!
(8/21/14) According to the local news there are talks to build a $250 million Legoland theme park in Haverstraw, New York on an undeveloped piece of land. Right now they are just looking over the site and I expect doing the research on the local area to see if it would work for a theme park or not, so don't expect anything to move ahead anytime soon, especially while Merlin is busy expanding the chain around the globe at a number of new international locations. It may be awhile before they are ready to return and build another US park.
Pennsylvania - (9/18/14) The latest announcement from ScareHouse is something very VERY special… as ScareHouse has announced that they have joined forces with the creative forces at Legendary Pictures to create the scariest Halloween season ever! This will include bringing in SAM from the cult classic "Trick R Treat" who will appear within The Summoning. Watch the video below!



(8/28/14) Haunt season is almost upon us… and that means more fun videos from our friends at ScareHouse!! ScareHouse is always changing and evolving, so what's new this season? For starters, The Basement, a special upcharge haunt for those 18+ will return again, where you enter either alone or with a single friend, to encounter intense psychological fears. The Basement will take you "on an interactive journey built to push them outside their comfort zone, challenge their expectations, and scare the hell out them each step of the way." You must sign a waiver to experience The Basement, as it will include high voltage effects, electricity, sexual content, very low lighting, tight spaces, strong scents, profanity, moments of complete darkness, water, physical contact, violent situations and high impact scares. Sounds very intense!
Upstairs, Creepo's Christmas in 3-D will return for this season, but there will be two new experiences with it.
Pittsburgh Zombies: Black Out! - An expanded and improved version of last year's maze, where the lights are going out and the zombies keep crawling in…
The Summoning (All new for 2014) - A new maze from the ScareHouse team that has been in the works for 9 months to create an immersive experience that will take you back in time to October 1932 to uncover sinister secrets and twisted characters in what they promise to be their most elaborate haunt yet. According to ScareHouse's Creative Director, Scott Simmons, "We're taking major risks this year. Our new attractions are very ambitious not only in terms of scenic detail and scale, but also in terms of personalizing the experience for our guests." The new attractions will offer the rare chance to make decisions and interact with characters instead of just passively walking through the sets, so no two trips through ScareHouse will ever be the same. The choices you make along the way will lead to different outcomes… and consequences.
Now on to the video!!

(8/11/14) According to an email sent my way, the Chance C.P. Huntington train ride (now known as Time Traveler Express) at the Pittsburgh Zoo and PPG Aquarium never opened for the 2014 season. Our reader contacted the zoo for a reason and was told that not only will it not open at all in 2014, but that they were still uncertain if it would open in 2015 as well. Seems they felt they could afford the maintenance costs to run the rail system and two trains that they have. Currently the attraction has been removed from all park maps.
(6/6/14) ScareHouse is back for 2014, and has posted an all new teaser of what they are working on for this season, which they believe is their most ambitious attraction ever built. The building that Scarehouse calls home is over 100 years old and has it's own scary history… and perhaps a will of it's own.

South Carolina - (9/18/14) Discussions are still ongoing regarding the proposed new The Track go-kart attraction in Myrtle Beach, as many of the local residents and businesses are concerned about traffic and noise issues. Click here to read more.
(8/15/14) Behind the Thrills tells us there is a great new haunt in Myrtle Beach this season called Outbreak: Dread the Undead. But this isn't a seasonal haunt… this will be a new year-round haunt opening at the Hollywood Wax Museum Entertainment Center. Based on the photos, the sets look fantastic! Someone give this a try and let us know how it is!
(8/1/14) Concept artwork for the new Myrtle Beach location of The Track, along with their two-story arcade building can be found here.
(7/31/14) The owners of The Track attraction in the middle of Pigeon Forge, TN are now bidding on the site of the Myrtle Beach Shine Club in order to build a new go-kart based tourist attraction. If they get the property, their plans will include a multi-level go-kart track, bumper boats, arcade, train ride and more. The first phase would open by June 15, 2016.

Tennessee - (6/30/14) Amazing new concept artwork for what I've heard referred to as both "Opry Walk" and "Opry Town" was sent in and this looks like it could be a huge project for the Nashville area if they move forward with it.
On a somewhat related news item, Ryman Hospitality Properties (formerly Gaylord Entertainment) is planning a $14 million expansion project of the Ryman Auditorium to add a café, history tour, new event space as well as a slew of other renovations to the facility. The actual music venue however will remain unchanged, complete with keeping the wooden church pew seating, in order to preserve the legendary acoustics. With Ryman looking to start making improvements and expand their attractions presence in Nashville, this could be the first step towards making the proposed Opry Walk concept a reality.


Local sources also tell me that they may have been planning this for awhile, as over the past few years many smaller support buildings and left-over structures from the former Opryland theme park in this zone have all been removed one by one.
(6/25/14) A reader sent me the following drawing, showing off what appears to be the creation of a new CityWalk style project to be placed right next to the Opry Mills mall (by the Dave & Busters and Aquarium Restaurant section) in Nashville, TN. On the far North end of the project, near the convention center, is an outdoor waterpark, which will be connected to this new themed retail/dining/entertainment zone.
No exact name is given for it, but it will be connected to the Convention Center on the one end and stretch down to connect to Opry Mills and the Grand Ole Opry house on the southern end. The layout shows several themed zones: Central Park, Music City Way, Town Square, and Country Roads, and scattered throughout the project are various rides and attractions. For example, there will be a Trolley that runs from one end down to the othere, where it will loop around a "radio tower" built in front of the entrance to the Grand Ole Opry house before making the return trip to the Central Park district. Other attractions listed include a carousel, a "Guitar Ferris Wheel", something called "I'll Fly Away", and even a Wooden Roller Coaster. Compare the layout image with the current map of the site here.
Texas - (9/5/14) A small update regarding the accident in Texas where two teens fell from a flat ride has been posted by the local news. The ride in question is the Sidewinder, from Sun City Amusements. A video showing off what I believe is to be a similar ride can be found on YouTube.
There are now conflicting stories about the accident, one saying the door wasn't locked, while the others say the teens inside were not wearing their seatbelts and fell against the door, pushing it open.
(9/3/14) A pair of teens were injured when they fell more than 12 feet from a portable ride at a local carnival in El Paso, Texas on Sunday night. One of the teens is in serious condition at a local medical center while the other only suffered minor injuries. According to this report, witnesses claim the ride operator failed to close and lock the door to the passenger compartment, but so far that has been unconfirmed. I'm not exactly sure what kind of ride this was… it looks almost like an old Roll-O-Plane, but with a rebuilt passenger compartment.
Utah - (6/13/14) ThemeParkUniversity spoke with the CEO of the proposed Evermore Adventure Park project in Utah. You can read about the interview here.
(5/23/14) An interesting project called Evermore is attempting to launch in Pleasant Grove, Utah, about half-way between Salt Lake City and Provo. To be clear, this isn't an amusement park… or even what anyone would call a "theme park" by today's standards… though it does promise to be well themed. No… Evermore is calling themselves the first "Adventure Park", which for all intents and purposes seems to be an attempt to create a year-round CosPlay / Renissance Fair style playground with a Victorian period theme.
The idea is to build up a site to resemble the world of the era, staff it with actors to play various roles throughout the land, as well as include many different and functional shops and restaurants to create a living landscape. Throughout the year the tone of the park is planned to change as well, taking on more festive atmosphere in the Spring and Summer, aided through special events, a cheerful winter holiday theme will blanket Evermore in the colder months and in the fall, a Jack the Ripper style haunt theme will fill the shadows. There will be no rides… or at least none on a regular basis, though they could bring a few in for the various festivals where the theme might fit, but in a nutshell, you'll get out of Evermore what you bring into it.
The idea is really interesting, though to be honest, I'm not sure if Utah has the year-round tourism to support such a venture, but according to the preview website, they are already planing on opening in 2015. Should be facinating to watch and see how this develops.
Washington State - (3/5/14) The family behind Seattle's Great Wheel on the waterfront has now proposed a new downtown aerial gondola line that would be able to carry both tourist and commuters on elevated ski lift style enclosed cars. They are proposing a run down Union Street from the waterfront area by the wheel to the Convention Center, with a midpoint station at the Pike Place Market.
While there are always issues with those who don't want to see things like this built near their property, this will be a privately funded project (so no tax dollars, which is good) which already has the support of the Convention Center, Port of Seattle and the Waterfront Association.