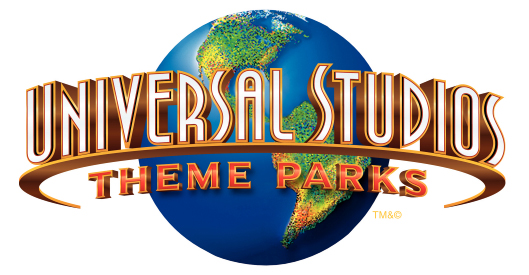 Universal Orlando
Orlando, FL
NBC Universal / Comcast


---- THE LATEST BUZZ ----
(9/19/14) HHNCompound Replaces Legendary Truth (MORE...)
(9/16/14) Universal Orlando Hosting One Direction Concert in November (MORE...)
(9/11/14) Halloween Horror Nights 24 Sneak Peek (MORE...)
(9/10/14) 5th Resort Confirmed - The Beautiful Sapphire Falls Resort (MORE...)
General Resort News - (9/16/14) Universal Orlando has announced that boy-band, One Direction, will be coming to perform at Universal Orlando's CityWalk on November 17th as part of a release celebration for their new album 'Four'.
(8/27/14) The Orlando Sentinel reports that a worker at Wet 'n Wild Orlando is in critical condition after they became trapped underwater while cleaning one of the pools on Tuesday morning. While one employee pulled the trapped man out of the water, another called for emergency help. They are still unsure of exactly what happened. Best wishes to everyone for a speedy recovery.
(8/25/14) Theme Park Adventure reports that Universal Orlando's Royal Pacific Resort will expand the already sizeable meeting space area at the resort from 85,000 square-feet to 140,000 square-feet that will include a new ballroom and additional break-out spaces. Follow the link to see all the details.
(8/15/14) The 2nd annual "A Celebration of Harry Potter" 3-day fan event will take place once again at Universal Orlando Jan. 30 through Feb. 1st, 2015. Click here to see the official details. Packages will go on sale starting August 21.
(6/12/14) Universal Orlando has launched a new official app for the theme park resort this week to the Google Play Store for Android users. Check it out here.
Halloween Horror Nights 24 (2014) - (9/19/14) A final quick HHN Update before the big event Friday night… Legendary Truth is out as far as this year's extra HHN fun and games, instead a new site has been started called HHNCompound. Get inside, and you can hook up with others to form survival groups, and well as find a list of "targets" and mission assignments to achieve during your visit to HHN.
(9/11/14) Keith went to a special Halloween Horror Nights sneak peek on Monday night and reported back with some cool highlights of what we can expect when HHN opens to the public.
--
Monday night I got an opportunity to attend a sneak preview for Universal's Halloween Horror Nights 24. It was a great to see that scare zones are coming back and the line-up of houses is really incredible. After hearing a brief overview of the content of the zones and houses, we got to go through the Halloween house which is based on the original 1978 movie.


A few points of interest on the scare zones- Bayou of Blood is going to take over the central park area and is going to feature a voodoo queen doing live ritual human sacrifices every hour. I am glad to see this type of street entertainment returning. The pumpkins in the trees have been retired in favor of lighted jars that fit in with the bayou voodoo theme. I can't wait to see how great this is going to look.
Maskerade is going to be along the main drag between Shrek and Despicable me. There are huge candles made of human skulls adorning either side of the street welcoming you to the zone. In the middle of the street high in the sky is a giant chandelier.
The Purge zone will be in the New York section and will feature school buses, laundry trucks and characters from both Purge films.
Spoiler Alert. I am going to give you an in depth review of the Halloween haunt, so if you want it to be a surprise, turn back now. When I first heard they were doing Halloween, I wasn't that excited because I thought it would be a conglomeration of all 27 films and whatever. When Michael Aiello, creative director of the event told us that is was actually just the original Halloween movie with soundtrack and all, I was really excited. Halloween is one of my favorite movies, and let me tell you after going through it four times in a row, I noticed new details each and every time. It is clearly a Halloween fan's dream come true.
The outside fašade of the house is the original Myers house. They use a digital projection system to show a young Michael Myers upstairs putting on a clown mask and then making his way across the hall and stabbing his sister to death with blood spurting everywhere. It was surprisingly graphic, but it was presented in silhouette. I loved it.
You enter the Myers home where right off little Michael Myers jumps out at you with the iconic Halloween sting sound effect. You see dead Judith Myers on the stair case and the word Samhain written in blood on the wall. You go through the house seeing recreations of the murders throughout the movie. You see Annie being strangled in the car in the garage. You see Bob being impaled on the kitchen wall, and Linda being strangled with the telephone cord, rotary dial phone and all. Throughout the house not only does the original soundtrack play, you hear soundbytes of dialogue that every die-hard Halloween fan will appreciate.
You get to travel between houses in the film through the back alley through the laundry hanging on the line with trick-or-treaters popping out to scare you. FUN FACT: Although it will not be mentioned publicly, the kids are wearing masks from Halloween 3.
When you get next door to the house Laurie Strode Is babysitting in, you instantly recognize the living room from the film. Curtains blowing in the wind from the open windows. Laurie is watching 'The Thing' on tv, just as in the film. Same outfit, same hair, really great job on casting the character. Her mannerisms and scream are a dead ringer for Jamie Lee Curtis. Although I am sure there are probably 10 people playing the role.
You finally get to the end in the closet where Michael Myers makes his final attempt swatting at you through the slats of the closet. FUN FACT: Look for a Freddy Krueger sweater hanging in the closet. I asked Michael Aiello about this and his reply was "Really?" So, I don't know if this was intentional or an inside joke from the set decorators. One last surprise awaits you when Dr. Sam Loomis bursts through another closet shooting straight through you at Michael Myers before he falls out the window and over the balcony.
I am a huge fan and appreciated the attention to detail. I will be doing this one about 100 more times of the course of the event. I can't wait to see the others next week!

(9/3/14) A few HHN construction shots can be found over at Orlando United this week, mixed in with pictures from Islands of Adventure and Citywalk. They also show off some new Harry Potter themed merchandise, including a Howler pop-up card that allows you to record your own voice message inside.
(8/29/14) Universal Orlando has finally confirmed that HALLOWEEN will be the final maze at HHN 24. Check out the video below!

(8/27/14)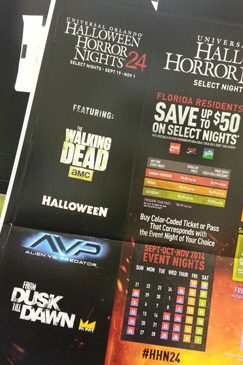 A Screamscape reader reports that their place of business received a Universal Orlando Halloween Horror Nights 24 promotional stand-up display on Tuesday afternoon which confirms that "HALLOWEEN" is the 8th and final haunt for HHN24. So why all the hold up for the official announcement from the park? HHN24 kicks off less than a month away after all.
(8/25/14)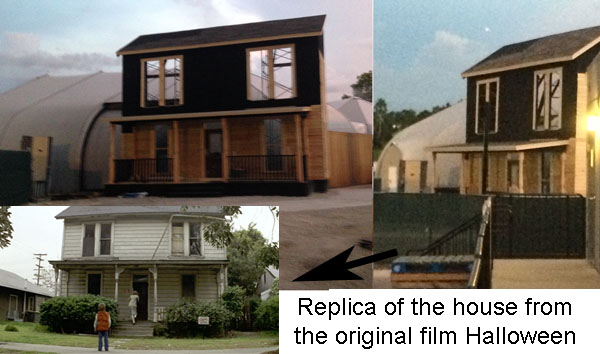 While Universal Orlando has yet to confirm the details about their last maze… the one that was rumored to be themed to Hallowee n slasher Michael Myers, we now have a little bit of evidence that seems to confirm this concept. A source has sent in a couple of pictures showing off the fašade to a two-story house built in front of one of the Sprung tent buildings that just happens to look identical to the house used in the original 1978 film, Halloween.
It sure looks like Mr. Myers is coming home again…
(8/13/14) Universal Orlando has announced the details behind three new original concept mazes and two new scare zones this week.
New Mazes:
Dollhouse of the Damned : A demented little girl has turned an old morgue into her playhouse, full of the people she has tortured and the scattered remains of her discarded dolls and play-things she got bored with. According to the Universal blog, "You'll see characters with porcelain doll masks that have been smashed into their faces, and now they're permanent."
Giggles & Gore Inc. : Taking over the Disaster queue area is a trip into the twisted factory where evil clowns are made. "It's an actual process. We all know that there are countless unsolved disappearances across the country. Where do these people end up? In the clown factory, being stretched, smashed and eviscerated.
Faces are peeled off and voice boxes are torn out. Victims are dropped into a wood chipper, and the gunk that comes out is shoved into other people to create these massive, nasty stuffed clowns."
Roanoke - Cannibal Colony: Find out what happened to the missing settlers of the Roanoke colony who resorted to cannibalism to survive and see how it links with the spirit of Wendigo. "They think they're being possessed by the Wendigo spirit. They start eating their own mouths. They've chewed away their lips. They've just completely lost it."
New Scare Zones:
MASKerade; Unstitched – People trapped in the past, their skin is falling off, or at least what they haven't tried to stitch back on themselves, or glue shut with wax.
Bayou of Blood – Beware the High Priestess who is performing spells and making sacrifices in order to obtain the ultimate power.
(8/8/14) Halloween Horror Nights fans will want to check this out… the HHN 23 Yearbook, "102 pages of gorgeous photography and information commemorating Universal Orlando's Halloween Horror Nights 23." You can download it at HHNYearbook.com.
(8/7/14) Universal Studios Hollywood and Universal Orlando have released the details about another new maze coming to both park's Halloween Horror Nights this year called "Dracula Untold: Reign of Blood". The new maze is themed to the story of the new Dracula Untold feature film hitting the theaters on October 17th and will introduce guests to Vlad the Impaler, an infamous historical figure who would impale his enemies alive with a wooden stake and hang the bodies for all to see.
The foreboding maze will also shed an ominous light on the one-time hero,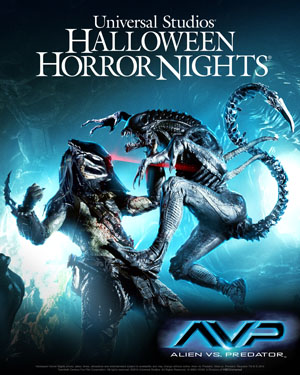 turned blood-thirsty-tyrant, who chose to embrace unholy powers in order to defeat his enemies. "Dracula Untold: Reign of Blood" will spiral guests through Dracula's eternal damnation, where the thirst for blood is never-ending.
"'Everyone thinks they know the story of 'Dracula'," said John Murdy, Creative Director at Universal Studios Hollywood and Executive Producer of "Halloween Horror Nights." "But there is much more to the tale than just a dark figure lurking in the shadows, drinking blood. While Dracula Untold will reveal the origin story of the man who became Dracula, our 'Halloween Horror Nights' maze will invite guests to experience the atrocities Dracula imposed on his victims in the most frightening and immersive way possible."
"As a huge fan of the Universal Classic Monsters, my interest is certainly piqued any time a film explores other facets of the classic characters," said Michael Aiello, Director of Entertainment – Creative Development, Universal Orlando Resort. "Dracula Untold offers a unique perspective on the origin of the world's most famous vampire. Our maze will place guests within many of the pulse-pounding moments from the upcoming film, offering guests an unprecedented living preview of the horrors that await."
(8/5/14) Universal Orlando has confirmed their next haunt tonight as AVP: Alien vs. Predator. In collaboration with 20th Century Fox, Universal Orlando is said to have taken this haunt to the next level with amazing costumes and highly detailed sets as guests are caught in the middle of the battle between Aliens and Predators taking place in the midst of a secret Weyland-Yutani bio-weapon research facility.
I've got to say that I'm VERY excited about this one… as I've been waiting for a good Alien themed haunt forever, and AVP should offer twice the fun and excitement as Universal brings to live the two most famous space terrors of all time. Based on the end of the promo video, this haunt will be coming to both Universal Orlando and Hollywood parks.

(7/21/14) As speculated, The Purge is coming to HHN 24! According to the official announcement on the Universal Close-Up Blog, The Purge: Anarchy will descend upon the streets of HHN24 as a new scare zone in the New York backlot street. The scare zone will be inspired from the characters and events from both the first film and the new 2nd film it is named after that just opened on Friday.
So at this point, you may be wondering what else is next? What will be the next maze they unleash upon us? The latest whispers from the voices in the darkness claim that not only may the ALIEN themed maze be true... but they may go one step further and create an ALIENS vs PREDATOR maze. While I always felt the cross-over films were lacking compared the original films due to the present day settings they use, I've always felt the AvsP concept was a great one at the core with a lot of potential as shown by the original Dark Horse Comic series from the early 90's that was simply incredible.
(7/18/14) Looks like someone screwed up… an image was tweeted out by @HalloweenMovies earlier today and then quickly deleted, but not before screen captures were made, showing off "Look Who's Coming Back!" Yep… Michael Myers is returning to Universal Orlando's HHN 24. Shouldn't be too long before Universal confirms the story with their own announcement.
(7/17/14)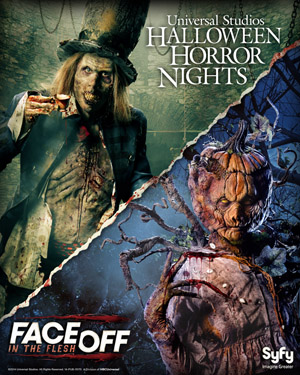 The latest official HHN reveal came out just a bit ago, confirming a partnership with SyFy's "Face Off" show to bring their most gruesome character creations to life in both Hollywood and Orlando.
Universal Orlando will feature a new scare zone street experience with a special look by Season 5 Face Off winner Laura Tyler, who also happens to be a make-up artist at Universal Orlando. "The hair-raising, horrifying characters will inhabit five unique and immersive environments within the scare zone, from eerie scarecrows that go to great lengths to protect a spinechilling farmland to ghoulish brutes that haunt dilapidated castle ruins."
(7/15/14)
We didn't have to wait long for Universal to make it official… a new maze themed after the new TV series version of "From Dusk Til Dawn" was confirmed on Monday afternoon as coming to both Universal Studios Hollywood and Orlando. Watch the video clip below for details, and the second video includes more interviews with the cast of the show.
This one caught me by surprise… mostly because I had not even heard about the From Dusk Til Dawn TV series… which launched back in March on a new channel that I don't have called El Rey. The good news is that the series will go live for streaming on Netflix in the US starting August 19, and hit DVD/BluRay on Sept. 16th, so I'll have time to get caught up on all the action before HHN and the start of the already approved Season 2.
For those wondering, the series is said to essentially be a reboot of the events of the film, as the Gecko brothers on the run from the law cross into Mexico and encounter The Twister club (yes, the name is being changed for the theme park environment), secretly the lair of a special breed of serpent like vampires, the Culebras. Guests will enter The Twister and venture into the cursed ancient ruins that secretly lie beneath the club itself, deep underground. From that description alone, you can tell why they felt the idea and setting was perfect for a Haunt experience at Halloween Horror Nights. My only worry is that the show is so new and on a channel that not everyone has access to just yet, I wonder if they might be striking before the iron is hot.


(7/14/14) The next official announcement for HHN at Universal Studios Florida and Hollywood is apparently for the new "From Dusk Til Dawn" TV series. Over the weekend a video announcement about it featuring the cast of the new series and Robert Rodriguez talking about the project and the new maze inspirited by it appeared briefly on YouTube, and only to be quickly pulled down again. I'm guessing the official announcement will take place sometime this week.
(6/30/14) The early rumors for what we can expect from HHN are starting to flow and they are interesting. Of course these are just rumors, and when it comes to HHN… a good portion of the rumors are always "fanboy" fueled about what someone would really like to see as opposed as to what may really be happeneing, so take these with a gain of salt.
According to some early rumors the number of IP Haunts (those themed to existing Film/TV/game properties) may be down in Orlando… possibly only accounting for about half of them. Meanwhile I've heard the use of IPs as the theme for the various Scare Zones this year may be on the rise…. with themed properties put to use for possibly all of them.
While I haven't heard much about the original concepts yet, I've heard of at least three or four fairly solid leads in the IP department. In many cases, I'm not sure if these are intended for full Haunt treatment or just for a Scare Zone, but in addition to The Walking Dead, I've heard the following properties names mentioned: Michael Myers (Halloween), Alien/Aliens, Dracula Untold and The Purge.
Sorry Halloween fans, but I've never been a huge Myers fan in either the original series of films or in the Rob Zombie revamp, so I'm hoping this one is wrong.
Alien/Aliens is something I've dreamed about seeing brought to life at HHN for some time now… hopefully following the UK Alien War attraction style concept where you venture into the middle of a battle between a nest of Aliens and Colonial Marines who will try to keep them at bay long enough for you to escape.
Bringing The Purge to HHN would seem like a no brainer… especially as the third chapter (The Purge: Anarchy) of this Universal film will hit theaters in late July. It would actually make a great theme for one or several Scare Zones throughout the park, and was actually used as a unique countdown "launch" event to kick off the start of HHN every night at the Hollywood park last year with warning announcements counting down to the start of the annual Purge event.
Dracula Untold seems like a sure thing from a marketing synergy point of view, as it will help push the new feature film hitting theaters from Universal & Legendary Pictures on October 17th. An interesting first trailer for this latest chapter in the Dracula mythos can be seen below.
So there you have it… though I'm waiting to see if they add another "music" themed haunt, or maybe try out another horror themed video game IP concept as well. Of course, if you've heard anything else, please do let us know as well. Currently four mazes were confirmed to be under construction… the one is the Disaster queue, the two in the Sprung tents and whatever they have planned for B79 (aka: the Parade unit building).
Oh… one more thing. ICONs… while I know I'm ready to see the idea of an ICON brought back as the visual "host" for the event after a long absence, I've heard we may have to wait for HHN 25 before we see the return of a favorite icon character. Keep in mind however that those with watchful eyes spotted what appeared to be a the arm of a clown hanging over one of the construction walls for the Haunt going up in the Disaster queue a few weeks ago. Jack? Is that you?

(6/12/14) According to the buzz on Twitter, building permits for two HHN Haunts to be built in the soundstages were filed this week, and even went so far as to give code names to the two haunts: Synergy and Evac.
Speaking of haunts in soundstages, HorrorNightsORL confirmed on Twitter last night that the new double-sized Walking Dead haunt would be built in one of the soundstages.
"It's facade will exist outside the soundstage so we can use every square inch of the interior." / "Almost every major environment in season 4 will be featured. Prison for a small portion. The big spot and it's parking lot...." / "....The moonshine shack, the country club, the tunnel... Terminus."
They also confirmed that there were still seven more mazes to be announced, a mixture of both IPs and original concepts. Oh, and here is Creative Development Director Mike Aiello giving us a little teaser about what we can expect from HHN 24:

(6/10/14) Universal Orlando has updated their HHN24 page today with dates and new details, confirming that they will still have 8 different Haunts this year, even with new "The Walking Dead" haunt being twice the size of any previous haunt ever built, with more Scaractors inside just this one haunt than ever crammed inside any previous haunt before. There is also a great teaser video for this now posted that re-confirms that the greatest moments from Season 4 will come to life. I'll keep the spoilers to a minimum here, but a key moment from Season 4 that I can almost guarantee we will see here might be a trip through the dark infested train tunnel to Terminus.
HHN24 will have "Multiple Spine-Chilling Street Experience", several live shows and of course the awesome rides and attractions that Universal is known for. There is one major exception to this however that I feel is very important to make everyone aware of. The official website confirms this as fact… The Wizarding World of Harry Potter – Diagon Alley will NOT be open to guests during Halloween Horror Nights. That's right…. CLOSED! No HHN rides on the Harry Potter and the Escape from Gringotts attraction. Sorry…

(6/9/14) The first official news from Universal's Halloween Horror Nights was released in the middle of the night for both Hollywood and Orlando parks over at USA Today.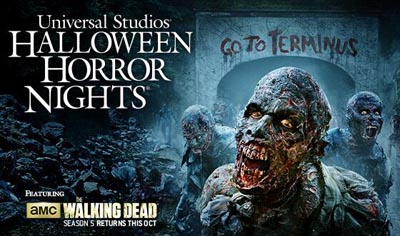 While the news may make some complain, The Walking Dead are returning to HHN for a third consecutive year.
For one, I don't consider this upsetting news as the property itself is alive and constantly evolving on the screen in front of our eyes each season and over the past two years we've seen how Universal has also managed to change and evolve how The Walking Dead was presented in both parks. According to a quote from Universal Orlando's Michael Aiello, the decision to bring it back for a third run was not one taken lightly. "I'll put it into context – we have never brought back any property for Horror Nights. But this is the third year for Walking dead. It's huge."
So for HHN 2014, we will see the even themed to the events that took place in Season 4 where once again we saw the character's entire world turned upside down from start to finish and set them up for one hell of a new direction in the upcoming Season 5.
Universal Studios Hollywood will see the Walkers once again featured inside a prison themed maze, zombies overflowing throughout the park through a scare zone, as well "predatory zombies" stalking guests on the Terror Tram, which will be renamed "Terror Tram: Invaded by The Walking Dead".
In Universal Orlando, they will build a new Walking Dead themed maze that will be the largest maze ever built in the entire 24 year history of HHN. They say that the maze will literally be twice the size of any maze they've ever built before, with sections themed to the prison as well as a zombie-infested country club.
(5/26/14) The Rocky Horror Picture Show Tribute will return to Halloween Horror Nights 2014 it seems. A casting call for Male and Female performers for the show is listed to take place on June 3 and June 8. While Universal will also be starting to cast performers for the Grinchmas Wholiday Spectacular show on these same dates, an interesting casting call the day before, on June 2nd, is also listed seeking only female singers to perform some kind of jazz style production. Could this also be something for HHN… or something else entirely? It seems a bit early to be casting for the 2015 Mardi Gras when they haven't even finished this year's event yet.
(5/16/14) It has begun! ParkScope was sifting through Orlando's building permit system and came across what looks to be the first application for Halloween Horror Nights 2014. In this case, it's a no brainer… a permit to build a haunt in the Disaster queue area, one of the haunt's annual locations. It may be only May, but evil never sleeps… and the darkness will only grow from here.
(3/27/14) Halloween Horror Nights 2014 dates have been announced, with this year's event running from September 19 through to November 1st. The official site also confirms that we will see 8 haunts and 2 "Outrageous Live Shows" in 2014, as well as several chilling "street experiences". Get ready… HHN2014 is coming!
(11/29/13) It looks like Bill & Ted will return to Halloween Horror Nights after all. According to this report all new creative licensing deals have been made with various groups ahead of a celebration of the 25th Anniversary of Bill & Ted in 2014. This will see new B&T inspired clothing, toys, posters, a comic book and more to hit the store shelves next year but the article also mentions a new 5 year deal was signed with Universal to keep the show running in the Orlando and Hollywood parks. Beyond that, Alex Winter also has confirmed that plans are moving forward to shoot a third film in the near future.

2014 - Citywalk Renovations - Under Construction - (7/7/14) BreadBox at CityWalk Orlando is now open and Behind the Thrills takes us inside this week for a closer look at what they have to offer.
(7/3/14) The new Hot Dog Hall of Fame is now open at Universal CityWalk, and I'm hearing that Breadbox is expecting to open to the public on July 4th.
(6/18/14) Hot Dog Hall of Fame… who doesn't love a hot dog? They've traveled the world to try out the best and more unique hot dog creations, and how you top your dog can vary quite a bit from location to location, and to help you out they've got an artist's palette of Mustard choices to choose from… 12 in all to start with. Ketchup lovers… I feel your paint, as they feel that Ketchup has no place on a dog if you are over the age of 12, so be prepared to catch a little good natured ribbing if you want some on your dog when you order. Just as important as the toppings is the bun… a dog is nothing without a really high quality tasty bun choice and they will have 5 different types of buns to choose from as well. Want more? Keep an eye on the jumbotron over the restaurant, they may catch you on camera eating your dog while lounging in some of the very cool baseball stadium seats they've collected outside. Even the queue to wait in line has been decorated as a baseball diamond. When your done, don't forget to pick up an official "Paint Your Weiner" kit! Yes, they actually called it that, and it is awesome, as you can paint your weiner (dog!) with brushes and take it home with you.

Antojitos is a fantastic Mexican themed restaurnat, with a different additude and menu downstairs from items you'll find upstairs at "Antojitos Up". While the food is to die for, if you are a tequila fan, you'll be in Agave heaven, as they feature more kinds of tequila that you can likely count. I took on a flight of 8 different samples myself during my visit, each with a unique smell, taste and after taste, many of which have a unique story behind the inspiration of the blend, or even how the bottle is shaped or decorated, so be sure to ask.

Had a fantastic night previewing and sampling many of the new food and beverage options at CityWalk. For starters we heard from the fantastic guys behind The Cowfish about how the concept came to life, and how excited they were to be coming to Universal Orlando. I spoke a length with the duo later one-on-one and we are planning on stopping by their Charlotte location for a preview ahead of the Florida opening, which is looking like it will happen in late summer.
Vivo was next, and it is simply incredible. This place makes your local Olive Garden look like a McDonalds by comparison.
(12/15/13) One of the most unique creations coming to Citywalk is the new Cowfish Sushi Burger Bar. The existing location in Charlotte, NC was listed by the Charlotte Panther's star quarterback, Cam Newton, as one of his favorite restaurants. I'm bit ashamed to say that I have not tried out The Cowfish myself yet, since I live in the Charlotte area, but as I detest sea food, it just sounded "not right" to me.
I'm what you would call "A Fussy Eater" and as the late great George Carlin would say, "Fussy eater" is a euphemism for "Big pain in the ass." That said, next time I get a chance to go out to eat when I'm on that side of town, I think I'll give it a try and post a little review. So far the Orlando location has a 4.4 stars out of 5 rating on Google and you can preview the menu on the official website.

2014 - Universal's Cabana Bay Beach Resort - NOW OPEN - (7/4/14) I took some great pictures of the new Garden Bridge under construction as seen from the top floor of the nearest Cabana Bay Beach Resort tower back on June 20th. Things are moving right along very quickly now as you can see.

If I had to guess, we could see this thing open in time for Halloween Horror Nights in September.
(4/14/14) OrlandoParksNews dropped by Universal Orlando's newest hotel, the Cabana Bay Beach Resort, for a look around at the open section of the hotel, as well as to snap a few photos of the second half under construction, set to open this Summer.
(3/18/14) It looks like we are a bit guilty of assumption… because it turns out the new pedestrian bridge was never intended to cross over Hollywood Way, it was only listed as crossing over the road at the intersection of Adventure Way and Hollywood Way and we've been assuming it would cross over the wrong road all this time, just so they could use the existing sideway on the other side of the street.
Turns out the pedestrian bridge will indeed cross over Adventure Way, we've been sent a look at the plans showing off the new sidewalk pathway that will be built along with it, which matches up with the graphics of the Garden Bridge we saw months ago. Guest will cross over the "Garden Bridge" without seeing that they are crossing over a busy road, and then venture down a winding garden pathway as they head down the road towards of the Royal Pacific. They will exit the garden path as they cross the street at the entrance to the Roayl Pacific's Convention Hall, and continue to walk down a new sidewalk near the canal system, and cross over a new bridge over the canal just before the entrance to the Royal Pacific. Once over the water, they path with turn in upon itself and connect up with the existing pedestrian pathway (RED) that runs from CityWalk to the Royal Pacific.
(3/17/14) I'm not sure what is going on, but I'm told that work crews have been seen driving pylons into the median of Adventure Way. While I'm wondering if this may be for a new traffic light system to service the new hotel, we did have a reader wondering if the new planned pedestrian bridge, which has yet to begin construction, may have switched locations.
I seriously doubt they would do this, as foot traffic will still need to get over the busy Hollywood Way eventually, so anyone know what the work on Adventure Way is for then? On a possible related note, I'm told there are also signs that Universal may be preparing to lay down a new sidewalk along this side of Hollywood Way as well, running from the Cabana Bay down to the Royal Pacific entrance intersection. Since the new bridge wont be ready before the Cabana Bay opens, a new foot traffic path along this route may be in order.
(2/5/14) For those looking to stay at the new Cabana Bay Beach Resort, Universal's website lists it as opening the first phase to guests on March 31, 2014.
(2/1/14) Universal Orlando is now accepting bookings for their new Cabana Bay Beach Resort and has a special offer available to book a Family Suite room at the Standard Room price (starting from $93 per night) during a special Preview Period between March 31st and June 14th, 2014. Hard to beat that deal for an on-site theme park resort room rate. Click here for details.
(1/24/14) I'm told that electronic message boards have been placed on the road near the new Cabana Bay resort saying that road construction will begin on February 3rd. I can only imagine that this may be the start of construction for the new pedestrian bridge project.
(1/10/14) Universal Orlando has released new images showing off the interior of the new Cabana Bay Beach Resort on Facebook today. Check them out here.
(10/24/13) Sneek a peek at Universal Orlando's new bridge that will connect the Cabana Bay Beach Resort to the rest of the Universal Orlando resort. This wont be any normal bridge, but apparently it will be given a very 'green' look, covered in plantlife and planted trees to the point where they intent that the guests walking over the bridge will hopefully never even realize they are on a bridge over a busy road.
(7/22/13) Orlando Rocks has posted a few new pictures on 7/20/13 showing off the quick progress being made to the Cabana Bay Beach Resort.
(6/22/13) I was invited into a fantastic preview presentation to get all the latest updates about the new Cabana Bay Bea ch Resort at Universal Orlando. The new resort will open in two phases, with the first phase featuring 600 suite rooms opening in early 2014, possibly in January. The building in this phase will feature outdoor corridor access to the rooms and open with the first of two massive pool areas at the resort. The first pool area will also feature a kids water play area and is themed with an iconic old fashioned diving platform by the pool. No actual diving through... the platform is non-functional.
The rest of the resort, 300 more suite rooms and 900 standard / value level rooms will open in Summer 2014 with indoor corridor access. There will also be a second pool and a lush tropical themed lazy river, that will have "sections that are not lazy at all". What exactly that means remains to be seen and will be the subject of a future announcement from Universal, though I suspect they will be able to add some fun high speed currents and water effects to part of the river to make it more exciting.
The overall late 50's / early 60's theme of the Cabana Bay Beach Resort has tested very positive with guests of all ages. While the older generation sees it as a throwback to the days of their youth, but it also tested very positive with the younger 20's to 30's demographics who enjoy the retro style. Inspiration for the resort not only comes from classic seaside resorts along the coast, but also from the auto industry, as they are putting a modern spin on a classic design. As part of the retro / throwback feel of the resort, it will also feature a unique 10 lane bowling alley on site as well.
The new resort fills a needed "value" level option at the Universal Orlando resort, something that Lowes' resort guests have been requesting. Standard rooms will start at $119 a night while the suites that can comfortably sleep 6 will start at $174 a night. The other main difference between a stay at the Cabana Bay Beach Resort and a stay at one of Lowes' other three on-site resorts is that guests will not be given the same front-of-line Universal Express access to the park attractions. However guests of the Cabana Bay will still be given the same Early Entry access into the parks as the other on-site guests.
The resort will also offer a massive food court that will not only offer classic American cuisine but also feature many International dishes. Guests will be offered bus transportation to the Universal theme parks and Citywalk, as well as making a walking path available, which will include the newly approved pedestrian bridge over the busy road to keep everyone safe. Check out the latest concept artwork, pictures of a room model as well as a picture of the first completed room interior.
(4/1/13) If there was any doubt, Orlando's City Council voted and gave final approval for the $9 million in funding for improvements around Universal Orlando, including the new pedestrian bridge going in near the new hotel. There is a nice piece of artwork showing off what it will look like here as well.
(3/15/13) A series of photos shot at the construction site of Universal's Cabana Bay Beach Resort has been posted to the Orlando Biz Journal. In addition to construction shots, they also posted a picture of model of the entire resort, so now we can see how the whole thing will be laid out.
(2/18/13) It looks like we may have a possible answer to the question of if Universal Orlando's new hotel will be serviced by the riverboats that serve the other three on-site resorts. An article at the Orlando Sentinel reports that the city of Orlando will reimburse Universal Orlando around $9 million to pay for the building of a large pedestrian bridge that will cross over the intersection of Hollywood Way and Adventure Way from the new Cabana Bay Beach Resort area to the sidewalk on the Islands of Adventure side of the street. Universal has designed it and will pay to have it built, but the city will pay them back for it and in the end the city will own the bridge and not Universal.
With a clear pathway now in place for Cabana Bay Beach Resort guests to cross over the busy road, where they can travel down the sidewalk and likely pass down into the shuttle bus drop off area at the entrance to Islands of Adventure, it appears that Universal may not plan to extend the river system to the Cabana Bay Beach Resort. Of course, due to frequent lightning storms that stop boat transportation, there is already pedestrian access to all three existing Universal Orlando Resorts anyway, so the addition of the new bridge isn't a firm confirmation of anything just yet, especially since the city is paying Universal back for the bridge. They may have funds to extend the river system after all. Has anyone else heard anything more about this?
(7/11/12) Universal Orlando and Loews Hotels & Resorts have announced that they will open a forth on-site resort hotel to be called Universal's Cabana Bay Beach Resort. The new resort will offer 1,800 new rooms when it opens in 2014. The resort's rooms will be divided into two distinct experiences: 900 family suites able to sleep up to six and include a kitchen area, and 900 standard guest rooms, offering both moderate and value priced options.
The hotel will feature retro style themeing designed to evoke the memories of family long distance driving vacations, featuring bold design lines, bright colors, neon lights and two themed pool areas. It will be built on a 37 acre site near Islands of Adventure, just off Hollywood Way and Turkey Lake Road, with construction set to begin very soon.
The one main difference between staying at Universal's Cabana Bay Beach Resort and the other Universal Resorts is that while you will still get the benefits of early park admission and resort-wide charging privileges, guests staying here will not be given complimentary Universal Express Unlimited Access. So far nothing has been mentioned about expanding the river ferry system that transports guests from the other on-site resorts to the parks to the Cabana Bay Beach Resort. Previous rumors also suggested that this resort may feature a more extensive or surf themed pool area, but as of right now Universal is not ready to comment about any other features that will or will not be included in the hotel's final design.
(1/30/12) Early word is that Universal Orlando may be working with their hotel partner (Lowes Hotels) on finalizing plans to open a forth resort hotel by the end of 2013 in one of the empty lots beyond the Royal Pacific. More than likely, they may opt to build this resort on the bigger plot of land, which is also the furthest one away, directly behind the giant Jurassic Park ride building. The rumored theme of this resort may be a 1960's era California ocean side resort hotel with a heavy surfing theme. Even better news, it seems the price point they are shooting for with this new hotel may be to fit in more with Disney's Moderate or Value resort level price point.
2016 - Sapphire Falls Resort - Confirmed - (9/10/14) Universal Orlando pulled a huge surprise rabbit out of their hat a few hours ago with the surprise announcement of their 5th on-site resort hotel project with Loews. As we saw in the earlier permit filing, this one will go in right across the street from the new Cabana Bay Beach Resort, filling up the available space between it and the Royal Pacific Resort.

They call it the Sapphire Falls Resort, and it is a beauty to behold! This should add another 1000 new rooms to Universal Orlando's line-up as well as featuring a 131,000 meeting/special event space. If that wasn't enough, it will be connected via an air-conditioned / covered bridge to the Loews Royal Pacific Resort who's own special events area is being renovated and expanded in 2015. Mix them both together and your special event can take up to 272,000 square-feet of room.
Enough about that though, lets look at the concept art of the Sapphire Falls Resort itself. Beautiful buildings, inspired with a mixture of old Caribbean stone-architecture with modern resort towers, set in a lush tropical hideaway atmosphere. The lobby will feature floor to ceiling windows offering views out to the postcard blue water outside along with a towering waterfall that will run down into a large lagoon area, where Universal Orlando's boat taxi service will come to pick you up for a cruise to CityWalk.
The resort will feature a unique pool with a waterslide, cabanas, a sand beach, poolside bar & grill, a full service restaurant inside and much more. This looks nothing short of amazing… and it's just not fair, because I already had a hard time picking which one of Universal's resorts is my favorite, and this one looks just as fantastic as the rest. Maybe more so! I certainly know where I'm going to be staying in Summer 2016!


(8/12/14) The Orlando Sentinel has confirmed that documents filed last week with Orange County indicate a "notice of commencement" for excavation work to begin soon on the property were Universal has previously filed plans to build a new 1,000 room hotel between the Cabana Bay and Royal Pacific.
(6/26/14) Parkscope discovered an assortment of new Universal Orlando permits filed with Orange Country this week relating to exanding the number of hotel rooms Universal has on-site with their partners at Loews Hotels. The most interesting of which is what they discovered on-tap for a 5th hotel property, to be located right between the Royal Pacific and the new Cabana Bay Beach Resort.
This new property will feature 1,000 rooms along with a meeting/convention space that will be connected to the existing facility at the Royal Pacific by a bridge. The placement of this new resort will also allow guests to opt to either walk to CityWalk down the same pathway currently under construction for the Cabana Bay guests, take a bus at what appears to be new bus stop on the convention center side, or cross over to Royal Pacific itself and take a boat to CityWalk. Another interesting item is that despite the fact that this hotel will have a separate car entrance across the street from the entrance to Cabana Bay, it is also referred to on one page of the documents as the "ROYAL PACIFIC RESORT FIRST ADDITION". If this last bit holds true, then I guess we already know the basic theme of how this will end up looking. I took the liberty of placing the overhead layout of the new expansion over an aerial image of the property, so you can see how it all fits together.

Future Projects - (7/10/14) Disney & More had an interesting thought about what a rumored "Volcano Bay" waterpark at Universal Orlando might look like. This isn't a rumor at all, but just a fun bit of speculation to think about… because Disneyland Paris had an idea for a volcano themed waterpark at one point in time called Lava Lagoon. Disney & More has posted a ton of concept art for Lava Lagoon and mentions one other interesting thought to go with it… that current Universal Creative Senior VP Thierry Coup worked for Disney Imagineering's Paris office back when Lava Lagoon was in development. You know what they say about how good ideas never die.
(7/3/14) Is Universal Orlando still hard at work designing a new themed waterpark experience? While the general thought was that any plans to build their own waterpark went out the window once they fully purchased Wet 'n Wild, but the rumors of continued development are still very strong. ParkScope may have uncovered another piece of the puzzle this week by finding a new Trademark filing by Universal for the name, "Volcano Bay" sent in on June 26th.
This would be fitting, as one of the rumored themed for a Universal themed waterpark was to build it around a large fake Volcano mountain structure that would give them a reason to add fun chaotic elements of themeing to the park's slides and attractions. Steam vents, pyro and mist projection screens full of virtual flames. According to the filing, they name is intended for use in "Amusement park and water park rides", "entertainment in the nature of a water park ride".
(9/12/13) The Orlando Sentinel reports that NBCUniversal President and CEO Steve Burke told investors that their studies of the Universal Orlando resort shows that they could have between 10,000 to 15,000 hotel rooms on site and maintain a profitable occupancy rate. Much like the Walt Disney World expansion in the 90s, they believe that a built-up of on-site hotel rooms will also increase attendance and profitability at the theme parks.
Currently Universal Orlando has 2,400 rooms between the three existing resorts (Portifino Bay, Hard Rock Hotel and the Royal Pacific) and jump to 4,200 rooms next year when the Cabana Bay Beach Resort opens. By comparison to Walt Disney World's 26,000 rooms, this isn't much, but if Universal Orlando were to aggressively double or even triple the number of rooms they have on site, I'm certain this could certainly send a shockwave that would be felt by Disney's own occupancy rate.
In addition, Burke says that parent company Comcast will accelerate the pace of new rides and attractions at the parks, as recent investments have been paying off. Attendance at Universal Studios Florida has been up close to 20% since Transformers opened in June. NBCUniversal will elevate Capital Spending to almost $500 million this year… a figure that the the Sentinel notes will likely because the company's new baseline, as the goal is to now open a new attraction every single year at both Universal Studios Hollywood and at the Universal Orlando Resort.
(9/11/13) Is a new Universal Orlando waterpark experience still on the table? According to one Screamscape source, the dream of building a brand new, on-property, Universal branded waterpark is not only alive, but still in development for the future. If approved and built, it would be located on the undeveloped piece of property that sits between the Royal Pacific and the new Cabana Bay Beach Resort.
I had heard for years that Universal had been pondering building their own waterpark and had conducted guest surveys to determine what guest's expectations of a "Universal" branded waterpark experience would include. After all, the clock was ticking… and the land lease for the property under Wet 'n Wild wasn't going to last forever.
That is… the clock WAS ticking… until Comcast surprised everyone by suddenly swinging a deal to buy up all the land under Wet 'n Wild earlier this year. At that point, I think most people figured the idea of a new Universal waterpark was dead and possibly even unnecessary. Apparently not…
Of course if this is all true, then the other shoe must be dropped… because if they build a new state of the art waterpark on property, what will become of Wet 'n Wild? Currently the Orlando waterpark market is pretty full… and while Wet 'n Wild has a lot of fun attractions, it is also one of the oldest attractions in Orlando, sitting on potentially a very valuable piece of property in a high traffic area in terms of both vehicles and foot traffic. While one obvious use for the Wet 'n Wild property could be to build yet another large resort hotel (just slightly off-site compared to the rest) I've got to think there may be other options on the table as well. Just something to think about…
(4/23/13) I'm not quite sure who is spreading the rumor that Universal Orlando is planning a 3rd park by 2018 but it certainly hasn't been me. To be honest, not only has this rumor not even touched my keyboard, but it hasn't even passed within a whisper of my ever-listening ears, or those of the Screamscape Spy-Network.
So right now, much like the fellow at the Orlando Business Journal, I'm not buying into this rumor either. The only new 'park' I've been talking about Universal Orlando looking into building for several years now is to build their very own themed waterpark, which will serve as a replacement for Wet 'n Wild when the lease eventually runs out on that property.
By contrast, my inbox has been full of nothing but huge rumors for all new attractions and mega-investments into Universal Orlando's existing two theme parks… and nothing at all about a new 3rd mega park. Now… I'm not saying that a 3rd park is impossible… it just isn't in the cards right now.
Once upon a time it was, back when Universal was owned by Seagram's and they bought up that huge piece of property that the new convention center building sits on that ran from there all the way down almost to John Young Parkway that is now home to the Rosen Shingle Creek resort, golf courses, a Westin hotel and more. Back before Vivendi bought Universal from Seagram's and sold off all this valuable property, THIS was supposed to be the future site for Universal expansion projects for years to come. They planned golf courses, new resort hotels, a new mega theme park (maybe two) as well as an all new waterpark experience. Unfortunately, none of it ever saw the light of day when Vivendi sold the property off piece-meal to anyone who opened their checkbook because they were in such a poor financial state.
So based on that… we know Universal did have dreams of expansion beyond their currently property line where they have now become landlocked. As things go right now, Universal really has no room for a third mega-park… only a waterpark or more hotels. They'll need to buy up more property if they want to expand in a bigger way.

(10/17/12) A report at MiceChat all about Universal Orlando starts off showing off the construction and ongoing maintenance efforts Universal has been doing in the parks and ends with some great news. They report that $1.5 Billion dollars has now been approved for future capital projects at Universal Orlando over the next 10 year, starting things off with the fast-tracked Transformers ride and then the London side of the Potterverse.
Beyond those two projects, there is an estimated $850 million leftover for future projects. The first of these have already begun to possibly surface, with rumors of a couple of Seuss ride concepts dueling for attention themed to either The Lorax or The Grinch. Something new could awaken in Jurassic Park, or Universal may choose to drop the Marvel heros and rethemed that Island. Over at the Studios, we've heard for some time now that T2/3D was on the chopping block, and several new plans have been envisioned to rethemed the kiddie area, and perhaps even eventually replace ET with something new. Either way, looks like the next decade is going to be bright and very busy for Universal Orlando.