Industry News:
---- THE LATEST INDUSTRY NEWS ----
(7/24/14) Six Flags Q2 Earnings Report Is Interesting (MORE...)
(7/18/14) SeaWorld Entertainment Allowed In App Purchases For Parks (MORE...)
(7/17/14) New Details About Disney's Marvel Experience Traveling Attraction (MORE...)
(7/15/14) Huss Rides Opens Their First Condor G2, Mentions Other Future Projects (MORE...)
(7/14/14) Theme Park Based Teen Drama Coming to MTV in September (MORE...)
2013 Park Attendance Report - (6/4/14) The annual theme park attendance report from TEA and AECOM has come out for the 2013 season and can seen here or downloaded in PDF form here. For the most part, attendance was up at many of the popular parks, through the SeaWorld Parks chain saw losses almost across the board.
The biggest gains of the year in the US were seen by Universal Studios Florida (14%) thanks to the addition of the Transformers ride as well as the Springfield themed area. It was the only park in the US to see double-digit growth, though Disney's California Adventure would be a close 2nd with a 9.5% increase in attendance.
Globally the Disney parks did very well with double digit growth also reported at the two Tokyo Disneyland Resort theme parks as well as Hong Kong Disneyland who saw a 10.4% increase. It should be noted that the increase in attendance over the prior year experienced by the Tokyo Disney parks is misleading however, as the parks were finally recovering from the poor attendance year they suffered in 2012 when the resort was forced to completely shut down for an extended period of time due following the Tsunami that hit on March 11, 2012.
Lotte World in South Korea also saw huge growth in 2013, with attendance up by an amazing 15.9%. Follow the links and read through the report, as there is some fascinating data in there, though keep in mind that most of the attendance figures are simply estimates and best guesses as most parks do not release their actual attendance figures, and some estimates seem a bit high to me… especially the elevated looking attendance figures posted for some of the Walt Disney World theme parks.
You can also still download most of the previous year's attendance reports too:
Download the 2012 Report
Download the 2011 Report
Download the 2010 Report
Download the 2009 Report
Download the 2008 Report
Download the 2007 Report
Download the 2006 Report
General News - (7/14/14) MTV has a new Theme Park based TV series launching on September 30th called Happyland. According to the description, it revolves about the not quite so glamorous jobs and behind the scenes lives and drama of a group of teens working at a popular theme park called Happyland. You can see the teaser trailer for it below. It appears as if they are shooting on site at Six Flags Magic Mountain, which stands in for Happyland in many of the outdoor scenes.



(6/10/14) A new media attraction concept from Attraktion and Intamin called the DomeRide Theater will be announced on June 19th. Check out the preview site here.
(5/9/14) Talk about crazy… the local news reports that Bill Kitchen, known for his designs to create unique new thrill ride concepts was the victim of a home invasion in the greater Orlando area. While returning home from dinner, three people dressed as ninjas, captured him and a partner, bound them with zip ties at gunpoint and took escorted them around the home to where they kept their valuables. Very scary… lets hope the police can catch these people.
(5/2/14) The summer season is nearly upon us, and it's time for the list of annual complainers to rise from the depths of their winter slumber and pretend to be in shock and awe about how a particular park or attraction has hurt their feelings or violated their rights for any number of reasons. The list evolves a bit from year to year, but if we follow the trend set for the past few we can expect to soon see articles about subjects like:

1) How a park's policy on front of the line passess for disabled (mental or physical) guests just doesn't work 'for their family' and how their complaints fell on deaf ears.

or 2) How decorated military veteran or handicapped guest who was missing one or more limbs was wronged by a theme park when they were told they could not ride XYZ coaster(s). Six Flags Fiesta Texas already kicked off this one back in mid March.

then 3) The annual complaint list by those seeking employment at any given theme park about how they were offered a job on the condition that they follow the park's grooming standards, and how they refused to comply with the policy about (facial hair, no corn-rows, religious headwear, facial jewelry, etc…) and are now seeking legal council.

Then we have 4) No Hijabs or Turbans On Go-Karts.
It's not even summer, but this particular complaint has already fired up in California as Sikhs and Muslim groups are complaining against this policy at the local Boomers family fun parks. The groups refuse to accept Boomers (Palace Entertainment's) justified Safety Policy banning any kind of loose fitting clothing, extremely long hair or headgear on their go-karts as being legit. The religious groups says that past accidents at other go-kart tracks that have involved serious injury and death due caused by riders wearing headgear that becomes loose and quickly entangled into the speeding go-kart wheels should not be considered because they took place outside of the USA.
(pause)
Yeah, that makes no sense to me either… or anyone else. People have died because of this and Boomers is not only legally protecting themselves, but these rules have become a global industry standard in the go-kart biz because of these prior accidents and injuries as recently as 2010! Much like how the military veteran who lost his limbs defending our country is unable to ride a coaster at his local Six Flags park, the rules are in place because other people have died when they were allowed to ride. Safety rules are in place for a reason, and no matter if you agree with them or not, it is the right of the park or attraction to enforce their safety rules.
(8/21/13) An interesting statistc was posted to AmusementToday this week. According to this report theme park visits by "teens" has declined by 9% over the past 5 yeas. The believe price may be a primary factor behind this decline, which makes sense. Only a portion of the teen demographic has a real-world job due to age restrictions, and of course we all know the job market these days is a lot slimmer than it was 5 years ago. Meanwhile the price of admission or a season pass has only gone up, while disposable income for teens is getting hard to come by. Plus you've got to consider there is steep competition for what income they have, especially if you consider how fast smartphone usage has spread over the last 5 years as well. It makes me wonder if some parks may be on the verge of pricing themselves out of reach from a valued demographic.

Internet Fun - (7/4/14) In an interesting announcement, our friends over at All American Thrills have officially formed All-American Thrills, LLC along with Jim Bowers, a known source for information about drone piloting, which will be put to use with the purchase of a DJI Phantom 2 Vision+ drone unit in which they hope to bring their coverage of theme parks to new heights. I'm very curious to see what they have planned.
(6/6/14) Fun note… it seems the production of Jurassic World (Jurassic Park 4) is not just shooting in Hawaii… they are also shooting scenes inside the closed former Six Flags New Orleans theme park this week. The park has been used for film shoots quite a bit in the last few years, with scenes from Percy Jackson: Sea of Monsters and the new Dawn of the Planet of the Apes having used it as a location.
(4/25/14) Our friends at The Season Pass Podcast will be putting on a live broadcast this sunday, April 27th, at 3:00pm EST, with the design team of the NoLimits & No Limits 2 coaster software. Listeners will have the chance to call in and ask the team questions about the game. Go to the official The Season Pass website to find out more details, or click here on Sunday to see more about the show live.

20th Century Fox - (6/12/14) While construction of the first 20th Centry Fox World theme park is underway in Malaysia at Resorts World Genting, Jeffret Godsick, Fox's president of consumer products claims that similar projects in China and Brazil will also soon be announced.
B&M - (7/4/14) A few new pictures from the B&M track fabricator have been posted to the TPR forum showing off more than the White & Yellow track pieces from before. There are now five different colors represented… including new sections in Teal, Orange and possibly something painted a dark Blue.
The final home for the "White" coaster has been identified as Gardaland as well, as you can see in the last photo of this update that more orange Hapag-Lloyd shipping containers, as seen previously on CarowindsConnection in Ohio, are also on site in Italy where they are unloading white B&M track for their suspected new 'D6' Dive Machine.
While the other coasters are not really known, one of these should be for the new Carowinds 2015 coaster as well. Since the nearby Intimidator is red, I would hope Cedar Fair wouldn't choose Orange track. They already have Nighthawk in the park that has Yellow track as well, so I can only guess that the Teal track pieces may end up being for the Carowinds ride, giving it a similar look to Leviathan at Canada's Wonderland.
(6/17/14) Carowinds Connection has posted some pictures from the B&M track fabrication plant in Ohio showing off some of the old Yellow track on site along with some newer White track sections. Unfortunately the site was active and no one could get a close up of the tags on the track segments to try and find out what they were for.
(4/24/14) While I'm not sure of the damage done, the local news reports that there was a Two-Alarm fire at the Clermont Steel Fabricators building, otherwise known as the place where the world's B&M track is manufactured. According to the picture posted, the yellow B&M track we reported on back in February is still on site at the plant.
(2/26/14

) Our local Screamscape spy dropped by the B&M Track Fabricator plant in Ohio and snapped up pictures of brand new bright yellow coaster track. If I'm reading the label right this is for a new B&M Flying coaster, and they do have one on the way to China for the Wanda Group set to open in 2014 at the Xishuangbanna International Resort park. The concept art for this coaster found on VHCoasters however had blue track and not yellow, so while this track could be for another project, I'm still thinking this is still the Wanda coaster unless someone knows of another B&M Flyer in the works.
(8/7/13) Truck loads of blue supports have been spotted at the B&M track fabricator (see below). While they didn't get close enough to see an ID sticker, it does look to be for the same project that the blue station track was for. (Update - It was for Banshee at Kings Island)
(7/29/13) All new blue supports (that appear to be for a Transfer track or station structure) have appeared on site at B&M's fabricator in Ohio. According to the label, these are for a new Inverted Coaster for somewhere. Could this be for Kings Island or will it go somewhere else. (Update - It is for Banshee at Kings Island)
(7/19/13) According to several sources that single piece of green B&M coaster track sitting at the plant in Ohio is assumed to be an old piece intended for Ocean Kingdom in China that never made the trip. It is assumed to be either defective or damaged and will likely be scraped in the future.

Cedar Fair - (7/2/14) Cedar Fair filed for an interesting new trademark this week to use the name "Rougarou" in their theme parks. I've no clue yet just which park may get to use this name, but Rougarou is the French name for Werewolf. The use of the French name could be a hint that it could end up in Canada's Wonderland, but you never know…
(6/24/14) For those wondering what Cedar Fair may have had in mind for the name Centurion, we may never find out. After prompting by another reader, I dug a little deeper and looks like the name was also requested for use by another company for an entirely other purpose… and they are also hung up, because the name was filed for use by a third company for yet another purpose. While names can be used more than once for different business purposes, as long as the owners don't object, there may not be time to get the issue resolved as quickly as they would like.
(4/15/14) The Ohio Supreme Court has been listening to the case between Cedar Fair over the reinstatement of Jack Falfas this past week. So far no judgment has been determined, but feel free to read through the official report and catch up with what's been going on since 2010.
(2/21/14) Cedar Fair posted their Q4 report showing that their final quarter loss had nearly doubled from the previous year's quarter to $20.48 million.Net revenues increased by almost $10 million from the previous year however to $139.08 million. You can listen in to the Q4 conference call here.
(2/13/14) In an odd find, it seems Cedar Fair has filed for a trademark to use the name "FURY". The odd thing is that it isn't listed for direct use for a new ride, but a more generic use for merchandise. However… Cedar Fair has been using the name FURY for the past three years already, ever since they opened a highly promoted new Halloween Haunt house at Carowinds with the name. Perhaps they are preparing to expand the use of Fury beyond Carowinds and into more parks this fall… though I can't think of a time when they ever trademarked the use of a Haunt name before either.
(11/8/13) Cedar Fair has reported their Q3 results and you can read a good detailed report over at Marketwatch. The company reported record net revenues of $592.1 million in Q3 (up 7% over Q3 2012) and park attendance was also up 2% compared to the same quarter last year. "On the strength of its core operating season, the Company now expects to achieve full-year net revenues between $1.125 billion and $1.135 billion. It also anticipates being at the high end of its Adjusted EBITDA guidance range of $415 million to $425 million, a 6% to 9% increase over last year's record Adjusted EBITDA."
(10/23/13) Cedar Fair reports that they have signed an updated contract with CEO Matt Ouimet to keep him with the company through to at least Dec. 31st, 2016, along with a an increase in his base annual salary from $850,000 to $900,000 through to June 2015.

Chance Rides - (5/15/14) A fun video feature all about Chance Rides can be found at this link, as an episode in an online video series called "This Built America". If the direct link doesn't work, follow the instructions to get to the map of America, and click on Kansas to see the Chance Rides story. There are three videos, with a scroll down story in between to tell the history of the company and how they have survived. The first shows off the company as a whole, Chapter 2 is about their Trains and Chapter 3 focuses on their Carousel horses.
(3/26/14) A fun video clip shows off Chance Ride's latest flat ride creation, the Freestyle, which can be seen in action at the Houston Rodeo this week.



(2/1/14) Chance Rides is known for their well built equipment and especially fine line of mini-trains. But I don't think the Chance engineers ever imagined one of their mini locomotives would ever be put to a crash test like this one… watch what happens when a train goes one-on-one with a stupid driver who ignored the train crossing signs at Hermann Park in Houston, Texas on January 18th. (see below)
Need to see the aftermath from another angle? As you can see, it looks like there was only cosmetic damage done to the C.P. Huntington locomotive as it jacked the clueless Honda driver's car up on the cow-catcher about 30º. Here is the view from the back of the car. According to one report, while several train riders were a bit shaken up by the incident, there were zero injuries reported. Don't mess with the train… they always win.

Disney - (7/17/14) The Marvel Experience is teaming up with attraction director Jerry Rees and visual effects house Rhythm & Hues and Lexington Design & Fabrication to create and launch The Marvel Experience later this year. According to this article, the traveling production will feature a large dome that will be home to three theaters used to tell the story via multi-media and interactive technology. It will include a 4D motion ride and a 360º 3D display system.
(7/2/14) For those desperately wondering and waiting for Disney to announce some kind of concrete information on the rumored Star Wars Land projects that are apparently being planned for the Disneyland Resort, Walt Disney World and possibly even Disneyland Paris… you might have to wait a few years more until any of these are given the green light.
According to Disney & More, while Disneyland Paris may very well finally be the last park to convert their old version of Star Tours into the new "Star Wars: The Adventure Continues" (aka: Star Tours 2) by 2016, the plans to build an entire land are likely on hold until well after the new Star Wars VII film hits the theaters in December 2015. With a whole slate of new Star Wars Universe films in development, there will be new worlds and new characters along with new amazing vehicles and technology as well.. all of which creates a new problem.
Should the locations within a Star Wars themed land and attractions be themed to the original trilogy (Episodes 4-6), the prequel trilogy (Episodes 1-3), or how about this new trilogy in the making (Episodes 7-9)? Each generation of the films will have their own fans, so how do you please everyone and include favorite elements from them all? Plus this doesn't even begin to consider the rumored Spin-Off films. Things get even more complex for California, where a Star Wars themed land could be shoved into a tiny existing space within Disneyland, or they could opt to do something more grand as part of the long in development 3rd Park plans (along with a possible Marvel Land). So it makes sense that the best plan of action right now may actually be to wait and see what the initial fan reactions are to Episode VII so they can include the new film concepts into the mix as well.
(5/30/14) Today I've got a movie review of Disney's latest feature film, Maleficent as seen by Kerry last night in 3D. She came home raving about it, so I guess I'll have to add it to my list. Read on!

MALEFICENT (2014) - Film Review by Kerry Hart


So many of us grew up watching all the classic animated films from Disney and we love them! This love has enabled us to share them with our own children and Disney keeps bringing new things to the table. Many of us are still singing Let it Go (and our family hears it a lot compliments of our 4 year old daughter) and Frozen was a HUGE success, however now it's time to "Let it Go" and move over to Maleficent!
I had the opportunity to go see Maleficent last night with a friend and I was so excited because like many of you I LOVE Disney Villians! The cast of the movie was incredible and Angelina Jolie was absolutely phenomenal, I don't believe anyone could have played that part like she did. I don't want to give away anything because I want you to leave the theater with the same reaction that I had…which is "WOW & I was not expecting that." Kudos to Disney!! I HIGHLY recommend that you see Maleficent in 3D… it is definitely worth the extra money… the effects, the details, just all around awesome! I promise you will not be disappointed! As far as taking small children, I think most will be fine and my daughter was mad she didn't get to go last night, so it looks like I get to go again!
Like most Disney movies, this one does have a happy ending… but it's not the ending you will expect!

(4/17/14) Tron LightCycles plus Oculus Rift headgear? Count me in, I want to try the RiftCycles Project, where you can take a virtual reality ride into a fan made recreation of a Tron inspired LightCycle arena. It would be great to see Disney embrace this and bring it to the Tomorrowland Starcade or into DisneyQuest in Orlando.
(2/10/14) Following the runaway success of Frozen, which has now surpassed The Lion King as Disney's all-time highest-grossing animation film, Variety reports we can expect to see the Frozen IP kept alive and well for years to come through various new projects. They are already looking into possible film sequels, a Broadway adaptation, video games and of course… ways to integrate Frozen into Disney's theme park empire.
While it seems almost a sure-thing that Frozen can and likely will take over the Norway pavilion at EPCOT at Walt Disney World, just how and where Frozen can be added to the other Disney resorts around the globe remains to be seen.
(1/30/14) Curious to know more about the upcoming Marvel Universe Live traveling show, produced by Feld Entertainment? According to the latest update at Disney & More new details about the show have been released, including the overall storyline as 25 different Marvel Universe characters will battle in this huge special effects filled live performance to gain control of the Cosmic Cube, the source of ultimate power.
The list of Marvel characters in the show includes: Spider-Man, Iron Man, Hulk, Thor, Loki, Captain America, Wolverine, Green Goblin, Doc Ock, Red Skull, Madame Hydra, Aldrich Killian, Electro and many more.
To find out more be sure to also visit the official Marvel Universe Live website which has already posted many of the showdates, starting with Tampa, FL in July 10th and then running all across the nation with dates through to 2016.
(1/22/14) While ABC's Extreme Makeover may have been off the air for the past couple of seasons, the show's former host (Ty Pennington) will be in Orlando on Friday morning for one more "big reveal" at the Give Kids The World resort that will be shown live on Good Morning America. Catch it live or set your DVR.

(1/10/14) The first concept art of the traveling "The Marvel Experience" superhero amusement attraction has been released, featuring a huge 6-story dome structure. Inside will be 4D rides, games and interactive Marvel character magic that will let the guests become part of the Marvel universe. The dome itself is themed as a S.H.I.E.L.D. Mobile Command Center, and through this portal you will soon find yourself engulfed in a story that will unfold before you as you travel through the attraction and interact with both Marvel Superheros as well as the Agents of S.H.I.E.L.D.
Coming in at a budget of at least $30 million, the traveling experience will be visiting cities across the US and Canada, able to set up shop on any available 2 acre site. The cost of admission is expected to be in the $30 price range.
(12/31/13) Disney will hold a webcast to discuss their Q1 report results on February 5, 2014 at 5pm (EST) / 2pm (PST). Click here to listen in.
(12/9/13) You know it wouldn't take long for this to happen once Disney purchased LucasFilm, but this week it was confirmed that Disney has reached an agreement with Paramount to take over the future of the Indiana Jones film franchise as well. Paramount will retain ownership of the four existing completed films in the series, and will apparently get some kind of "financial participation" on any future films that may be produced and released.
While the future of any Indy 5 production approval was always in question, this seems to ensure that Indy 5 will be moving forward after all.
(12/5/13) Is there something special about the Chicago area house Walt Disney was born in? Brent and Dina, the founders of attraction design and animation firm Super78 are hoping so, as they have just purchased the Disney birth home for about $173,000. When the Disney family sold the home and moved to Missouri Walt was just 4 and his brother Roy O. was 12.
Since then the home has had several owners and undergone a lot of upgrade work over the years, but the new owners have launched a Kickstarter campaign to raise $500,000 to restore the house back to it's original state and hope to have it granted official landmark status. Make the jump over to check out their Kickstarter campaign, see what kind of goodies you can earn if you donate towards the project as well as check out the concept art and official plans.
Oh… and Brent? When you're done with the Disney house, can we start a campaign to renovate my home next? I've got some ideas…

Dynamic Attractions - (6/30/14) Dynamic Attractions pulled back the tarp of a new attraction concept they will begin selling at the Asian Attractions Epxo last week in Beijing. They call it the SFX Coaster… and it does bare some striking similarities in what it can do with what we saw from the Harry Potter and the Escape from Gringotts attraction at Universal Orlando. Check out the video they released for the concept below.



(1/16/14) Empire Industries Ltd has announced that their Dynamic Attractions division has signed two new major ride contracts, both for the United Arab Emirates, but each for a different customer. One is to deliver one of their Dynamic Flying Theater attractions (like Disney's Soarin') and the other is for a new "special effects indoor roller coaster" attraction. (Note: Dynamic Attractions provided the hardware when Disneyland rebuilt their Space Mountain coaster in 2005 and was confirmed as the fabricator for the new track system installed on Big Thunder Mountain reopening in 2014.) Both contracts will be executed over the next 18 months.
Any ideas who these may be for? Dynamic already built a Flying Theater at Ferarri World that opened back in 2012 called Flying Over Italy, so perhaps they will return for an indoor coaster, or perhaps the indoor coaster could be for the IMG Worlds of Adventure park, who also appears to have bought a second attraction from Dynamic as well.
(8/8/13) Empire Industries has announced that their Dynamic Structures unit has been awarded an $18 million contract to build a new ride for "a global leader in amusement parks" that will be installed in a park in China over the next 18 months.
Screamscape Translation – The contract has been signed for Dynamic Structures to build the long rumored Soarin' over the Horizon ride for Shanghai Disneyland.
(5/6/13) Empire Industries has announced they were awarded of a new $30 million contract to build a new attraction for a major theme park in the United States through their Dynamic Structures business unit. According to the press release the contract will be "executed" over the next two years.
Dynamic Structures is known best for building the Harry Potter ride for Universal Orlando as well as several high profile rides for Disney over the last decade including the two Soarin rides, Test Track, Radiator Springs Racers and the revised Space Mountain at Disneyland.
I've got a feeling that this contract may have been the official signing off for the Harry Potter and the Forbidden Journey ride system for Universal Studios Hollywood, as a nearly identical announcement also came from Empire/Dynamic Structures 1 year ago for another $30 million contract (over 2 years) for a "media based attraction" going into a theme park for "a global customer". Last year's contract was likely for the same ride system now being installed at Universal Studios Japan in late 2014. The statement also mentions that the deal was important to Empire because this was the third such contract awarded to them, and this would be the third version of the ride system to be built.

Great Coasters International - (2/2/14) A peek at the layout for GCI's new Viper coaster going to China in 2015 was tweeted out by ACE over the weekend.
(11/20/13) GCI will build their biggest roller coaster ever in China to open in 2015 at the Wanda (Nanchang) Culture Tourism City. Check out the preview video animation of "The Viper" below featuring a 50 meter (164 ft) tall lift hill and 1,500 meters (4921 ft) of track.


Great Wolf Lodge - (6/18/13) According to this article Great Wolf Lodge is looking into a plan to buy an existing Holiday Inn hotel and expand and transform it to become a new Great Wolf Lodge waterpark resort in Fitchburg, MA.

Herschend Family Entertainment - (10/2/13) In a move that I did not see coming, Herschend Family Entertainment has announced they signed a deal to purchase the Harlem Globetrotters traveling show company for an undisclosed amount from Shamrock Holdings, an investment company started by Roy E. Disney.
While HFE is a theme park company, their portfolio also contains a number of other location based attractions such as aquariums, musical theater shows or Ride The Ducks tours. However this seems to be an interesting new branch-out for them to enter the Arena / Traveling Show marketplace dominated by Feld Entertainment. Feld runs not only the Ringling Bros. shows, several motor sports shows but also Disney on ICE, Disney Live and the upcoming Marvel Universe Live show for Disney. It should be interesting to see how the Globetrotters fit in with HFE's current efforts.
Huss Rides - (7/15/14) Huss Rides has announced the launch of the Condor G2 ride system, after the first one just opened in June at Happy Valley Beijing. The G2 version features the same 31 meter tall central tower with four arms of rotating cars, each of which has seven two-person gondolas than swing outwards as they spin.
The second Condor G2 will open in 2014/2015 in the Chinese Shandong Province. For 2015/2016, Huss confirms that they have contracts to open two Top Spin Suspended rides and a Giant Frisbee 40 in China, and will deliver a King Kong ride to the Middle East.

IAAPA Conventions - (5/28/14) Good news for fans of IAAPA's Orlando location… IAAPA has announced that they have signed a new agreement that will extend the run of IAAPA Attractions Expo in Orlando by an additional 6 years… which will take it through to the 2025 show.
(5/21/14) IAAPA has announced that Hong Kong will be the site of the Asian Attractions Expo 2015 at the Hong Kong Convention and Exhibition Center. The event will take place June 16-19, 2015.
(12/23/13) IAAPA has announced that the IAAPA Asian Attractions Expo 2014 will take place from June 17-20 at the China National Convention Center in Beijing. This will be followed by the Euro Attractions Show in Amsterdam at the Amsterdam RAI Convention Center from Sept. 23-25, and then IAAPA Attraction Expo 2014 in Orlando, FL will take place from Nov. 17-21 at the Orange County Convention Center.

Merlin Entertainment - (1/29/14) In an interesting move the Displays Development Director at SeaLife (part of Merlin Entertainment) is reported as teaming up with the WDC organization (Whale & Dolphin Conservation) to create the world's first Dolphin Sanctuary. The Sanctuary's purpose is to rehabilitate retired captive dolphins and eventually attempt to release them back into the wild. They do note that this will be on a case by case basis, as for some the option of release "may just be too cruel". In those cases they will still be taught to catch live prey with the goal of retiring them to "huge sea pens at the Sanctuary" where they can live a more natural life. While I am not opposed to park's like SeaWorld, I respect that Merlin has opted not to continue the practice of keeping dolphins in any of their parks and is taking a realistic pro-active approach as to how they will take care of the dolphins that are still in their care for the years to come.
Of course while the article doesn't come right out and say it in the main text, if you read the sub-text under the last three pictures on Page 3 it says, "People from all over the world will be able to visit the facility, which will create an unprecedented experience. Observance of the retired dolphins would be through one-way glass." While they don't mention an admission charge, I can only assume that there would still be a cost associated with visiting a Merlin Dolphin Sanctuary, as the costs for the care and rehabilitation of these dolphins is going to be astronomical.
So for the cynical out there… while Merlin has the best of intentions, have they really just created the Next-Gen concept for the next wave of Marine Life Parks? Those who are highly critical of SeaWorld's own motives have long claimed that the true purpose of SeaWorld's many rescue and rehabilitation programs was the abuse the loophole that would allow them to keep any rescued animals that they deemed were not suitable for release. Time will tell I suppose, but I do wish Merlin the best in their efforts as they are still seeking a proper site in which to locate their first Dolphin Sanctuary.
(1/16/14) Merlin are planning to add a new and unique attraction to London in the same County Hall building structure where the SeaLife Aquarium and London Dungeon are located. The new unknown attraction will take groups of 40 guests on a tour through a series of 10 show rooms, with each experience to last approximately 6-minutes, one of which will also include a simulator ride to be located in the "Rotunda space". The space they are taking over was formerly home to the London Film Museum.
(12/27/13) Merlin is making some changes to the Merlin Annual Pass system for 2014. The price of the Standard pass has been "frozen" I'm told, and the Premium has some new additional features, such as adding extra FastTrack tickets for Merlin parks, birthday vouchers so you can bring up to 3 friends with you for just £10 each within 7 days of your Birthday and other extras. There will also be a new "VIP" pass option also launching in March 2014. It appears as if the VIP pass will be limited to just 1,000 and offer special "Extraordinary experiences", so expect this to be a high priced item.
(12/11/13) BlooLoop reports that Merlin will open a new Madame Tussauds location in Singapore at Imbiah Lookout on Sentosa sometime later in 2014. The new wax museum will open next to the existing Images of Singapore attraction which will also be "refreshed".

NoLimits 2 - (1/13/14) Coaster101 has tested the new NoLimits 2 simulation program this week and has posted their own detailed review on how this new version compares to NoLimits 1, the new features and just what kind of system requirements you need to have to get the best performance. See NoLimits 2 and download a demo here.
(1/2/14) The official release date for NoLimits 2 has now been set for January 10th, 2014.
(12/27/13) Another new video from the NoLimits 2 team was released this week showing off an S&S 4th Dimension coaster system as well as a nearby Arrow looper, B&M Dive Machine, Arrow Suspended and a B&M Flyer. While NoLimits 2 is still officially listed as "Coming Soon", I'm told that we wont have to wait much longer before you can get your hands on it… it is very close to final release.



(12/16/13) The NoLimits 2 team have posted an incredible new video this week showing off the powerful new editor system, as well as our first look at official Timberliner trains in action on the track! Many new features are visible in the preview video including the new easy-to-use track editing system, automatic banking controls, track de-pumping, terrain layer painting and a new animated logo screen. Check it out below!

(11/26/13) The new NoLimits2 team has posted a new progress update with new screen shots… this time showing off some incredible looking new wooden coasters. They also breakdown the pricing information between the regular version of the software and the "Pro" version.
(11/4/13) Screamscape has been granted an exclusive reveal this week for NoLimits2, showing off the brand new Suspended style coaster trains in action. I'm told that to date these trains have not been seen outside of the development team. The suspended style is shown in full glory and in full swing! The swinging motion is dynamic and affected by the forces acting on the coaster through the track. The swinging is calculated in real time and looks fantastic! Check it out!!
(10/18/13) NoLimits 2 has posted a new update showing off a new 4D Train option along with important information like system requirements, a list of new features, package prices as well as an expectation to see it released before the end of 2013.
(9/23/13) The latest episode of the Season Pass podcast talks about the creation and development of NoLimits and the follow up, NoLimits 2 that is currently in the works. Give it a listen!
(6/17/13) It has been some time since we've last heard about the No Limits 2 coaster simulator program, but a new demo video has been released today showing off the fruits of their latest game engine. As you will see, No Limits 2 has the ability to produce both coasters as well as flat rides as well as environmental features like lighting, atmosphere and more. The start of the video shows comparisons from NL1 and NL2.
(1/29/13) ThrillNetwork has published a new set of teaser images (showing off one of the new train designs) for the NoLimits 2 roller coaster simulation software as well as an interview with the creative forces before NoLimits 2.
(1/3/13) The team working on NoLimits2 posted an update on new features coming to the follow-up edition of the coaster simulation software program. According to the update NoLimits2 will feature new building methods for the coasters, including a radius comb, new track textures (like rust and peeling paint), an auto-generated catwalk system, switch tracks for dual sided stations, and confirmations of 4D coaster track, B&M Flyers and the addition of the B&M Dive Machine style "splash effect".

PARC Management - (4/30/14) As rumored a few weeks ago, NASCAR Speedpark Myrtle Beach has now closed down, and PARC Management is out of the picture. Site owner, Burroughs & Chapin has announced that the site will reopen as the Broadway Grand Prix go-kart park in the near future, and will be under the management of Mark Lazarus.
(4/7/14) Over the last couple years we've seen PARC Management lose some management deals or be forced to close or sell off certain attractions and now Screamscape sources tell us another similar wave of change may be coming over the next month that could possibly impact their remaining Myrtle Beach, SC properties... the Myrtle Waves waterpark and the nearby NASCAR Speedpark. Stay tuned for the details as we uncover them.
(1/9/14) Last month we reported that PARC Management had failed to renew their management contract for the Pavilion Nostalgia Park and Carousel Park at Broadway at the Beach. Since then their PavilionNostalgiaPark.com website has been taken down and now auto-forward you to the Broadway at the Beach website.
This week it was confirmed that their NASCAR Speedpark attraction in St. Louis has also closed down for good as well. While the attraction has closed, it was built in as part of the St. Louis Mills mall (now renamed St. Louis Outlet Mall). It is worth noting that while run by an entirely different company, the former NASCAR Speedpark that closed last year at the Concord Mills mall has apparently leased out outdoor portion of the attraction to a new operator who has kept the karts and mini-golf up and running, and renamed it as "The Speedpark". It is possible that a similar resurrection could be possible in St. Louis.

Ride Entertainment Group - (3/24/14) Want to see a little more about how the AirSurfer attraction? Then check out a video made for the Branson SkySurfer, featuring "Greg Brady". I've also got the skinny on how the two are related. The Branson SkySurfer was a home brewed attraction that opened in 2013, but Ride Entertainment has since purchased the intellectual property for the Branson ride and now own it, and are reengineering the attraction and operating system to better fall in line with true amusement industry standards, as well as improve the ride experience.
(3/21/14) I have not been able to confirm if there is an official connection or not, but it seems the first AirSurfer style attraction exists in Branson, MO under the name SkySurfer at the Xtreme Racing Center of Branson. Has anyone tried it yet?


(3/20/14) Ride Entertainment Group sent Screamscape a picture of their newest attraction concept, a little something they call AirSurfer. Before you go any further, click on the concept artwork… and when you done picking your jaw up off the floor, come on back.
Yes, you are looking at what appears to be a Stand-Up ZipLine style experience, that is also able to navigate through tight turns as well as go down… and up inclines. If you don't want to take on the ride standing up, Silver Surfer style, then you can also ride it sitting down, or even laying down in a Superman style flying pose.
According to the press release, they already on finalizing plans to debut the first AirSurfer somewhere in the United States by late 2014. I can't wait to see where this ends up… and where it goes from there, as the possibilities for this kind of concept could be limitless.
(10/10/13) According to a press release from Ride Entertainment Group we can expect to see a crazy new Skycoaster open "early next winter" with a custom monopole design, installed on the edge of Mexico's world-famous Copper Canyon. The ride will be located at Parque de Aventura Barrancas del Cobra in Chihuahua, Mexico. I can't wait to see a picture of what this looks like…

Royal Caribbean Cruise Line - (4/17/13) Royal Caribbean has announce

d some interesting details about new features that will be built into their two newest ships, Quantum of the Seas (Launching Fall 2014) and Anthem of the Seas (Spring 2015). For example, take a look at a little thing they call the North Star, a large glass capsule that will hold 14 people, attached to the end of a large arm that will rise up and swing out into the sky high above the ship. They are expanding on the Disney Cruise Line concept of the virtual porthole technology used for interior rooms and will instead offer "Virtual Balconies" instead on their interior cabins.
There is also the SeaPlex, described as the largest indoor sports and entertainment venue at sea. The multi-level space will feature roller skating, a flying trapeze school, full size basketball court, dance floor and… BUMPER CARS. Yes… they are putting bumper cars on a cruise ship if you can believe it. (I think I'd almost rather have bumper boats though… since you could use them as a lifeboat in case of emergency.) On top of the ship they will off RipCord, the first virtual skydiving wind tunnel experience at sea and along the back they will offer a FlowRider stationary surf wave. They will also offer a new two-story music / dance / concert facility call Music Hall and a new entertainment venue in the aft of the ship called Two70º, which evolves from a relaxing place during the daytime into a unusual entertainment venue at night.
With three very active kids and a limited budget, my wife and I don't usually get to play in the cruise industry, but I'd love to try out the Quantum of the Seas someday. To date we've only managed to try one cruise ever (without the kids I might add) on Carnival which we enjoyed. Maybe someday we'll try again…


S&S WorldWide - (1/21/14) S&S has come up with a Next Generation version of their 4th Dimension coaster that will feature the ability for the seats to freely spin instead of being locked to a 3rd rail. They have built a prototype test track at their Utah HQ and ThemeParkReview dropped in for a visit and a test-ride on the test track. The video shows off the new concept with both on and off ride video footage, so check it out below! Looks like an incredible new experience I can't wait to see in a theme park in the near future.


Sally Corp. - (11/22/13) Our friends at Sally Corp. (Hi Drew!) talk about their latest Dark Ride projects with Coaster Crew on the IAAPA show floor this week. Screamscape also has to send our congratulations to John Wood for being inducted into the IAAPA Hall of Fame. Check it out below!

SeaWorld Parks & Entertainment - (7/18/14) SeaWorld Entertainment has announced that the latest updates to their mobile apps for SeaWorld, Busch Gardens and Sesame Place now also feature the ability to make purchases through the app on iPhone and Android devices. You can download the official Discovery Guide apps for the SeaWorld, Busch Gardens and Sesame Place parks for free in both: Apple (App Store) and Android (Google Play) flavors.
(7/11/14) SeaWorld and Coca-Cola débuted the first "refillable plastic cup made from plant-based materials" on Thursday. They are now available at all SeaWorld and Busch Gardens parks across the nation and is it also 100% recyclable, made from Coca-Cola's proprietary "PlantBottle" packing technology.


PlantBottle packaging swaps traditional plastic resins with natural sugars found in plants. Fewer fossil-based ingredients mean a smaller carbon footprint. SeaWorld's switch to PlantBottle plastic in its refillable cups is expected to remove 35 metric tons of CO2 emissions annually -- the equivalent of saving more than 80 barrels of oil a year.
SeaWorld eventually plans to use Coca-Cola's PlantBottle technology in the manufacture of many of its souvenir cups and is actively exploring opportunities for its potential use in the development of other merchandise.
(5/22/14) The SeaWorld Parks have launched all new version's of their official park smartphone Apps (Discovery Guides) earlier this year, and the improvements just keep on coming. I'm told that the ability to purchase QuickQueue to cut to the front of the line will soon be coming to the app itself, which means you can upgrade your experience from within the actual line you are trying to skip.
Other new additions include GPS enabled park maps, real-time updates of park show schedules and special events, current ride-wait times, the ability to receive broadcasted park notifications and special offers, and soon will also give you the ability to order your food online from select locations so you don't have to wait in line to order.
You can download the official Discovery Guide apps for the SeaWorld, Busch Gardens and Sesame Place parks for free in both: Apple (App Store) and Android (Google Play) flavors.
(5/15/14) The Orlando Sentinel reports that SeaWorld Parks & Entertainment has signed a tentative deal that could see a new theme park built somewhere in the Middle East. While the article doesn't identify the partner, nor the country where it would be built, if I had to make a guess on my own, I wouldn't be surprised to see a Discovery Cove style marine life park built in Abu Dhabi or Dubai, or a park that could be a mixture of an Aquatica and Discovery Cove combined.
(3/20/14) According to the Orlando Biz Journal, SeaWorld Entertainment is looking to grow and add more parks. Domestically they indicate that they may look into building more Sesame Place, Discovery Cove or Aquatica style parks, while saving the SeaWorld brand for potential new international projects… if they can find the right international partner to make a deal with.
You may recall it wasn't all that long ago that SeaWorld announced plans to build not just one, but four new theme parks, in Dubai on the outer island of the Palm Jebel Ali project, which would have been reshaped to resemble a giant killer whale. Those plans quickly folded along with the rest of the big blue sky dreams of Dubai launched around that same time period. With the world economy now settling back down, it looks like SeaWorld is looking to kickstart their international expansion plans once again.
(3/12/14) Bindi Irwin, daughter of the late great Steve Irwin (aka: The Crocodile Hunter) has joined with SeaWorld for the new SeaWorld Kids program, and talked with Behind the Thrills about her goals, her new Generation Nature efforts, Blackfish and her father. While PETA hasn't wasted any time in slamming Bindi, and the entire Irwin family for "exploiting animals for years", the interview and about her new projects are well worth checking out.
(2/7/14) PETA was planning on trying to put their few shares of stock in SeaWorld Entertainment to use this year, but will apparently not be allowed to do so. According to the Orlando Sentinel, PETA has submitted a proposal in advance of SeaWorld's first annual stockholder meeting to urge the company to develop "coastal sanctuaries" and bring about an end to keeping the park's marine mammals in captivity.
SeaWorld has already blocked this request and filed a report of their own to the SEC informing them that they will ignore PETA's request… not just for the reasons you think, but because Federal law requires all shareholders to have held stock in a company for at least one full year before they are allowed to submit recommendations for a vote by the other shareholders. Since SeaWorld hasn't been a public company for even a year yet, no one would meet these criteria.
(12/2/13) In an interesting article, it seems the current strategy of the SeaWorld Entertainment parks is to sacrifice a little attendance, but aggressively raise their prices and put new "ticketing strategies" into play. So far the parks have pulled in 1 million fewer guests so far in the first 3 quarters of 2013 resulting in a 5% attendance drop, but guest PerCap spending however has jumped 10% in the same time period. Click here to read more.
(11/21/13) I'm a little shocked by this, but the Blackstone Group who has held the controlling interest in the SeaWorld Entertainment company since it's departure from Anheuser-Busch/InBev has filed a plan to sell off enough of it's shares that it will no longer be the majority shareholder. Blackstone will be selling as many as 15 million shares, and pull in an estimated $480 million. Once complete Blackstone's ownership percentage will drop from 63% to 43.6%.
The spun-off SeaWorld Entertainment company says they are in talks to buy back 1.5 million shares from Blackstone as well. With the departure of Blackstone as the majority shareholder, internal changes will also have to be made within the spun-off company, including a reconfiguration of their Board of Directors within the year to be more independent of Blackstone, who currently has 3 Blackstone members on the board. Make the jump over to the Orlando Sentinel to read more details.
(9/27/13) Odd new developments from SeaWorld Parks this week. For starters they applied for a new Trademark for the name, "Yonaguni", but not for the typical park attraction use, but instead as something that could be used for an animated television series, live-action & animated entertainment shows, interactive programs, audio/visual media, as well as to be used in theme park show and costume character form. So this begs the question, is Yonaguni a show title or the name of a new character?
Meanwhile they have let the previous application for Taruka Rush die. Taruka Rush was the rumored possible name for the new slide attraction coming to Aquatica Orlando.

Shenzhen Overseas Chinese Town - (4/22/14) According to Reuters, Shenzhen Overseas Chinese Town Co Ltd, one of China's biggest theme park / resort operators has reported that their 2014 Q1 net profits are up 37%, to hit 666 million Yuan ($107.09 million).

Simworx - (9/18/13) Simworx has announced the creation of a new 4D simulation attraction called the Immersive Tunnel. It uses a 30-passenger tram style simulator car (using 1, 2 or 3 linked together) and the cars can either sit static, or be mounted to a track system that will transport the ride into a show theater area and back out again. The simulator platform can rise and fall, sway, and is armed with an assortment of 4D theater style effects systems along with dramatic lighting effects, all the while the tram cars are surrounded inside a 3D projection tunnel room with screens on both sides as well as in front of the tram.
If the Simworx "Immersive Tunnel" sounds strangely familiar… it should. In short they have built their own ride-system based clone of Universal Studios' King Kong 360º 3D attraction, right down to the promotional artwork showing off a bunch of hungry dinosaurs attacking the tram cars. Check it out here.
Six Flags - (7/24/14) The latest earnings report from Six Flags is an interesting one, as they report that net income for the past three months (Q2) is up 30% over the same time frame from 2013 to hit $85.3 million. Guest PerCap spending is also up 11% compared to Q2 2013. What makes this interesting and somewhat curious is that overall attendance at the parks for Q2 is actually down 8% from last year to 8.2 million.
While this still appears to be good news on the surface of things, it does bring a number of questions to mind regarding the long term view. Higher profits with fewer guests can easily turn sour if attendance continues to fall, especially if the cause of your dropping attendance is due to high pricing.
Was attendance simply soft earlier in the year due to slow-to-open new attractions and/or bad weather issues? If attendance rises in Q3, it would show that guests may have delayed earlier visits due to those reasons. At the same time. Six Flags also claims that the number of guests in their "active pass base" (passholders / company membership programs) actually increased 9% from where it was in 2013. Again… I have to wonder, why the attendance drop? We'll have to wait and see how the rest of the summer pans out I guess.
(6/30/14) Six Flags has signed a deal with a real estate developer in China who plans on opening several new Six Flags branded theme parks to China over the next decade. You can read more here.
(4/10/14) The local TV news got the story about "Flume Dog" wrong it seems. According to this article Judge Price "issued an opinion letter siding with Six Flags and its request to award Harris nothing." In short, it seems the Judge ended the case by siding with Six Flags before the official jury trial was to have begun on Monday. The end result is that nothing has changed and Flume Dog is still banned from all of the Six Flags theme parks across the nation due to his past disruptive behavior. .
(4/9/14) Remember the story of "Flume Dog" from last year? (See 11/13/13 story) He was banned from Six Flags parks after asking a few too many parents if he could take their young sons on flume rides and waterslides with him. He has since filed a lawsuit against Six Flags which ended in some kind of private settlement this week.
(2/20/14) Six Flags latest quarter results show that while profits drooped in Q4, the theme park chain ended the year with a 2% attendance increase. Click here to read all the details.
(11/13/13) Would you let this man ride alone with your kids? According to this article a self confessed flume ride fan named Jay Marc Harris, who calls himself "Flume Dog" currently has a 'nationwide ban' from Six Flags theme parks since 2006 for his behavior, but is taking the theme park chain to court to get it reversed.
So what did Flume Dog do to get banned from every Six Flags park in the nation since 2006? It seems the final straw was when he was visiting Six Flags Fiesta Texas and was reported to the park after he asked three different women if he could take their children on the flume ride with him. Previous hits on his Six Flags record come from Six Flags over Georgia where Security found him chained to a tree in the park. Security over at Six Flags Great America near Chicago found him inside the park before it had even opened and discovered that he had apparently slept somewhere inside the park overnight.
So what's Flume Dog's excuse? He claims he is being discriminated against "based on gender and religion" because he is a Hasidic Jew.
I'll let that one sink in for a moment.
Ready? Good, because I don't get it either. Granted, I'm not Jewish, but I don't see where trespassing or trying to ride flume ride's alone with children have any remote connection to possible religion discrimination.
Digging a little more, I found another article which goes into a little more detail, but it also seems as if some of his questionable actions were also in the waterpark at Fiesta Texas, where he was reported as seeking "young boys" to ride with him on a 2-person raft side. While this sounds immediately terrible and shocking, he claims innocence, as his religious beliefs would not allow him to ride with a female. I can see how this kind of thing would get out of control quickly… it sounds almost like an outtake from one of the Leslie Nielsen "Naked Gun" movies.
Still… is Flume Dog just misunderstood? I can't say… I do understand the love of theme park rides and wanting to travel across the nation from park to park. Still… it's hard to excuse some of the things he is said to have done. Perhaps Flume Dog just needs a traveling companion to keep him on a short leash.

Skyline Attractions LLC - (7/2/14) A group of three former GCI staff have left to spin-themselves off into a pair of new amusement industry companies named Skyline Attractions, LLC and Skyline Design, LLC. According to the press release the group includes: Chris Gray, Jeff Pike, Evan Souliere who will join with Bill Wydra.
The goal of Skyline Attractions is to take what they have learned from a combined 50-years worth of experience in the business and apply it to offer new attractions and game concepts to the industry, both in fixed-site and traveling form. The group will also continue to work closely with GCI on select wooden coaster designs as well.
The first of many new ideas is already in the works and will officially be announced on August 1st, so stay tuned. You can also view the group's new website at SkylineAttractions.com.

Theme Park Studio - (5/16/14) Theme Park Studio has let us know that they will be releasing Phase 2 of the program tomorrow morning. "With phase 2 beginners can easily drop in animated flat rides with highly accurate physics. Moderate players can animate position, rotation, and scale data of almost any object in their scene. And finally, advanced users can custom build their own unique rides, or experiment with ride ideas, using our flat ride build set with almost 50 pieces (or import their own meshs). Using the physics engine, and new Joint library, amazing animated rides can be accomplished that take into account mass, torque, and force." Check out the video below showing it all in action. You will be able to find the release on Steam here when it is live.



(4/11/14) For those wondering, a pre-release partial beta build of Theme Park Studio is available to download through Steam for those who ever funded for that perk in Kickstarter, or for those willing to pre-pay for the program before they are finished with it. You can find all the details at Steam regarding how the program will be released in phases (1 through 8!), with Animated Rides in Phase 2 and Coasters in Phase 3.
(10/21/13) Theme Park Studio has posted a new update and video regarding the program on their Facebook page. Check it out the update for new details, along with a great new video showing off the kind of detailed parks you can create. They have also posted a new updated timeline as to when the program is likely to be finished, and now soon those who supported their Kickstarter campaign can expect to get their hands on a early release version of the software to help test some of it out ahead of the final release.
(8/23/13) Theme Park Studio is back with a new update about their progress in adding to the game's features and content. They also point out that anyone who missed joining in the Kickstarter campaign can still provide funds to the project and get into the closed Beta by clicking here.
They report having expanded the art team and are creating many assets as well as fulfilling the ride requests from the Kickstarter backer rewards. More progress on the lightning module, expanded custom scenery importing, a file exchange system and lots of polish so they can move towards an Alpha test as soon as possible. In the meantime, a ton of new pictures have been sent out for you to enjoy.
(7/25/13) Theme Park Studio is back with a new progress update showing off several new highly detailed coaster train designs, some of which will be familiar to Cedar Point and Hersheypark fans.
(5/22/13) Pantera Entertainment tell us that while the initial funding of Theme Park Studio on Kickstarter is over, the group is now trying to achieve their "stretch goals" and has launched a new crowd-funding site for this purpose. The great news is that all the great rewards they offered on Kickstarter are still be offered for a limited time. The stretch goals posted note include hitting the $130k mark would fund a Mac version of the program. $180k will see money and theme park management aspects added in and $250k will see them create a PS3 version of the program as well. Find out everything you could want to know about Theme Park Studio at the new official funding site.
(5/20/13) Good news for Theme Park Studio fans, the simulation game achieved their Kickstarter funding goal the other day and had released new screenshots (see below) and video showing off how simple it is to make well themed pathways as well as giving us our first look at peeps to populate your park with.

(5/13/13) It is crunch time for Theme Park Studio this week as the project enters the final week of funding on Kickstarter. As of this morning the project has earned $69,000 of the needed $80,000 goal price. If they don't make it to the full $80,000, they lose it all, so if you really want to see this project get made, this may be your last chance to help fund them.
We have seen how great the rides in Theme Park Studio will look, but over the last week the program has really been showing off just how well you can use the program to create themed environments. For example they have posted a picture of some great old west Saloon style buildings made with the software as well as some fine examples of realistic looking theme park pathways lined with realistic trees, sidewalks, benches, popcorn machines and plenty of flora. They have also posted another video showing off the "particle effects" of the software, which shows off some of the night lighting you can do with the park, lighted fountains in lakes and much much more.
Theme Park Studio is more than a theme park simulator or roller coaster creator. We're looking at an entire themed environment design studio that could very well be used by both fans and professionals alike to show off their visions for things even beyond the theme park world with ease… from public parks to a haunted ghost town. Once this hits the streets and the public community gets their hands on it, there is no telling how many fantasic new themed worlds you will be able to download, share and experience. I can't wait… but they've only got 6 days left on Kickstarter, so if you want to get in early, fund their effort and earn yourself a copy of the program at the same time.
(5/1/13) Theme Park Studio has made a few more announcements regarding new features on Kickstarter. Over the past couple of weeks they have shown off several new coaster types that will be included in the game including the Mack Blue Fire style launched coaster system, wooden coasters, a B&M Inverted coaster and now an Intamin Hyper/Launched Coaster Train design. Now I'm curious… if they are going to simulate all these rides, how realistic are they going to be? Will launched coasters mis-fire from time to time and experience roll-backs? So far they are a little over 50% of the way to their goal, but only have 19 days left.
(1/21/13) The Pantera Game Studio crew has sent out a few new images from the Theme Park Studio game, showing off some incredible looking ride models they've created to show off an Troika flat ride. These and more can also be seen on their official Facebook page.
Earlier I had a chance to ask a few questions about the program to someone at Pantera. For starters, this software is being designed for the PC at first, however they have borrowed a lot of code from their own proprietary game engine which can also run on Xbox 360, PS3 and OpenGL ES, so future ports of the program to work on consoles as well as Mac are indeed possible, based upon public demand of course.
I also decided to bring up the one thing I know I had always wanted to do with Roller Coaster Tycoon but was never able to build…. A true Dark Ride experience. You will be happy to know that they are indeed targeting for the creation of custom dark rides in the game as well. "Our goal is to allow the consumer to be as creative as possible." This alone excites me quite a bit, as it's great fun to see homebrewed coasters in action, but I think the creations that have really impressed me the most were some of the coaster videos on YouTube where the creation attempted to make a dark ride style environment for their attraction. With the right software, like what you can do with Theme Park Studio, I can't wait to see the kind of dark rides (dry or wet) that people can dream up.
Stay tuned… I think more good stuff is coming soon!
(1/4/13) Screamscape was contacted by Pantera Entertainment, a video game developer, who wanted to tell us all about a new project they have in the works that will be of interest to coaster and theme park fans. The new title is called Theme Park Studio.
"Theme Park Studio merges all the flexibility of an advanced coaster design tool, with a full graphics' engine, rich with powerful features and technologies. 'Oasis' is Pantera Entertainment's custom graphics' engine used in video games and medical software, for the serious games industry. We exhibited our technology at the Game Developers Conference and the Austin Game Conference. Many of its features have been integrated into Theme Park Studio, providing unprecedented control over the theme park design process."
They've posted some images showing off just what can be done with Theme Park Studio on the program's official Facebook page here along with a couple of videos showing off the program in action. They didn't specify, but I can only assume that this will be a PC program at launch, as I'm not sure if a console version is possible. More as we find out.

Thinkwell Group - (6/2/14) According to the trades, Lionsgate has tapped our friends at the Thinkwell Group to create a traveling exhibition themed to The Hunger Games film series. The traveling museum will be called "The Hunger Games: The Exhibition" is expected to launch in the US by Summer 2015. Lionsgates also says that they are also in talks about possible theme park attractions as well as "other location based entertainment opportunities" where The Hunger Games series would fit.

Triotech - (1/22/14) A nice interview with Triotech, a Canadian company who's name is quickly becoming known in the themed attraction industry, was published by the Financial Post. Triotech are the ones behind the technology being used to create the interactive elements for Wonder Mountain's Guardian this year at Canada's Wonderland, but they are involved in so much more with projects installed so far in 40 different companies around the globe. Beyond plans to install attractions at major theme parks around the world, they also talk a bit about their efforts in China as well as how they predict that their most positive future growth is likely to be from revenue sharing partnerships.

Universal Studios - (1/9/14) Brian Roberts, Comcast's CEO, predicted on Tuesday that they expect to take marketshare away from Disney and other theme park chains with their plans to invest in their Universal Studios theme parks. "We're doubling down on theme parks."
Meanwhile, while neither Comcast or NBCUniversal will say a word about any of the rumors about a new theme park in China, confidential Screamscape sources have confirmed that the a rough deal to build "Universal Studios Beijing" is fairly solid at this point. Enough so that Universal Creative is already starting the process of gearing up the staff needed to make it happen. Much like Universal Studios Singapore, the park and surrounding resort is expected to form very quickly once the green light is given, though it is said Universal will have a little more control about the rest of the resort complex as well this time around.
(1/7/14) According to this report at ThemeParkInsider, a report found from Shanghai Securities News claims that an application to begin construction on a Universal Studios park in the Tongzhou District of Beijing was filed, with work to begin in late 2014 on this $2 billion project. They claim that demolition of existing structures and site clearing on the site has already begun, with a goal of opening the park in 2018.
(1/6/14) Is Universal Studios working on a new theme park concept for China once again? It was reported back in March 2012 that Comcast/NBCUniversal was meeting with the city of Tianjin (China's sixth largest city) to discuss a possible park or studio in the port city. Previously there are said to have been many on and off again discussions for building a possible Universal theme park in China over the years going back to when Hong Kong Disneyland was first announced.
Today we have a small piece of evidence that suggests that negotiations with China are still taking place and may be moving forward, as Universal Creative has job openings for several project managers who can speak Mandarin.
(12/11/13) Inside Universal has posted Part 1 of a great new interview with Gary Goddard about his involvement with several attractions with Universal Studios over the years from classics like Conan and the first King Kong in Hollywood up to more modern projects like Jurassic Park and Terminator 2: 3-D.
In other Universal news, Cinelix reports that Universal may be attempting to not only revive their classic Universal Monsters (Frankenstein, Wolfman, Dracula, Mummy, etc) as new modern film incarnations, but is making long term plans to link them together into a shared film universe in the same fashion that Marvel has been doing with their comic book universe properties.
Current plans are already in place to create the kick-off this new unified cinematic universe with a reboot of The Mummy in 2016 followed by a rebooted Van Helsing film that may star Tom Cruise as the infamous monster hunter. While these planned films have been bouncing around in development limbo since at least 2012, Hollywood insiders claim that they are still very much alive. With the right planning in advance to do these the right way, following the lead of Marvel, I'd very much like to see how this could develop.
(11/29/13) In an interesting move the planned World of Warcraft movie has been pushed back from December 2015 to March 11, 2016 in order to completely get away from Disney's new Star Wars film slated to hit theaters December 18, 2015… the same date as the Warcraft film.
(10/4/13) Universal's parent company, Comcast, has dropped another $420 million to purchase the Universal City Plaza skyscraper next to Universal Studios Hollywood. The tower was once owned by Universal but sold off under Vivendi's ownership of the company back in 2003. It is expected that the tower would be used for new office space for various Comcast and NBC/Universal divisions, putting everyone under one roof.
(10/3/13) I think the next big clue about what Universal m
ay be planning for the Universal Orlando theme parks has just dropped. According to this article an official blockbuster budget World of Warcraft feature film has now been dropped onto the theater release slate for December 18th, 2015. The film will be the product of that new partnership between Legendary Entertainment and Universal Studios, and as such the IP would likely be ripe for the picking for the Universal parks to dream up any number of potential World of Warcraft themed attractions and tie-ins.
In terms of the video game, it goes without saying that World of Warcraft has been a fairly global phenomenon. Bringing the game's distinct visual style to the big screen will launch the IP from PC gaming crowd into the mainstream for sure.
(9/13/13) Warner Bros. has announced a new partnership with J.K. Rowling who will make her screenwriting debut to create a new spin-off film series set in the Wizarding World, 70-year before the events of the Harry Potter book series. The new film will be called Fantastic Beasts and Where to Find Them, inspired by the Hogwarts textbook of the same name, and featuring the fictitious author, Newt Scamander.
This is not technically a prequel to the Harry Potter series, but mearly an extention of the Wizarding World universe. The story will start in New York, set 70 years before the events of the Potter series. I can only imagine that the gears may already have started to spin over at Universal Creative, looking for an opportunity to incorporate elements of this new series into their Wizarding World theme park universe.
(7/11/13) Interesting things are happening in Hollywood this week. Legendary Entertainment has signed a multi-year deal to work with Universal Studios on select projects, while retaining their existing relationship with Warner Bros as well. While the deal mainly allows Universal to distribute their films to the international market as well as work in some deals for future NBCUniversal TV programming, InParkMagazine also reports that the deal includes the possibility to create Theme Park attractions as well based on some of Legendary's work.
While Legendary was the force behind the Batman Begins trilogy of films as well as the new Man of Steel film, other highlight films from their past include 300, Watchmen, Clash of the Titans and Inception. Of course their list of future films on the way is also impressive and includes Pacific Rim, 300: Rise of an Empire, Seventh Son and an all new Godzilla film.
While the DC comic based films may be difficult (but not impossible) for Universal to bring into their parks due to existing deals with Six Flags, some of the other films could likely be used in the Universal theme parks. One in particular that stands out is Godzilla, as Universal has a history with monster movies anyway, and it opens the possibility for an interesting "clash of the titans' if they were to mix King Kong and Godzilla together for a the modern audience. The ink on the deal has only just dried, so don't look for anything to happen just yet… just something to think about moving forward. Unless there is a Legendary IP that would be perfect for Halloween Horror Nights, and then we could be hearing about that much sooner…
(12/19/12) According to this article, the city's commission for urban planning in Moscow has given approval for the Universal Studios Moscow project.
(5/1/12) Disney and More takes a look at the concept artwork for the Universal Studios Experience project for Moscow this week as well as the rest of Galactica Park.
(4/25/12) ParkRumors has some concept artwork of what the new Universal Experience project as well as the entire Galactica Park complex may look like.
(4/19/12) Screamscape sources tell us that the Universal Studios Moscow project is legit, and has been working under the name "Universal Experience Moscow" so far. Due to the harsh winters in Moscow, the entire park is expected to be enclosed to allow for year-round operations. If things go as planned, the current target date for the Universal park to open is in late 2017.
(4/18/12) I'm not sure how serious to take this article, but they claim that NBC Universal is in talks to build a theme park project in Moscow with a local developer who is planning an even larger overall resort complex to be called Galactica Park. From the sound of it, they are attempting to copy the basic concept put to use at Resorta World Sentosa in Singapore by linking up their own Universal theme park with hotel resorts, an aqua park, numerous retail and dining options, underground parking and even plans to add a 20,000 seat sports and concert area. Galactica Park is planned to cost an estimate $2.8 billion, with at least $500 million to go towards building Universal Studios Moscow. If the plan moves ahead, look for it to break ground as early as 2014 and have the first phase ready to open by 2018… just in time to host the 2018 FIFA World Cup.
Wanda Group - (1/16/14) Wanda Group, a new name in China's theme park industry has hit our headlines a couple of times in the past few months. Back in November it was announced at IAAPA that Great Coasters International would build "The Viper", their biggest wooded roller coaster ever at the Wanda (Nanchang) Culture Tourism City to open in 2015. (Stats: 50 meter (164 ft) tall lift hill and 1,500 meters (4921 ft) of track) Earlier this month it was reported that the Wanda Group had purchased a new B&M Flyer Coaster for Xishuangbanna Interntional Resort project.
Today I found an interesting bit of news on the Dynamic Attractions website that confirms that they are now in the midsts of building Dynamic's very first "Generation II Flying Theaters" attraction for Wanda as well.
WhiteWater West - (3/12/14) According to a new press release from WhiteWater, they have acquired the FlowRider product line from WaveLoch.
----
Clients all over the world ask for FlowRider® by name, craving the experience of a surfer lifestyle. WhiteWater takes pride in understanding the consumer market to create the latest innovations end-users truly want. By acquiring the FlowRider® product line, WhiteWater is ready to share the perfect wave with the world.
WhiteWater is excited to announce the acquisition of WaveLoch's innovative, award winning line of products including FlowRider®, FlowBarrel®, FlowCurl®, Flow House, Wave-in-a Box, and WaveOz®. Previously, WhiteWater had been the exclusive worldwide licensee of WaveLoch's FlowRider® business. This marks the third acquisition in the past two years for WhiteWater.
Wave Loch founder, Tom Lochtefeld will continue to market the WaveHouse and work on his surf pool business. Aquatic Development Group will continue to be the exclusive marketer and manufacturer of the FlowRider product line in the U.S. and eastern Canadian market.
In making the announcement, WhiteWater President & CEO Geoff Chutter noted, "We are not only adding another ORIGINAL product to the WhiteWater portfolio but also adding the creative talents of another ORIGINAL waterpark pioneer to the family".
WhiteWater's goal is not just about creating a collection of great products, but forming an invaluable team of people with amazing talent and skills.
"We are tremendously excited about the momentum this addition brings to WhiteWater's innovative group of companies", said WhiteWater's Marshall Myrman who will head the FlowRider and Waves business unit. "Keep your eyes on the horizon", he said, "because the best flowboarding is yet to come!"
----
Zamperla - (11/4/13) Zam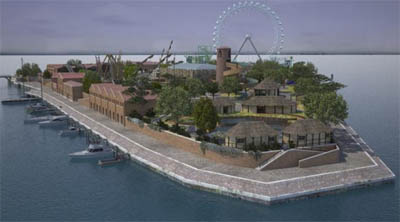 perla may have been bitten by the theme park bug after building and running the new Luna Park at Coney Island, New York. The company has now pitched a concept to transform the small abandoned San Biagio island in Venice that was once home to an incinerator facility into a new family attraction for $110 million for the city. While it wont be simply an amusement park, the project would feature a 55 meter Ferris wheel, roller coaster and many other rides along with numerous cultural installations that would detail the long history of the city as well as "illustrating the Venetian lagoon's fragile ecology."
The project, which includes a promise to clean up the toxic site, will create 500 new jobs, could be open in 2 years if all goes smoothly. But this is Venice and things like this rarely go unopposed, so we'll have to wait and see where the wind blow on the "L'isola San Biagio" project.